The Ultimate Guide to Giving Cool Groomsmen Gifts (with 14 Gift Ideas)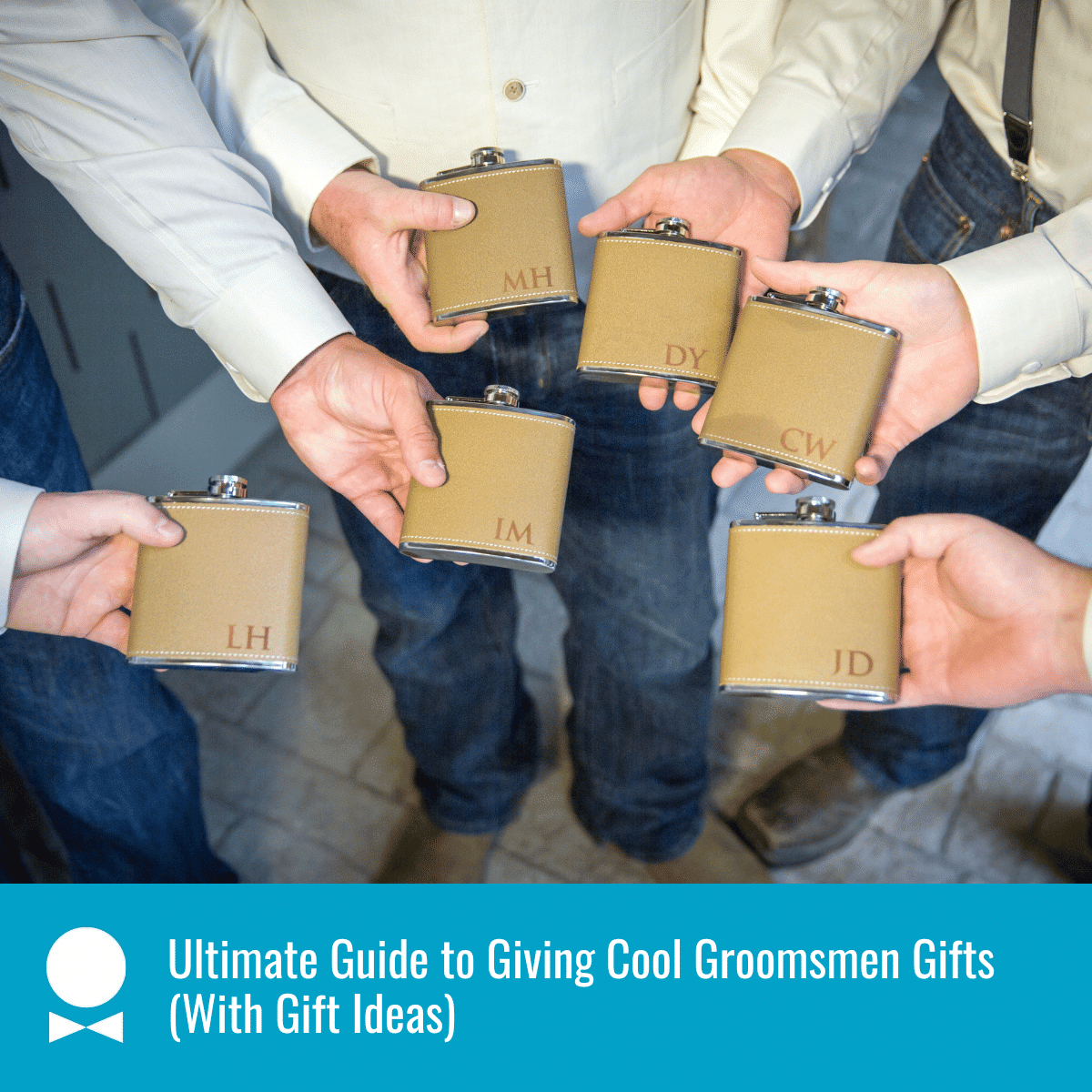 It's a common question with an easy answer. Should you buy your groomsmen gifts? They've been with you every step of the way — through good times and bad. Now, they're ready to stand beside you on your wedding day. Your groomsmen and best man will be renting tuxes and suits, planning your bachelor party, making toasts, and helping out on the big day. It's customary (and necessary) to thank them with cool gifts as a token of your appreciation. The following is a detailed guide that covers the ins and outs of groomsmen gift shopping and groomsmen gift etiquette.
Jump to a section:
What Makes a Cool Groomsmen Gift?
Being an all-star groom means doing it up the right way when it comes time to thanking your best man, groomsmen, and ushers. Sure, you could get them the standard watch or cuff link set, but we can do better than that. This year's best groomsmen gift ideas involve doing a little research on each member of the wedding party and discovering the gifts that are perfectly suited for each guy.
Choosing the same gift for everyone in your wedding party might seem like the easiest solution. However, a one-size-fits-all approach might not work well for everyone. There's no rule that says every groomsman should receive the same gift (unless, of course, they all have a shared interest).
We strongly encourage you to choose different gifts based on their individual personalities and interests. The best advice we can give you is to think of each member of the wedding party as if they were the only one standing by you on your big day. Not all of your friends and family members have the same tastes — so why try to buy them all the same type gift? To narrow the scope of your gift options, first consider settling on a price range and then buying something tailored to each guy.
For example, you could consider an engraved decanter set for your whiskey-drinking best man, a custom BBQ set for your grillmaster brother-in-law, or personalized coolers for the weekend warriors. Here are some other ideas to get you started:
Classic Groomsmen Gift Ideas
You can never go wrong with classic gifts. These are the gifts that will never go out of style no matter the year. They're the accessories that every guy needs at least one of, so don't overthink it!
Groomsmen gift sets that contain multiple items
Pocket knives or multi-tools
Wallets & money clips
Lighters
Business card holders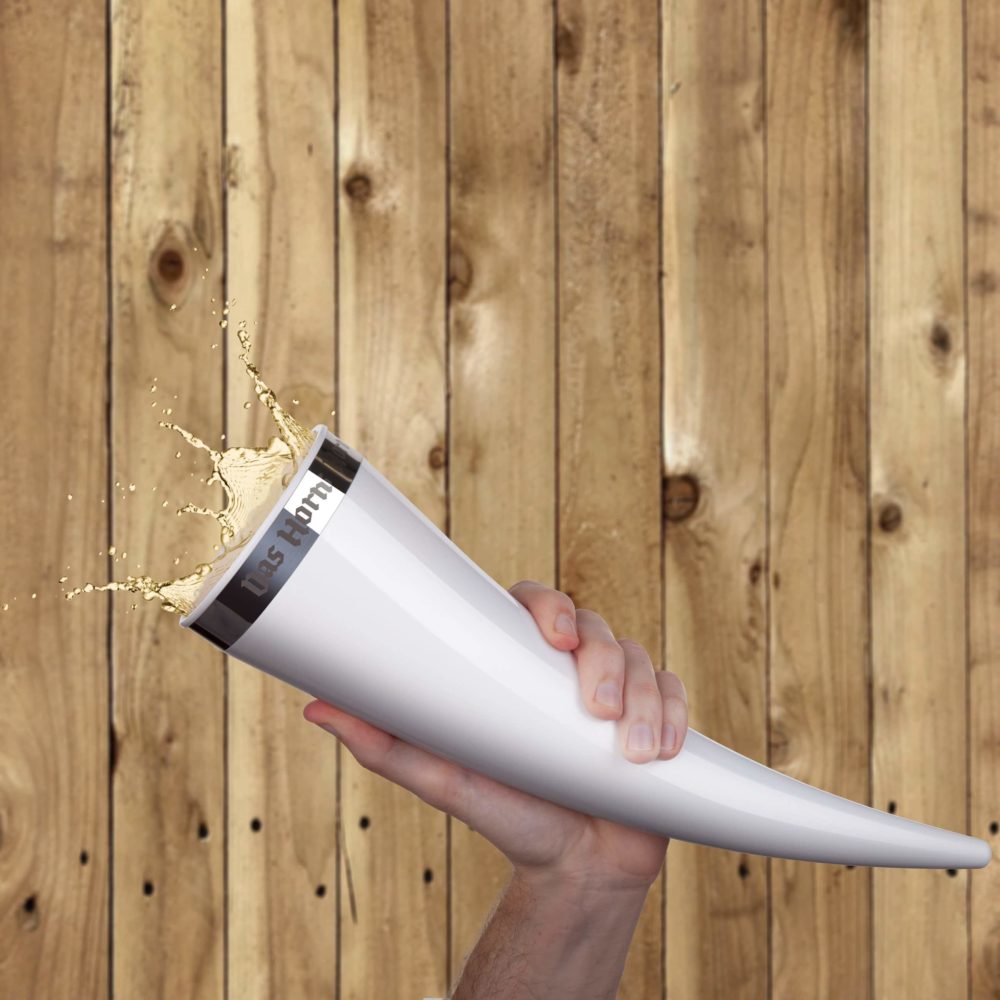 Cool Groomsmen Gifts You Can Cheers to
Raise your glass to friendship with these gift ideas that are worth a "cheers." You've shared hilarious memories and big moments with your groomsmen and best man over the years. With these gifts, they'll have a custom memento to honor brotherhood with every time they pour a drink.
Personalized beer mugs or flasks
Engraved decanters
Shot glass set
Unique bottle opener
Give each groomsman/usher a bottle of their favorite liquor
Custom bar signs
Gifts for Lovers of Sports or the Great Outdoors
Did you meet your best man on the intramural court or fishing trip? Are your groomsmen alongside you each weekend cheering on your favorite football team? It's no secret that guys bond over their love of sports and the outdoors. These sporty gifts ideas reflect that bond.
Golf equipment
Fishing gear
Camping equipment
Game tickets
Gifts featuring logos of their favorite NFL, MLB, NCAA, NHL or NBA team.
Custom baseball bat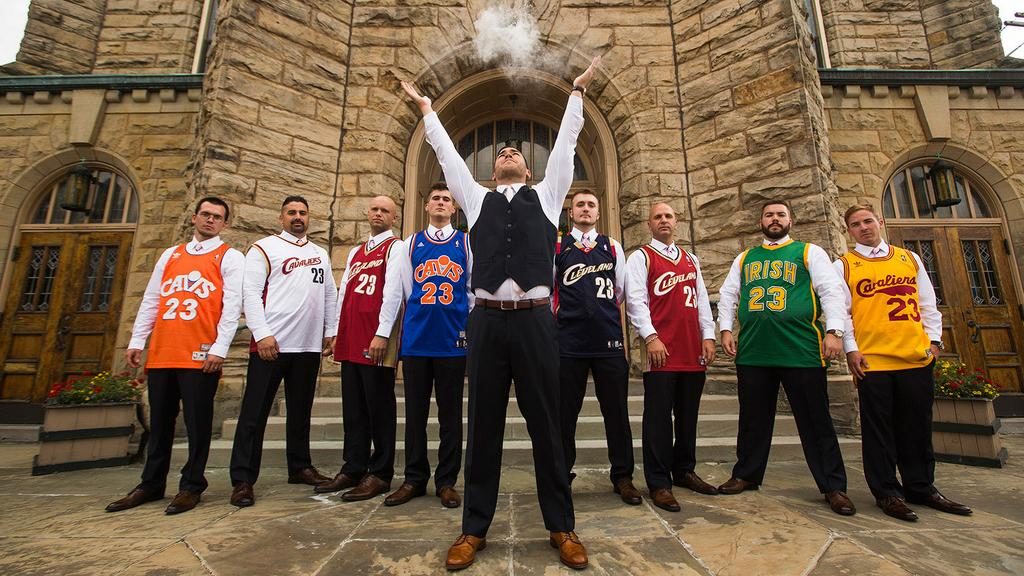 Style Accessories the Fellas Can Wear on the Wedding Day
We want the groom crew to look good and feel good on the wedding day. With these gifts, style won't be an issue.
Sunglasses
Socks
Ties to wear on the wedding day
Dress shoes
Pay for the guys' suit and tuxedo rentals
Organize a Group Outing
There's no golden rule that says you have to hand out physical gifts to the guys. One of the coolest growing wedding trends is grooms gifting an experience to their wedding party. This is a great opportunity to create amazing memories with the guys that will last a lifetime.
Casino night
Camping or fishing excursion
Sporting event
Concert
Golfing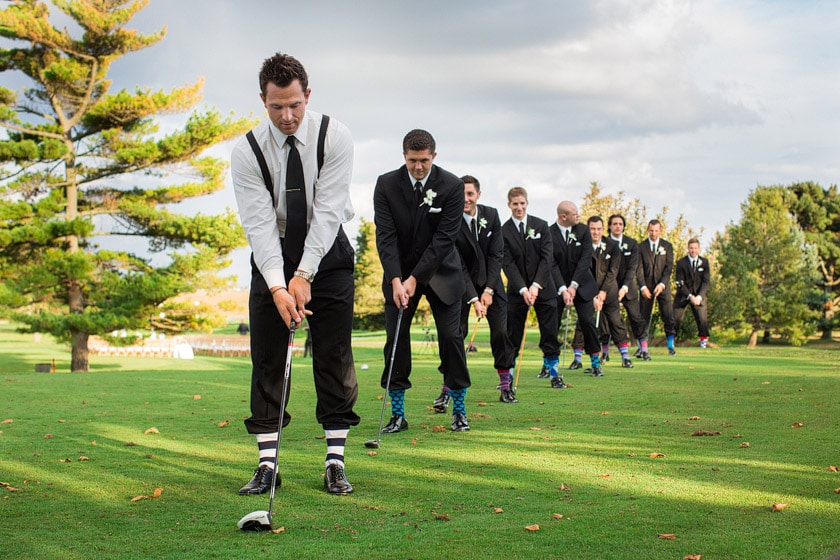 If you're still stuck with nothing, you can check out our list of the best groomsmen gifts in 2023 — or turn to sites like Pinterest and Etsy for ideas. No matter what type of gift you choose, the name of the game is to find a gift that will make your groomsmen feel appreciated (and help ease the pain of travel and suit rental).
Lastly, consider including a handwritten thank you card along with your gifts. Words can often mean more than a physical item and the guys will love knowing how much you appreciate their friendship and support throughout the wedding planning process.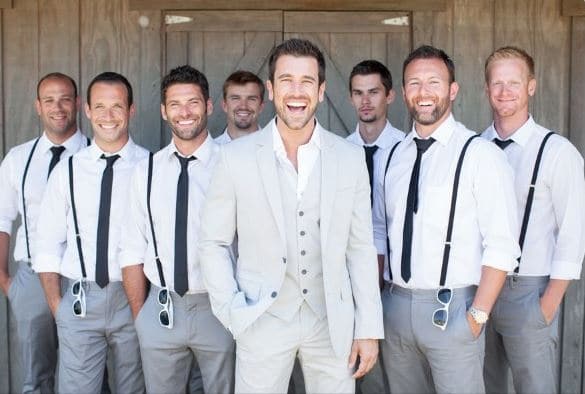 How Much Should You Spend on Your Groomsmen Gifts?
The average amount spent on each groomsman is $54. This is based on The Man Registry's groomsmen gift sales data from 2019 through 2023. Of course, every wedding is different. How much you decide to spend on your groomsmen gifts is up to your individual wedding budget and what you're comfortable with. Here are a few other things to remember:
Some grooms may choose to spend a bit more on the gift for their best man
If you're shopping online, some websites may offer bulk discounts for your entire wedding party. It never hurts to research before buying.
Consider spending more if your groomsmen have traveled a long distance to attend your wedding, bachelor party, or shower.
You don't have to spend your entire budget on a single gift for each groomsman. Consider splitting the budget and buying multiple items or gift sets. Quality and quantity will give you the best of both worlds!
When Do You Order Groomsmen Gifts?
Groomsmen gifts should be ordered no later than three weeks before the wedding. This is typically one of the final tasks that grooms and brides complete before the big day! We strongly encourage ordering earlier if possible – especially if you're buying personalized or engraved gifts. Some websites and shops may require additional time to produce and customize your gifts.
If you wait too long to order, you run the risks of scrambling to find a cool gift and settling for something less than ideal (plus you may end up spending more in rush and/or shipping costs). If you find yourself in this position, don't stress too much.
There are actually plenty of last-minute groomsmen gifts that the guys will love.
When Do You Give Out Groomsmen Gifts?
There are several appropriate times to give out your groomsmen gifts. Choosing the best time may depend on your wedding schedule and the type of gift being given out. Here are a few suggestions:
At the Rehearsal Dinner
The most common time to hand out groomsmen gifts is at the rehearsal dinner. This goes along well with the tradition of couples getting most of the toasts out of the way on the night before the wedding. The rehearsal dinner is the ideal occasion to take a few moments to thank your groomsmen personally and present them with the personal gifts.
Bachelor Party
If you plan on presenting bar or drinking-themed gifts to your groomsmen, one of the best times to hand them out is at the bachelor party. This way, they can start getting use out of them immediately while the entire group is having fun. Not only that, this sets a great mood for the rest of the evening.
Wedding Shower
Are you having a groom or couple's wedding shower? It might be a tough sell inviting your groomsmen to a wedding shower… this is why you need to go with a backyard or grilling gifts theme. If your groomsmen really need a push, tell them the only way they can get their gifts is if they show up!
The Day of the Ceremony
Getting ready on the morning of the wedding is another option, as the groom and his crew will be sharing that time together. This is an especially appropriate time to hand out gifts if you're presenting your groomsmen with an accessory they can wear during the wedding itself (like cufflinks or a tie clip).
One last thing to keep in mind is if your groomsmen will be traveling via air to attend your wedding. If so, they may have limited space to take their gift home, especially if the gift is bulky or fragile.
In these instances, we recommend shipping gifts to each groomsman individually.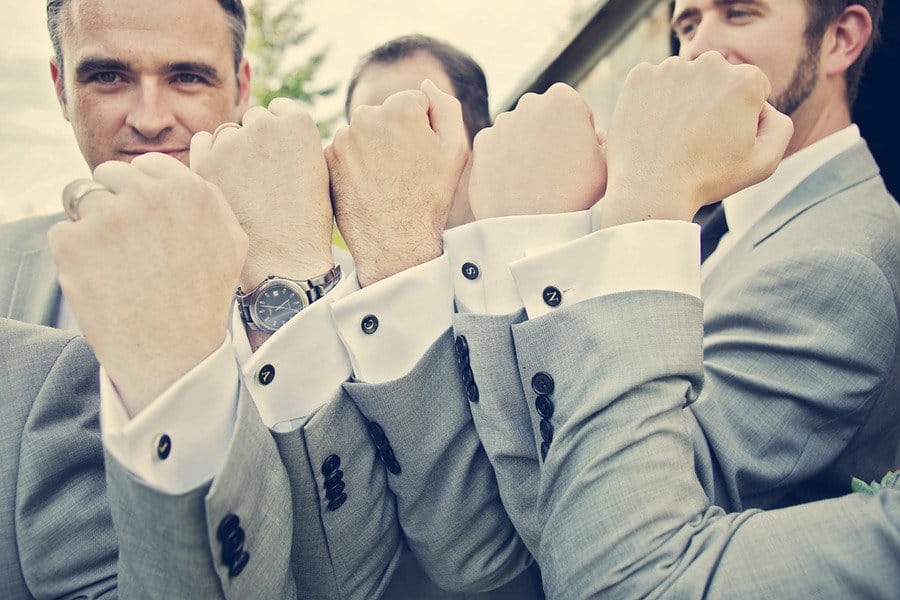 Top Tips for Personalizing Your Groomsmen Gifts
Personalizing a gift with a name, initial(s), or custom message is a great way to create a memorable gift that will be cherished forever. If you're worried about making a mistake, remember these tips:
Don't Forget to Proofread Your Personalization
Adding a name, initials or monogram to a groomsman gift is a great way to make it extra special, as long as you spell the person's name correctly or use the correct initial order.
Of course, you're human, mistakes and typos happen. But because personalized gifts usually can't be returned, take a few extra minutes to confirm the spelling of all the names in your wedding party beforehand.
If you're ordering online, check all of the personalization or custom text on your gifts, and then check them once again, before you hit "submit" to minimize errors. It's never a bad idea to have another person (such as your fiancée) take a peek as well before you place an order.
Know the Difference Between Spelling it Groomsmen and Groomsman
Confused about how to spell groomsman? Use groomsman with an 'a' when you're referring to a singular guy. Use groomsmen with an 'e' when you're referring to the group of guys. It's that simple, folks!
Know the Difference Between Standard Initials and a Monogram
Another common mistake grooms make is confusing initials and monograms. Here's a quick cheat sheet on the difference between the two.
Initials
If you want to add standard initials to a gift, use this order: the person's first name initial, middle name initial and then last name initial.
Monogram
For a monogram, use this order: the person's first name initial, last name initial and then middle name initial.
Note that with monograms, the last name initial typically appears larger than the first and middle name initials that surround it. For example, with the name Franklin Delano Roosevelt, the standard initials are FDR and the monogram is FRD.
Married Monogram
On the flip side, if you're ordering a gift for a couple there is something called a married monogram. In this case, the last name initial in the middle will also appear larger, and the order would be: the bride's first name initial, the couple's married last name initial, and the groom's first name initial.
For example, the married monogram for Anne Marie Smith and David Benjamin Jones would be AJD, using Jones as the married last name. Same-sex couples often use a two-initial monogram comprised of either the first initials of each person's last name or the first initials of each of their first names.
Personalize With Long-Lasting Sentiment
You want to ensure that your groomsmen will use their gifts well after the wedding day. Personalize the gift with the recipient's name, initials or monogram, instead of your own.
While it might seem like a good idea to add the married couple's names or wedding date to your gift, the recipient will be more likely to use it again if it has their own name on it. The exception to the rule: For gifts the married couple wants to purchase for their parents or themselves, adding the couple's names, monogram or wedding date makes it a great keepsake of the big day.
Does the Groom Give Out Groomsmen Proposal Gifts?
One trend growing in popularity in recent years is grooms getting creative with planning their best man and groomsmen proposals. It's a fun way to ask your best man and groomsmen to serve in the wedding party — and often includes a "proposal gift". This gesture is optional and is not a replacement for the groomsmen gifts that will be given closer to the wedding. If you feel inclined, check out this handy guide on how to pop the question (again).
Who Else Does the Groom Buy Gifts For?
It's easy to remember to get a gift for the best man and each of your groomsmen, but don't forget about the ancillary members of the wedding party (and any other people that will be a big part of your special day). Here's who else you should consider buying gifts for:
Ushers
Ring Bearer
Father of the Groom
Father of the Bride
Officiant
Top 14 Cool Groomsmen Gifts For Men
Now that you've learned everything you need to know about groomsmen gift-giving etiquette, how about some actual cool groomsmen gift ideas that you can get the guys. Check out our list of 12 cool groomsmen gifts for 2023.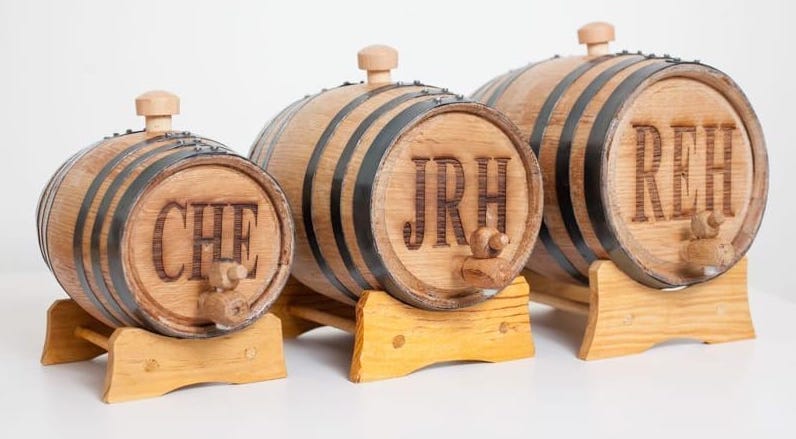 Personalized Mini Bourbon Barrel – Create your own bourbon blend at home
Your groomsmen can create and age their own whiskey blends in these personalized mini bourbon barrels. Detailed instructions will guide them through the process – from curing to filling to aging. The best part is that while they're waiting for their whiskey to age, the stylish barrel will look great displayed on the mantel.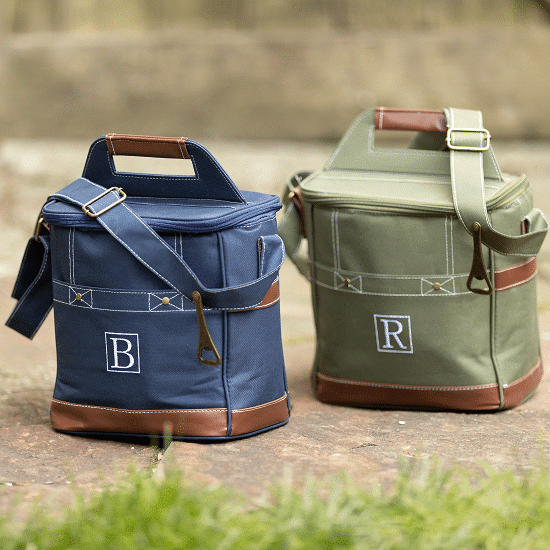 Pre-Gamer 6-Pack Beer Cooler – Perfect for throwing back a cold one with the fellas before the wedding
For the guys who love to look fresh while getting refreshed, this Personalized Beer Cooler is perfect because it is stylish and functional. It fits 6 bottles or 12 cans (with ice) perfectly and can be personalized for free. Whether your groomsman is dressed business casual for a special event or is booted up to go camping, this cooler is flexible to fit both looks.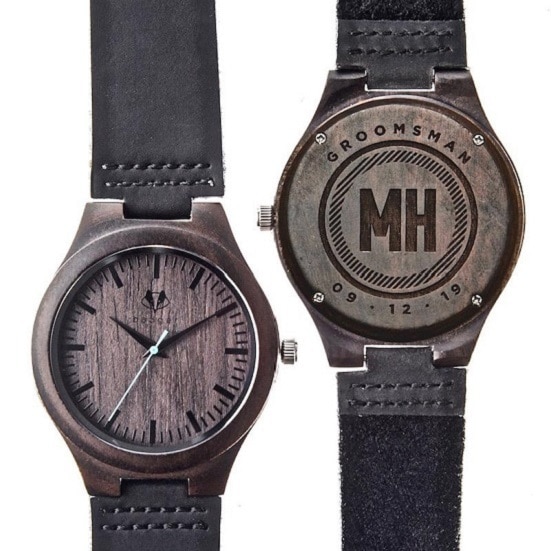 Personalized Wooden Watch Watch – Get the boys to the church on time
For the more classic groomsman, he'll appreciate the elegance of this Personalized Sandalwood Classic Wood Watch. Engrave his name, initials, special date, or other custom wording for free, to make this one-of-a-kind gift, timeless.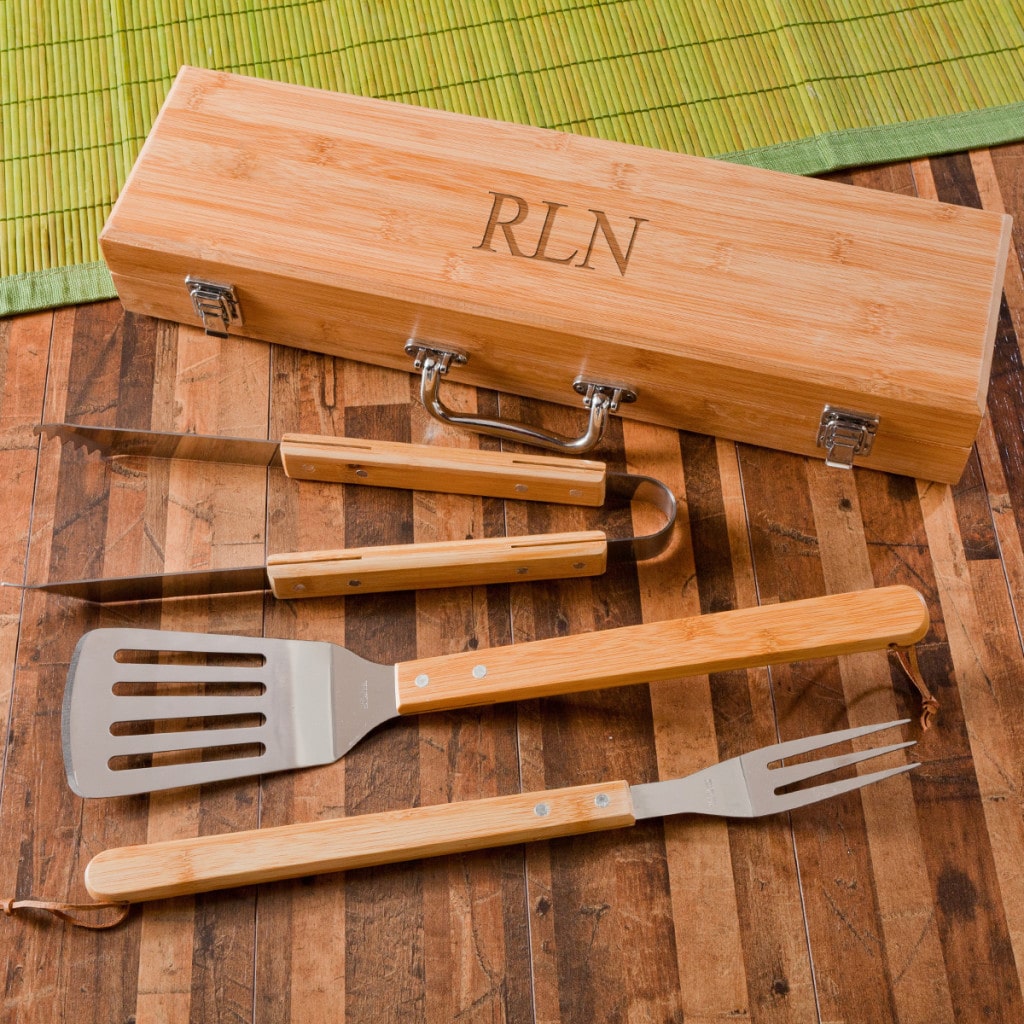 BBQ Grilling Set With Personalized Bamboo Case – Time for a grilling game upgrade
Whether he's a grill master or still learning how not to burn the brats, our Personalized Grilling Set doesn't discriminate based on experience manning the grill. This set includes a bamboo case, spatula, fork, and tongs.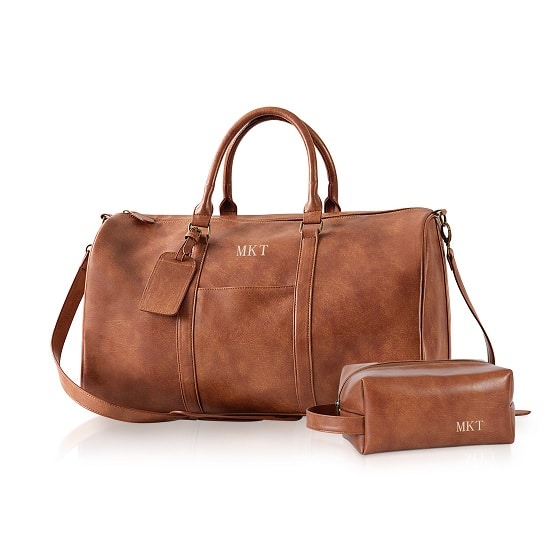 Personalized 2pc. Leather Travel Set – A most handsome way to travel to the wedding
THE MAVERICK Travel Gift Set gives your groomsmen two stylish pieces that will immediately make traveling easier. The leather duffle and dopp both feature enough room for everything he'll need on a weekend trip. Available in brown and black, both pieces can be personalized for no additional cost.
OLD FASHIONED 3pc. Whiskey Decanter Set – It's what's inside that counts
Fill this Decanter Set with Two Lowball Glasses with his favorite whiskey to sit and sip on. Personalize the set with his initial for no extra charge and make this a perfect gift for his office, bar, or man cave. Even better, it is dishwasher safe and has a flexible seal stopper to protect what's inside.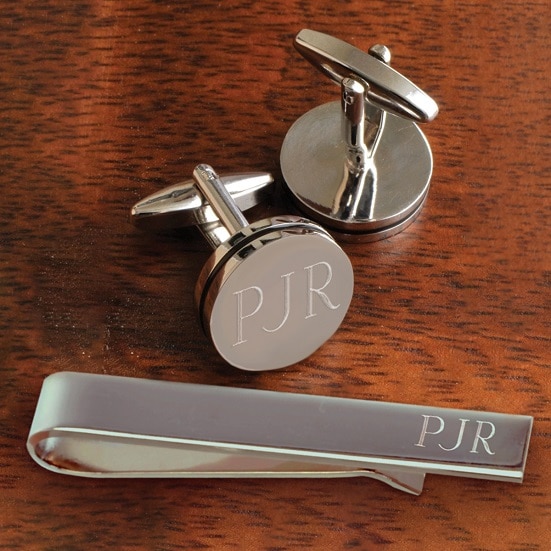 Silver Pin Stripe Cufflinks and Tie Clip Set – Gift boxed for that extra touch
There's no better way to take a formal look to the next level than cufflinks and a tie clip. And this Pin Stripe Cufflink and Tie Clip Set from Etsy can push suit style into the stratosphere. Both items come in a silver finish that's perfect for any outfit. The set is engraved with three initials and packaged in a sleek black gift box.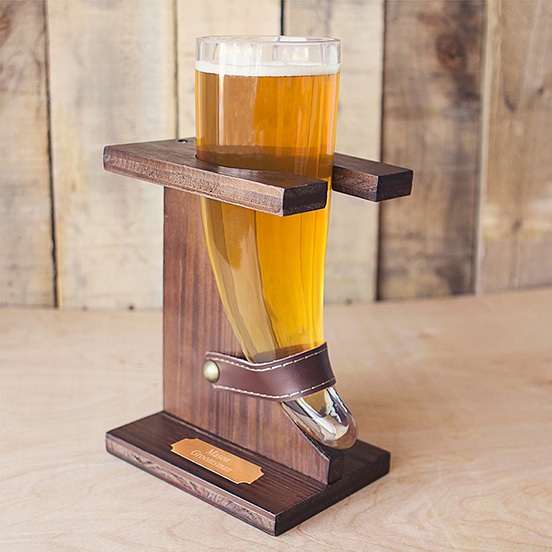 Viking Beer Horn with Wood Stand – A different way to say "cheers"
Why buy your groomsmen plain old beer mugs when you can get them this Personalized Viking Beer Horn with Wood Stand. The glass horn will hold 16oz. of his favorite brew while fitting comfortably in the wood stand with leather strap. Engrave a name or custom message to each guy on the included brass plate!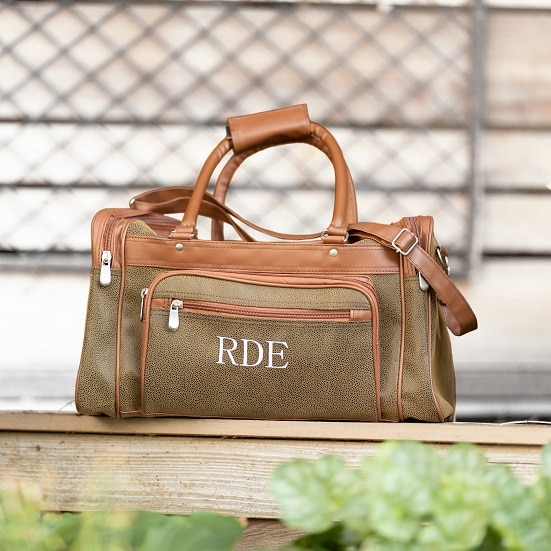 Angola & Leather One-Nighter Travel Bag – When one night is all you need
The Personalized Angola & Leather Travel Bag is essential for the next weekend getaway or overnight work trip. Compact, stylish, with high-quality Angola construction and vegan leather, this travel bag can fit everything they need while keeping them looking fresh.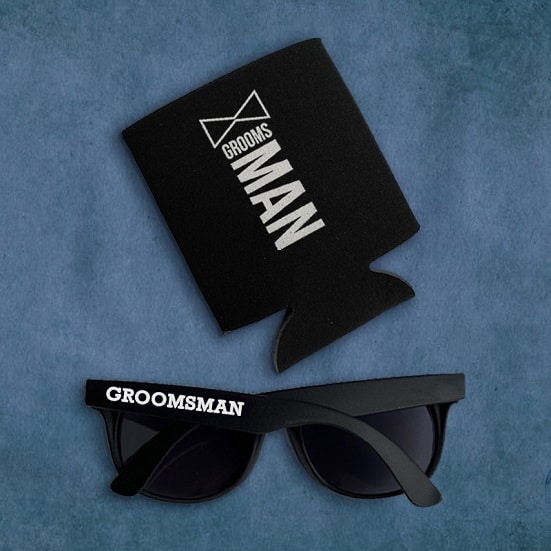 Locked and Loaded Gift Set – Sunglasses and Kozies for the fellas
What goes better with matching tuxes than matching shades and can holders? Get your whole crew stylin' and profilin' in this affordable groom crew set. Perfect for the big day or for those who partied a little too hard the night before. Choose the quantity and style that's right for your groomsmen.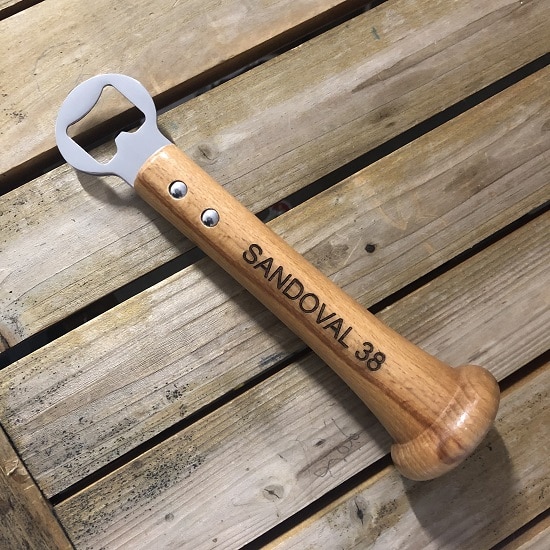 Pickoff Bottle Opener – With a unique baseball bat handle
Step up to the plate and knock it out of the park when you gift this Baseball Bat Bottle Opener to your baseball enthusiasts. It's made of a real baseball bat handle with a sturdy stainless steel opener on top. Customize it with their name and favorite number to make it a statement piece.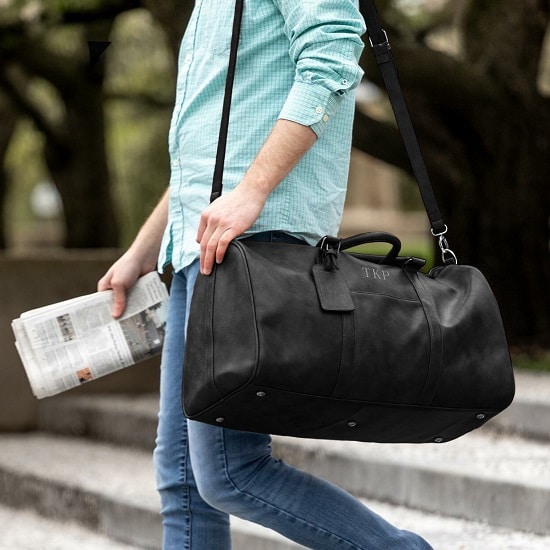 Black Weekender Duffle Bag – Dapper Defined
Let's be honest, most of the guys you know could probably use an upgrade in the duffle bag department. The Maverick Weekender accomplishes this and then some. It's the perfect size for weekend getaways, business trips or destination weddings. The bag can be beautifully embroidered with your choice of 15 thread colors.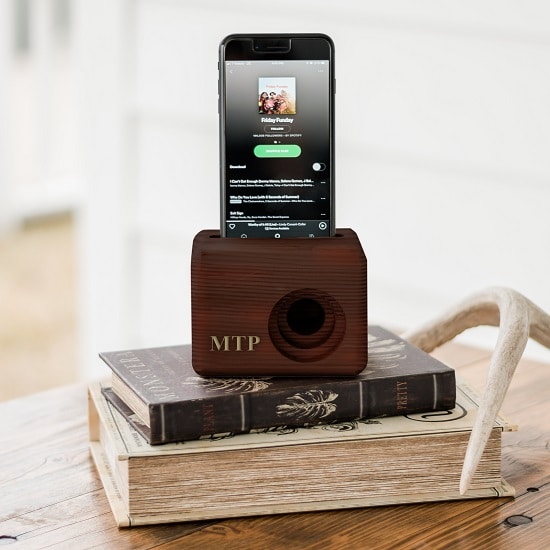 Beat Block Speaker – The Boombox Redefined
Unique speaker. No cords required. Awesome addition to any den, man cave or bedside table. What's not to love about the Beat Block Speaker? Available in light or dark brown colors. The front (or top) can also be engraved with initials, names or custom text messages. If you have groomsmen who truly appreciate home aesthetics and good music, this is the perfect gift for them!
Folding Sunglasses – The Groomsmen Who Fold Together, Stay Together
These aren't your father's folding sunglasses. Our custom Folding "Foldies" Sunglasses are the perfect final touch for the fellas wedding day look. The guys will love wearing them for the bachelor party,  photos and wedding day festivities. Take your pick from classic wayfarer, aviator or unique browline styles. The included leather carrying case is laser engraved with each recipient's initials.