The 23 Best Groomsmen Gifts of 2023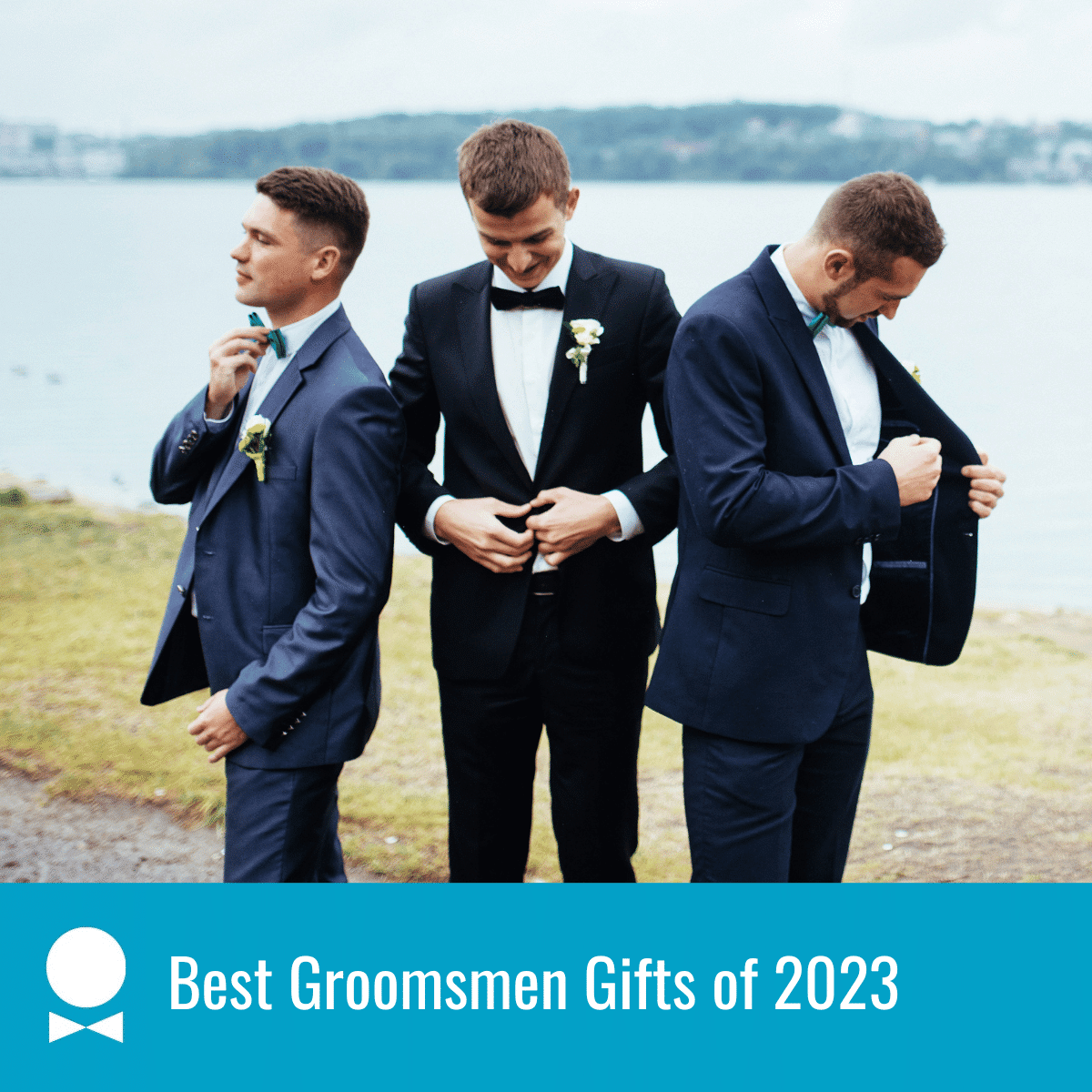 Your hunt for the best groomsmen gifts of 2023 is over! Let's face it, there are a million and a half gift ideas out there on the world wide web. Some are good, some not so good. Frankly, it's an overwhelming process to sift through them all to find something your best man and groomsmen are actually going to like. We created this handy gift guide to help you narrow down your shopping list and find something that each individual member of your wedding party will love (remember, you don't have to get the same gift for each groomsman). So without further ado, here's our 23 favorite gift ideas for this year!
Jump to a section:
Personalized Groomsmen Gifts
Beer Thirty Backpack Cooler – For when you hear the call of a cold one
The handy Beer Thirty Backpack Cooler is ideal for multiple occasions. Your groomsmen will love using them for tailgate parties, beach days, camping trips or picnics. As the title suggests, it will hold up to 30 cans. Personalize with names, monograms or initials for no extra cost!
The Maverick Leather Weekender Duffle Bag – Look good on the go
Available in brown or black leather, this Personalized Leather Weekender Duffle can be personalized with the recipient's initials. It's the ideal gift for your groomsmen proposal or to send to the guys who will be traveling in for the wedding. Additional features include multiple extra pockets, luggage tag, antiqued metal zippers and an adjustable carrying strap.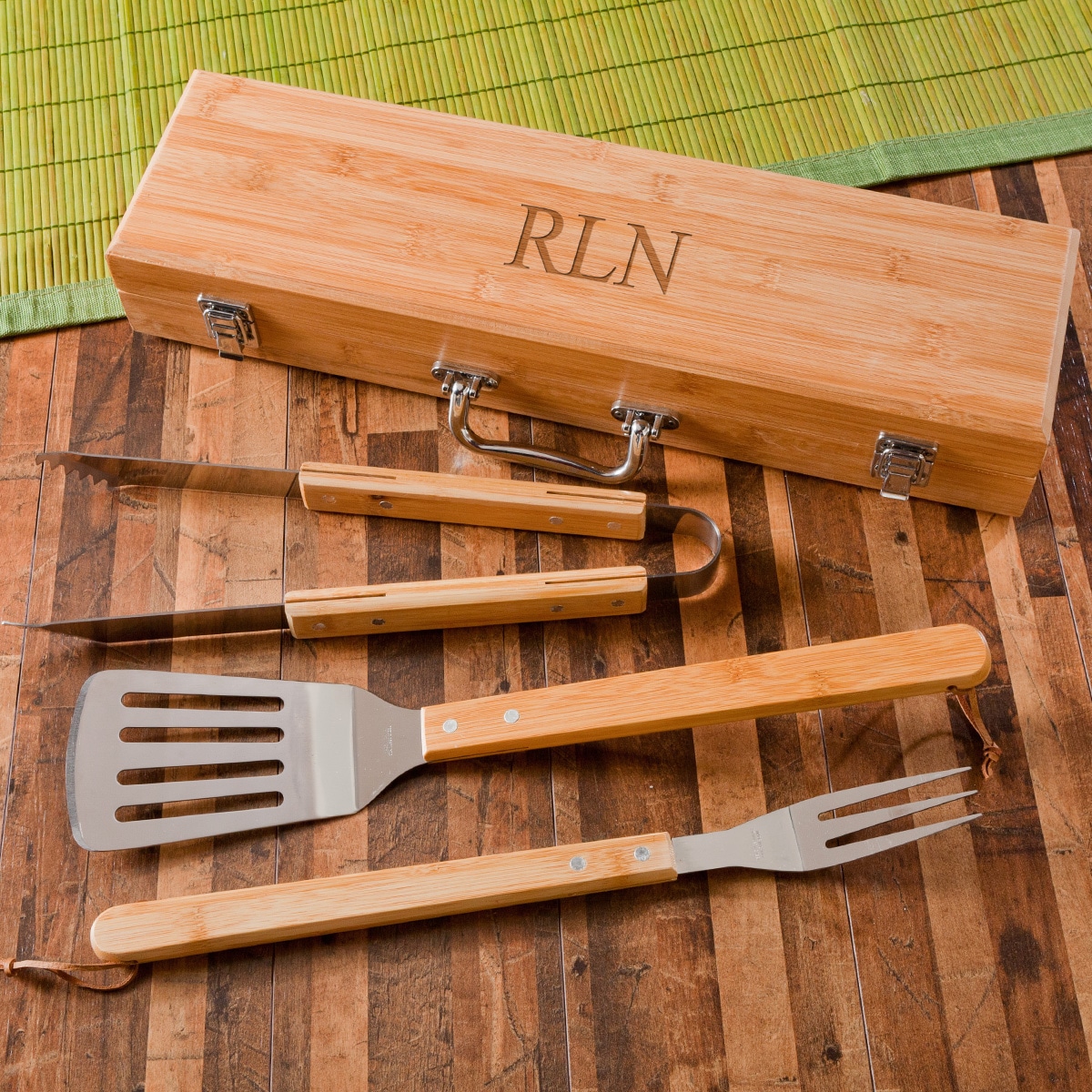 Great Groomsmen Grilling Gear – Respect the flame
There's nothing wrong with being a lousy grill-master. It hurts to admit it, but we're all capable of this. With our Personalized Bamboo BBQ Set, you can at least look good while pretending to know what to do. The kit includes a spatula, tongs and grill fork. Your grill master groomsmen will love this concept. Meat sold separately.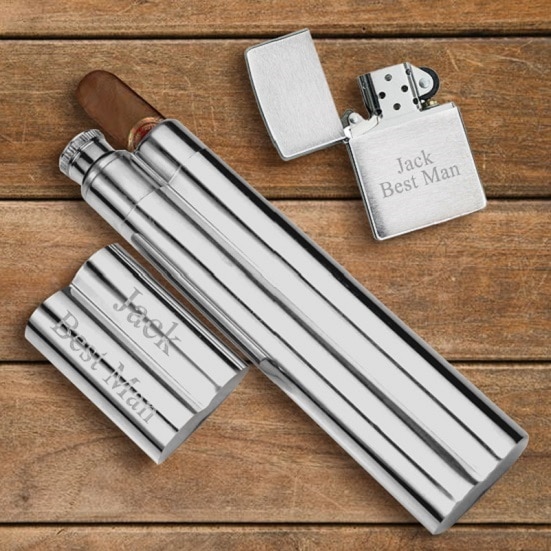 Cigar, Flask & Lighter Groomsmen Gift Box – Can it get more manly?
It's simple math. Three gifts are always better than one. Especially when those gifts are as awesome as this personalized cigar tube/flask combo and lighter we've bundled to create our Cigar Holder Flask and Lighter Groomsmen Gift Box. The gifts come in our handsome padded black gift box that comfortably holds both items. It should be no surprise that this is one of the best groomsmen gifts of 2023. Need to explore further?
15+ Groomsmen Gift Boxes and Sets
Great Groomsmen Gifts
Blade of Honor Personalized Axe – A true kick axe groomsman gift
Yes, that's an axe. Nothing screams unique groomsmen gift like the Blade of Honor Personalized Axe engraved with the groomsmen's names or initials. It's perfect for clearing overgrown vegetation, chopping up kindling or breaking up ice when the weather turns cold. You can also take the axe to your local axe throwing lanes, which are all the rage right now.
Engraved Perfect Pour Decanter Set with Lowball Glasses – Just what the Dr. ordered
Show me a guy that says he doesn't want a stiff drink at the end of the day and I'll show you a liar. You know your groomsmen liquor of choice. One only drinks bourbon. One swears by tequila, while another only drinks vodka. This classy 3pc. decanter set is fit for any gentleman and their tastes. We'll personalize in one of four ways. One option features antlers and an initial (pictured above). The other three are variations of a formal monogram. Two lowball glasses are included so he'll never have to drink alone.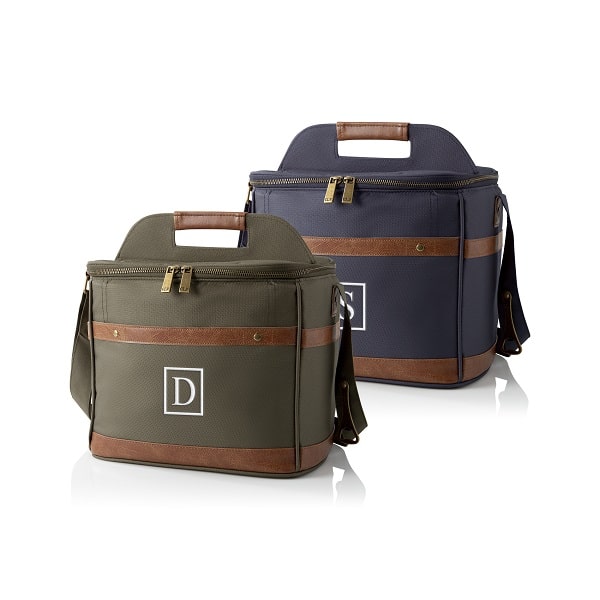 Personalized 12-Pack Craft Beer Coolers – We have you covered
These handy and durable craft beer coolers are ideal for many types of occasions. Grooms and groomsmen can use them while hanging out in the backyard, floating down a river or going on a road trip. They're water tight and won't leak when filled with ice. An initial may be embroidered on each cooler making for a practical and unique groomsmen gift. Also available in 6-pack size.
More Personal Coolers and Beer Carriers
Creative and Unique Groomsmen Gifts

Wooden Cell Phone Speaker – WARNING: You may end up using this groomsmen gift every day
Amplify the sound of your favorite playlist with no cords or strings attached on this eco-friendly speaker. Handcrafted from American Walnut wood, the Wooden Cell Phone Speaker is perfect for your desk, nightstand or poolside. Trust us, this 2023 groomsman gift standout will have all of your guests talking!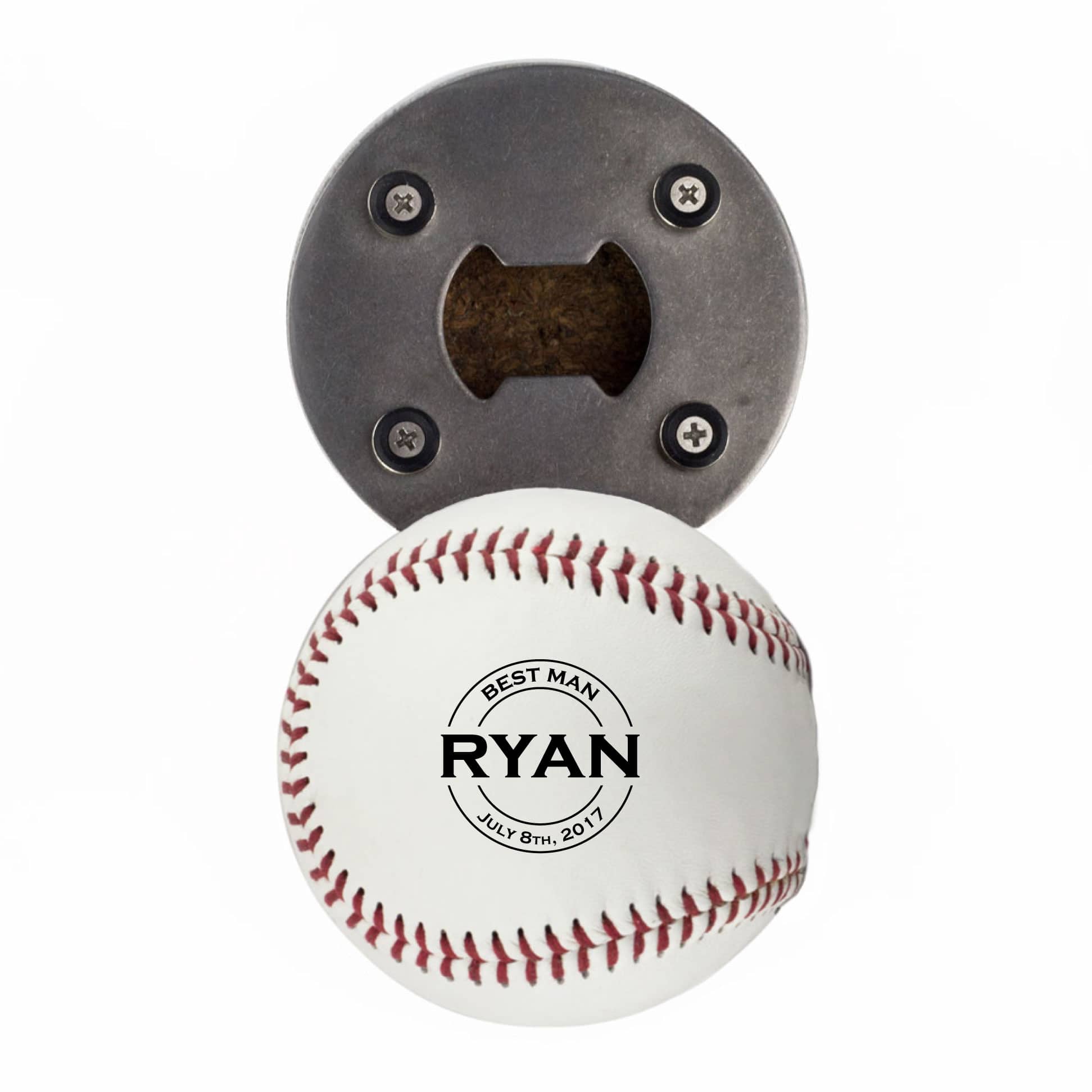 Personalized Baseball Bottle Openers – Celebrate America's pastime
Where we do we even begin with how awesome these personalized baseball bottle openers are. Each is handcrafted from a regulation-size baseball – with multiple ways to personalize. Not into baseball? Check out these puck openers and golf ball bottle openers for your favorite sports fans.
Foldies Folding Sunglasses – Know when to hold 'em and when to fold 'em
We're all for innovation in the wedding sunglasses game. These unique folding sunglasses are available in classic wayfarer, aviator and browline styles. With each pair, your groomsmen will receive a personalized leather case, microfiber cleaning cloth and the satisfaction of looking like an absolute stud on the big day.
Useful Groomsmen Gifts
SUIT SAVER Convertible Duffle Garment Bag – Two-in-one functionality for only the best groomsmen
The only garment bag you'll ever need is also a duffle bag. Available in grey and black, this groomsmen gift allows you to properly pack and travel with a suit that is convenient and without wrinkles. Pack shoes, a couple days worth of clothes, and even toss in your dopp kit because you will have the space for it all in the SUIT SAVER. We'll personalize the front pocket with up to three initials at no additional cost to you.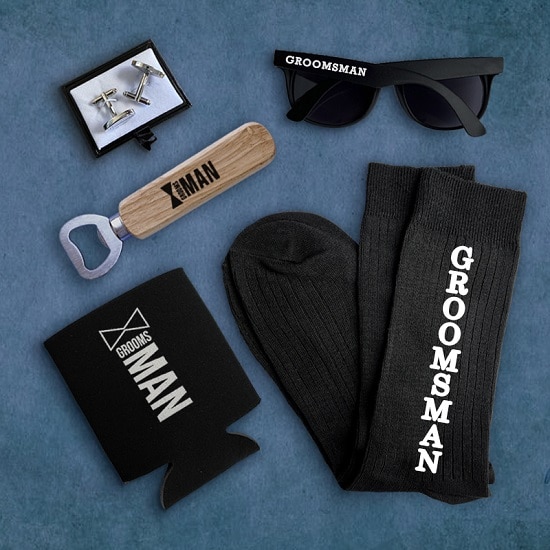 Ultimate Groomsmen Gift Set – For all of the photos that will be taken
Looking sharp and having a great time on the wedding day is a requirement. During the ceremony, the groom crew will be turning heads in their wedding sunglasses, socks and cufflinks. Once the reception starts, it's time to break out the drinking gear! Each Ultimate Groomsmen Set includes a pair of Wayfarer style sunglasses, comfortable black dress socks, cufflinks, wooden bottle opener and foam cozy. Available sets include, Groom, Best Man, Groomsman, and Usher.
Metro Leather Wallet – R.I.P. to the wallet from high school
This stylish, suede-inspired Wallet & Money Clip Combo makes a great gift for grooms and groomsmen. It's available in three handsome colors. The bifold-style wallet sports multiple slots for cards plus a money clip to keep your cash handy and secure. Personalize with a name or set of initials for no extra charge.
Personalized Tumblers – For thirsty groomsmen
These handy Personalized 20oz Black Matte Tumblers make a great gift for groomsmen. The insulated tumbler has a double-walled stainless steel design and a BPA-free, tightly sealed lid with a sliding lip. The mug will keep coffee hot through the afternoon and lunchtime drinks cold until dinner. Add custom text or an initial to the tumbler for no extra cost.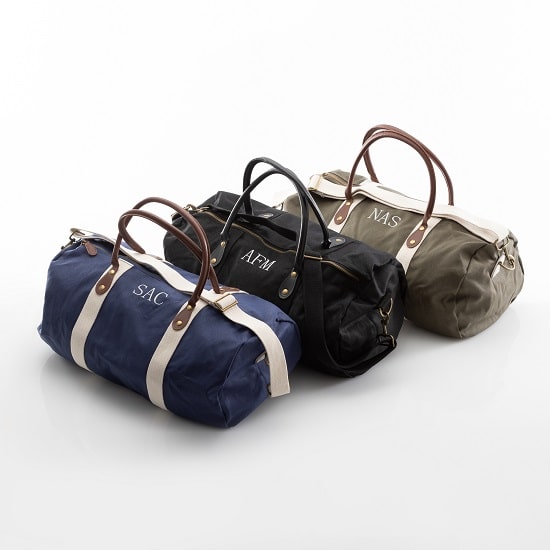 Canvas & Leather Duffle Bags for Traveling Groomsmen – Traveling made easy
Not every gift is worthy of being presented to your best man. The GOING PLACES Personalized Canvas and Leather Duffle Bags definitely make the cut. They're available in three colors and can be personalized with the recipient's initials. There's enough interior room to pack for a weekend getaway or quick business day trip.
Classy Groomsmen Gifts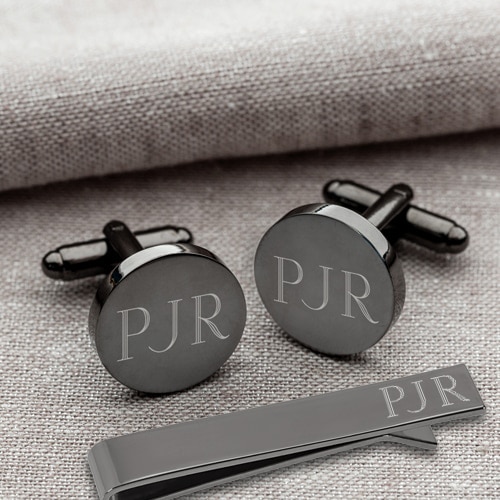 Gunmetal Cufflinks & Tie Clip Gift Set – A little nudge towards maturity
This classically designed Personalized Gunmetal Round Cufflinks and Tie Clip Set is the perfect accessory to tie his look together on the wedding day or any other well-dressed occasion. Beyond your wedding day, he'll wear them at formal occasions, such as important business meetings, religious occasions, weddings, and other important events time and time again in the years to come. Add the recipient's engraved initials to the set for no extra cost. The set is also available with square-shaped cufflinks.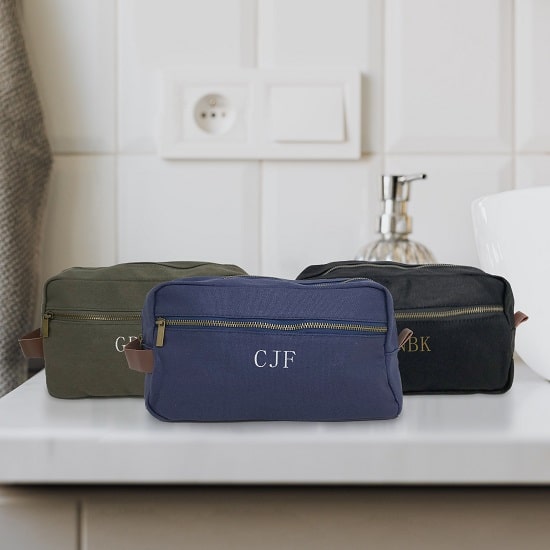 Canvas & Leather Dopp Kits – Help the groomsmen stay organized
Your groomsmen will be hitting the road in style with these personalized dopp kits that are available in black and olive green. The best part about this gift is that it's practical. They're great for frequent travelers, students and guys who enjoy hitting the gym after work His grooming essentials and toiletries will fit comfortably inside. The exterior features a handsome look, especially after his initials are embroidered (for no extra cost). If you feel like really making his day, there's also a version that includes a beard grooming kit, for the bearded man.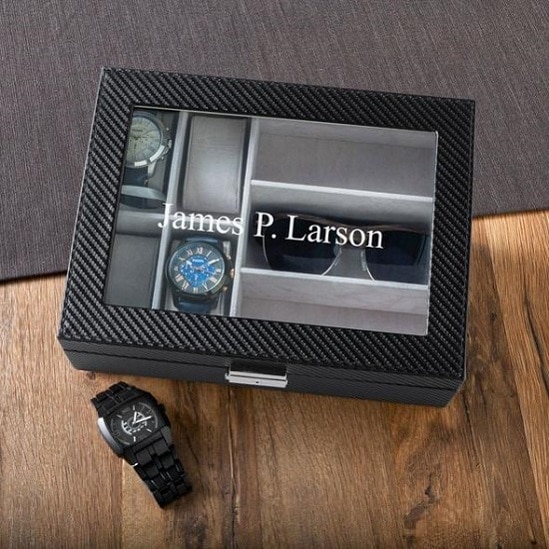 Personalized Watch & Sunglasses Box – Won't break the budget
He'll never hunt for his go-to accessories again with this leather-wrapped Personalized Men's Watch and Sunglasses Box. The attractive 10-inch by 8-inch, hard-sided case features a carbon fiber-inspired design, a hinged lid, clasp closure and polished-nickel locks. It safely houses and protects three pairs of sunglasses and four watches with removable velvet watch cushions. Add personalized text to the glass lid of the case at no extra charge.
Funny Groomsmen Gifts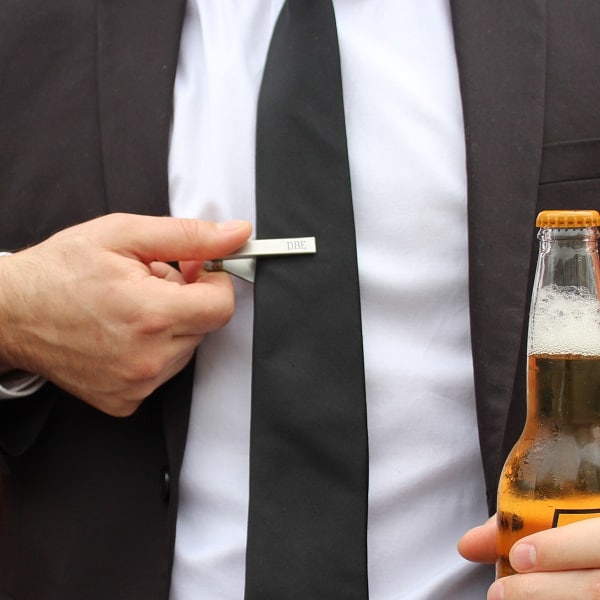 PRYCLIP Bottle Opener Tie Clip – Groomsmen that pry together, stay together
To the average person, this may look like a dapper silver tie bar. However, once you reveal the high quality, durable bottle opener hidden on the back side, the fun begins. Meet the next great style accessory for men. The PRYCLIP Bottle Opener Tie Clip serves as a unique groomsmen gift because we're betting they don't have something as versatile as this in their possession. We'll engrave a name or short message on the PRYCLIP for no extra charge.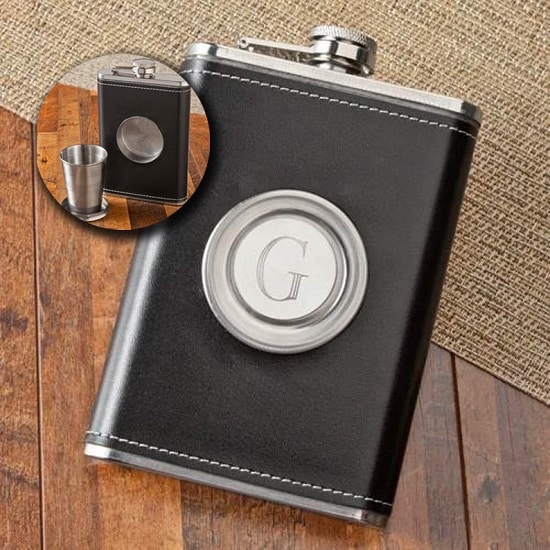 Leather Flask with Pop-Out Shot Glass – Reveal Your Hidden Agenda
This clever flask holds a secret. Hidden in the middle is a pop-out, metal shot glass (that can be engraved with each guy's initial). They're perfect for the groomsmen to carry in their back pocket during the bachelor party, golf outing or wedding festivities. Each flask holds 8oz. worth of tasty spirits. The only decision to make is whether the boys will be sipping or shooting!
Best Man Gifts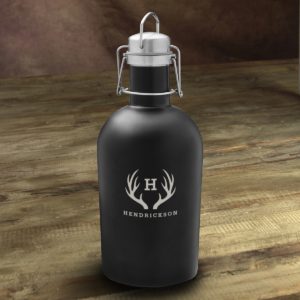 Home Brewer Black Matte Beer Growler – For big craft beer guys
Know any home brewers? They'll love serving and transporting their latest creations in this Personalized 64 oz. Black Matte Groomsman Growler. Crafted of durable stainless steel and coated with a sleek matte black finish, the growler includes a swing-top lid for a secure seal. Engrave it with the name of the recipient's brewing company and year established for no extra cost.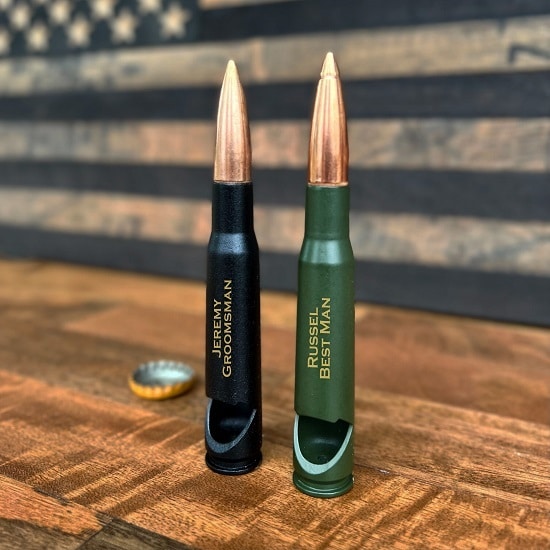 .50 Cal Bullet Bottle Openers – One of a kind groomsmen gift
An ideal gift for military members, hunters or history buffs, the BREW SHOT Authentic .50 Caliber Bullet Bottle Openers are sourced from U.S. military bases around the world and re-purposed into bottle openers. Available in brass, black matte, green, chrome, red and blue, each bullet has actually been fired once and will open any bottle with ease. Engrave a name, date or special message on the surface for no added cost. Gift boxes also available.
Custom Pub Signs for Every Type of Guy – Ideal for his man cave
Everyone's different (and there's nothing wrong with that)! We have custom pub signs to match the interests and personality of each guy in your wedding party. This includes bourbon bar signs for the whiskey sippers, sporty signs for the athletes or you can even elevate the humble home bar to official Irish pub with the custom Cead Mile Failte sign. All signs are ready to hang right out of the box.
One Final Note…
All of the products in this list (plus more) are available on The Man Registry. We offer speedy service, free personalization and free shipping on orders over $75. Need to also knock out your bridesmaid gifts? We have those too.
Don't let the process stress you out. You know your buddies better than anyone. Whether it's an old college friend, former teammate, childhood friend, or your brother, they will be happy with whatever you give them, and if not, maybe they're not as close of a friend as you think. At the end of the day, you want to make sure that you show them how important it is that they're by your side on the biggest day of your life and find a gift for them that they will cherish long after the ceremony.