Many grooms want to give their groomsmen cufflinks and tie clips that can actually be worn and enjoyed on the wedding day and other important occasions. If you fit this description, look no further than our personalized cuff link shop. We offer classy, traditional cuff links as well as unique, offbeat styles including bamboo, gunmetal, wood, tie clips with bottle openers and more. Read More
The right pair of men's cufflinks will set any guy apart from the pack. We offer monogrammed and engraved options that are perfect for any occasion – not just the wedding. Whether it's a job interview, important date or corporate event — every man needs a perfect pair of cuff links. We're confident that you can find that gift in our store. And don't forget to add a matching tie clip to complete the set.
Showing 1–24 of 29 results
Cufflinks For Men Gift Guide: Get Cuffed Up
The right pair of cufflinks will complete any guy's look. Cufflinks are well-known as an accessory for formal and semi-formal outfits. They add an element of attention to detail to any button-down shirt. And with hundreds of thousands of options available online, finding the right set is sure to be a daunting task. Because of this, we've handpicked our favorites for you to consider. Before you buy just any old average set, we urge you to stop and take a look at these unique options.
If you need some more background on these stylish accessories and how you can properly pull these off, we've got you covered. We have cufflinks 101 for you on how, when, and why to wear cufflinks.
What are Cufflinks?
Traditionally worn by men, cufflinks are a rare form of accessory that blends decorative and functional properties. Cufflinks work to elevate a tux by replacing the sleeve buttons to incorporate a sleek, stylish look. They bring together the details of a tux, while also fastening the shirt cuff closed.
Cufflinks are unique in that they're not sewn into the shirt, they are adjustable and removable.
There are tons of different styles of cufflinks with different clasps, shapes, materials, and even fully customizable ones for specific occasions. This paired with their removable features allows people to get creative with different cufflink-shirt pairings.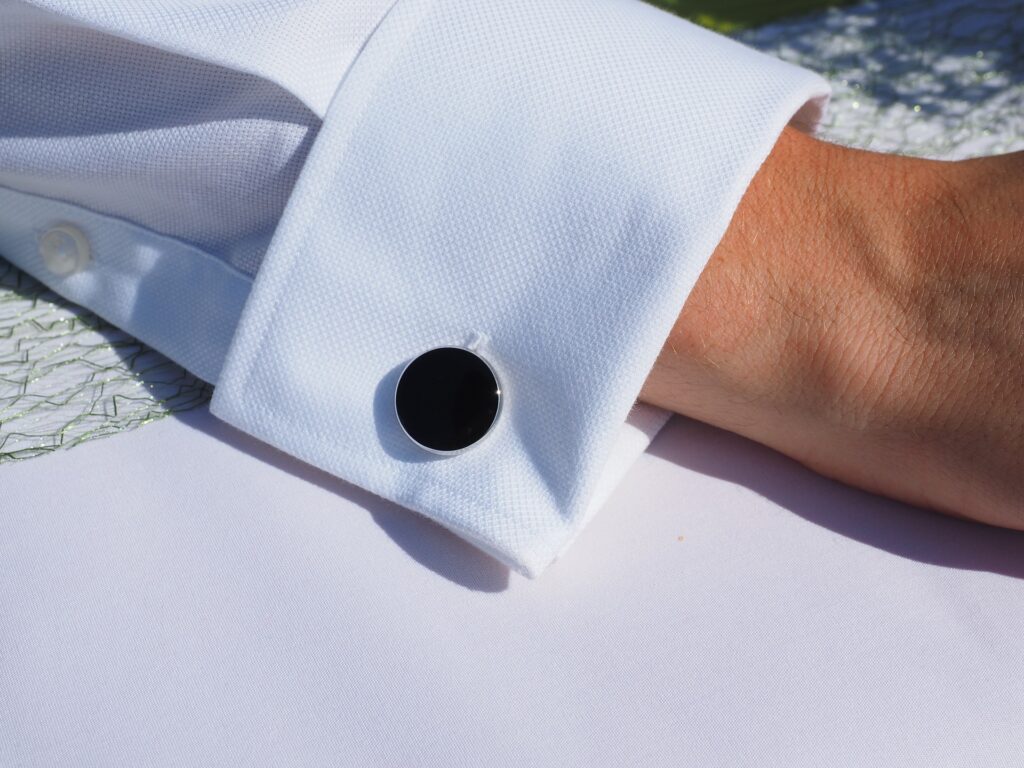 How Do Cufflinks Work?
A cufflink works to close a shirt's cuffs and keep them in place. The cufflinks do this through their specialized, intricate parts.
The front face of the cufflink is the area where the design is placed, making it fully visible on the exterior of the shirt. The front face is connected to the post, which goes through the button holes to connect both sides of the shirt cuff. The cuff is fastened to stay in place by the toggle, this is the latch area where the cufflink can be removed and secured into place.
How to Put On Cufflinks?
A cufflink is put into place by first making sure the front fact is facing outwards and the toggle is opened. This way the design is visible on the outfit and the cufflink is ready to be fastened.
Next, match up the button holes from each side of the cuff so they are face to face. There are many different ways to match up the button holes, so do whatever you feel looks best! Next, slide the pole through both holes and fasten the cufflink with the toggle. There are also many different types of toggles, so fastening may vary depending on the toggle type.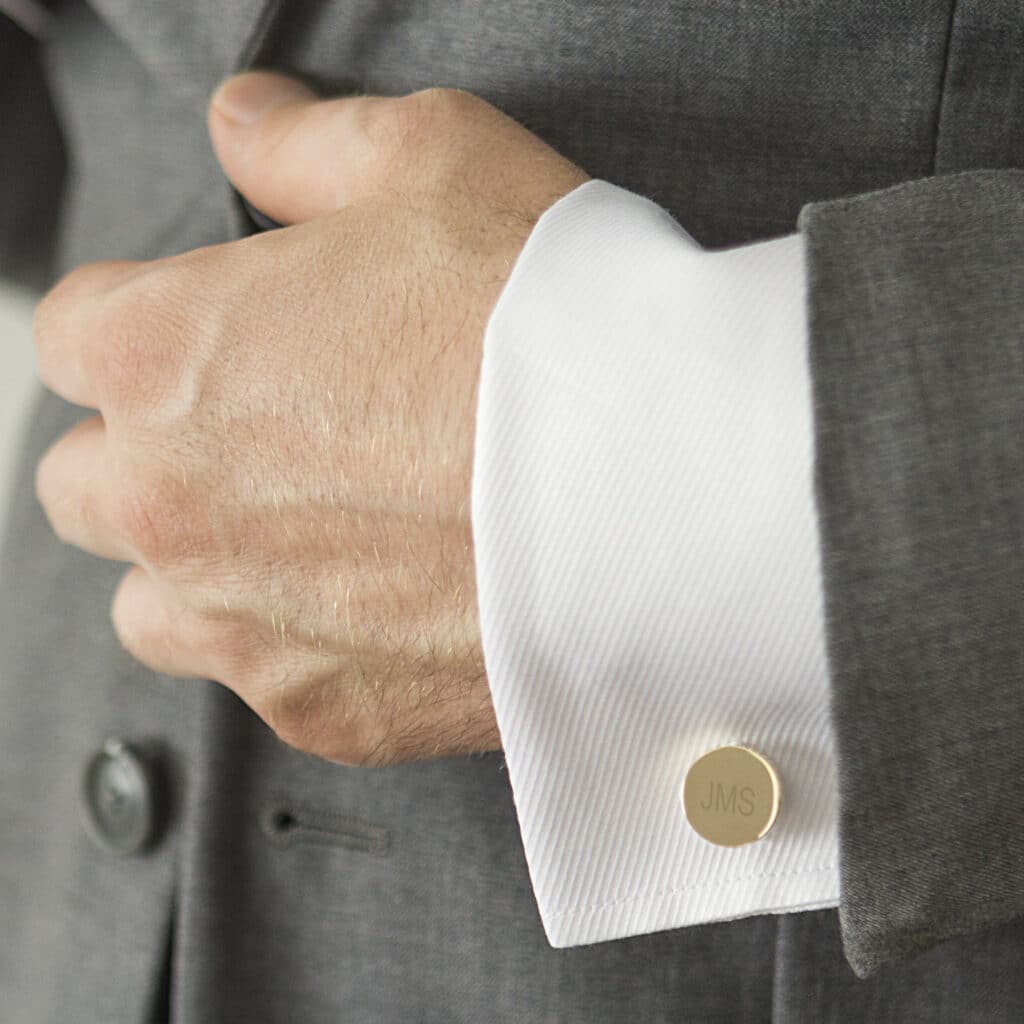 The cufflink should be secure and ready for wear!
When to Wear Cufflinks?
Looking to up your style game but not sure when you should wear cufflinks? Adding these small accessories to your repertoire is one of the easiest things a man can do to set himself apart from the crowd.
Although cufflinks are known for being an addition to formal wear, they are also functional for less formal occasions. Cufflinks can be added to any button up shirt, even to old, ratty shirts.
There's no limit to what type of shirt you can put a cufflink on. Although traditionally they belong on formal wear, cufflinks are flexible and should be used to express personal style. An even more personal element can be added to an outfit through personalized cufflinks. These can be used to express an interest while also adding formality to an outfit.
Cufflinks are a useful addition to any outfit. If you are looking to add an element to your suit that brings flare and functionality, consider wearing cufflinks.
Here are five occasions where they'll come in handy:
Weddings
There's a good chance that the last time you needed to wear cufflinks was when you served as best man or groomsman in a wedding (and struggled for a half hour to put them on beforehand). Weddings are probably the most common occasion where cufflinks are worn… and not just for the members of the wedding party. For these types of classy affairs, it's appropriate for guests to look their finest as well. Sporting a pair cufflinks is a great way to accomplish this.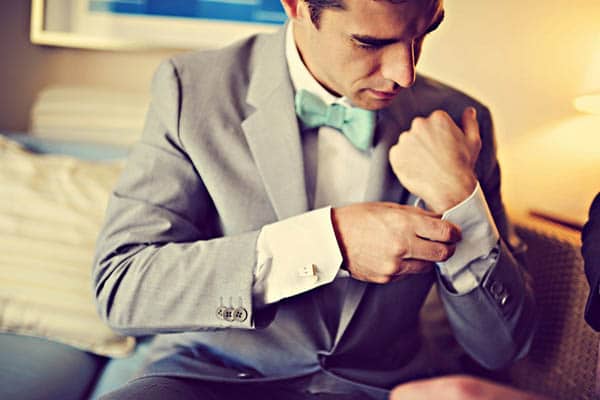 Work
Looking to expedite your climb to the top of the corporate ladder? Adding cufflinks to your look is a great way to enhance your personal brand and help you stand out from the competition. If your workplace isn't a suit and tie environment, cufflinks are still appropriate for big meetings or when entertaining clients.
Social Gatherings
Fundraisers, networking events, and galas are few types of social settings where it's essential to dress to impress. Choose a style of cufflink that fits your personality but is also appropriate for the occasion. A pair of Skull & Crossbones Cufflinks might be fun for a Vegas bachelor party with your buddies, but it may give off the wrong first impression to someone you've just met.
Job Interview
Found a job you really want? Prove it during the interview. Prospective bosses love seeing applicants dress for success. Find the right pair and give yourself a leg up on the competition!
Funeral
A funeral is a somber occasion where it's important to not draw attention to yourself with odd attire decisions. Cufflinks are appropriate, but remember to go with a subtle pair that's not flashy or distracting.
Gunmetal Round Cufflinks
Whether you're looking for something to wear or something to give, our customizable Gunmetal Round Cufflinks are perfect for any season. To really seal the deal, check out the cufflinks AND tie clip set.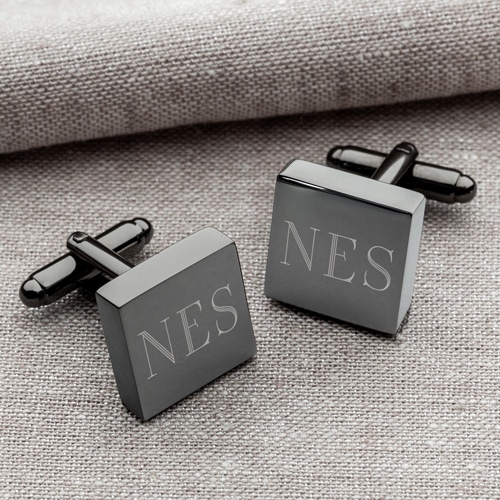 Gunmetal Square Cufflinks
For something a little sharper (pun intended), we have the Gunmetal Square Cufflinks. This sleek design can also be upgraded with a matching (and customizable!) tie set.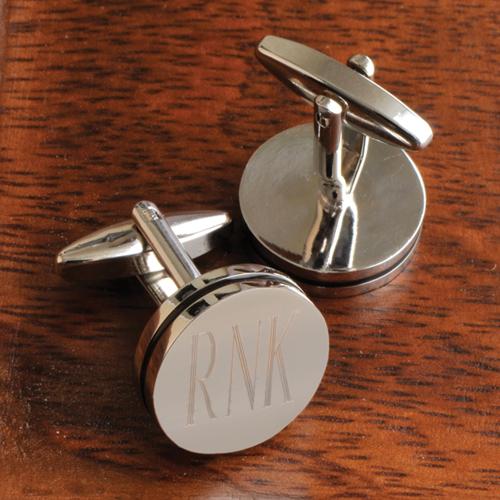 Pin Stripe Cufflinks
Take your look to the next level with these distinguished Silver Pin Stripe Cufflinks. They feature a classic shank design that is well suited for any special event you attend.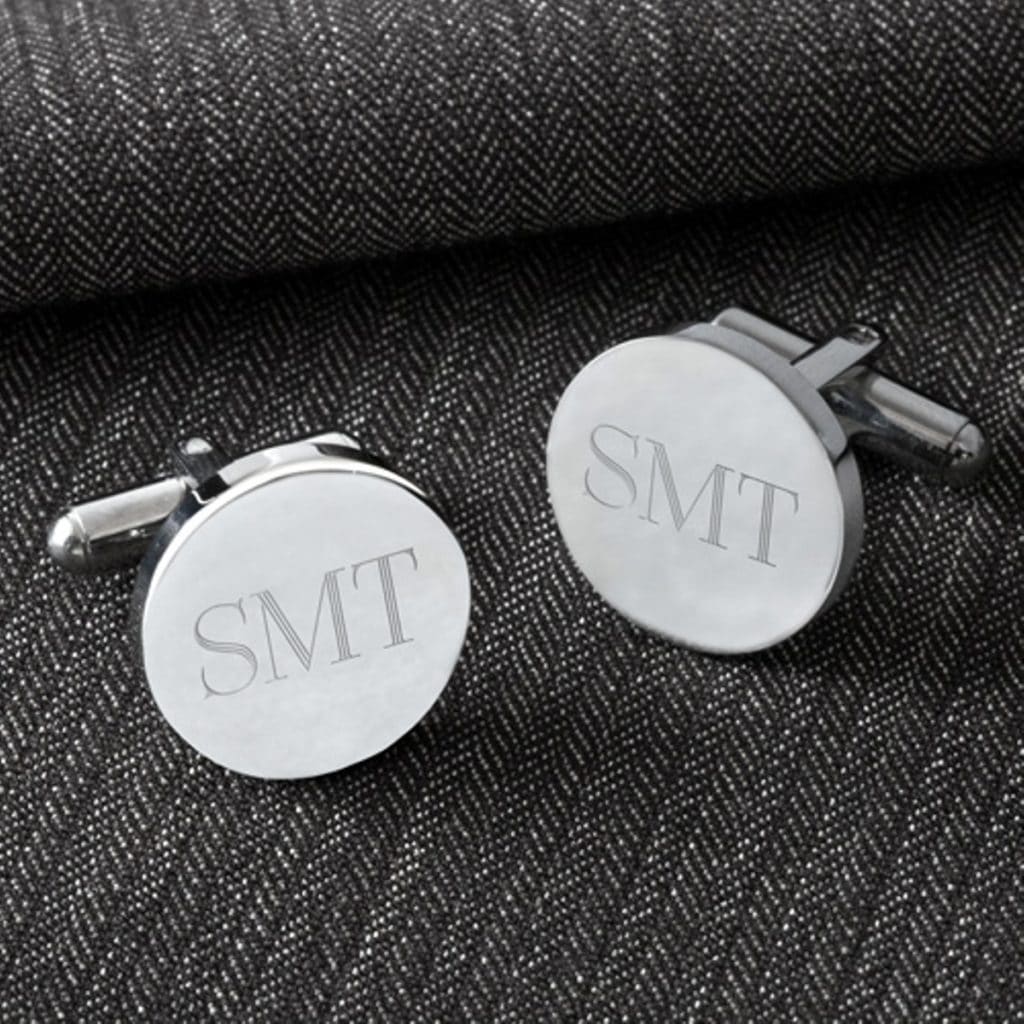 Classic Silver Round Cufflinks
Suit up and make memories with these Classic Silver Round Cufflinks! This stylish pair of cufflinks sets you up for success by complimenting any men's attire you own.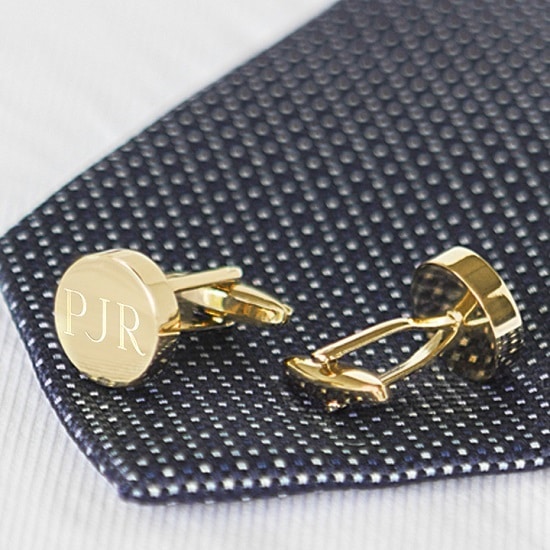 Gold Round Cufflinks
If you're a fan of gold, these are the cufflinks for you. The Gold Round Cufflinks are made to impress friends, families, and guests at any formal event. Stand out with this customizable pair, take it a step farther by getting a matching tie clip set.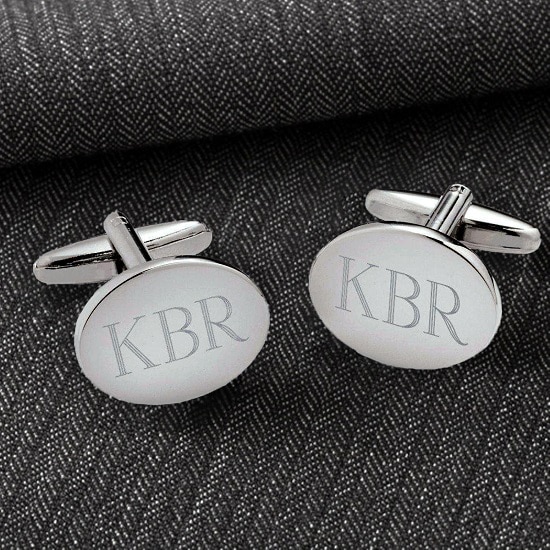 Classic Silver Oval Cufflinks
Our personalized Classic Silver Oval Cufflinks are a classic staple of a well-dressed wardrobe. They make perfect gifts, whether they're a gift to yourself or a gift to your groomsmen.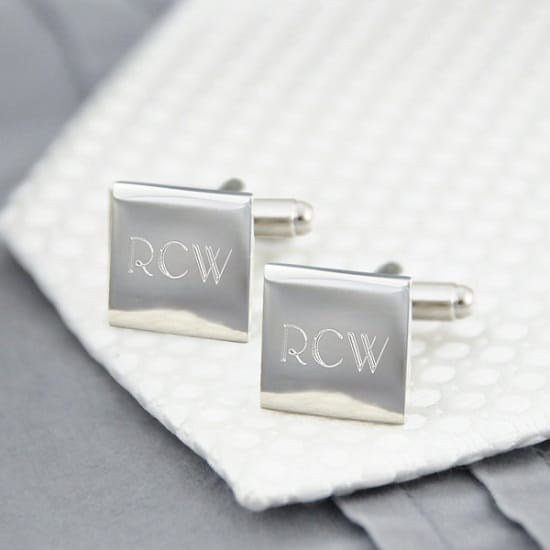 Classic Silver Square Cufflinks
This timeless piece never goes out of style. The sterling silver on our Classic Silver Square Cufflinks makes a perfect statement that is able to be customized for any groomsman. Step up the entire look by upgrade to a set that includes the matching personalized tie clip.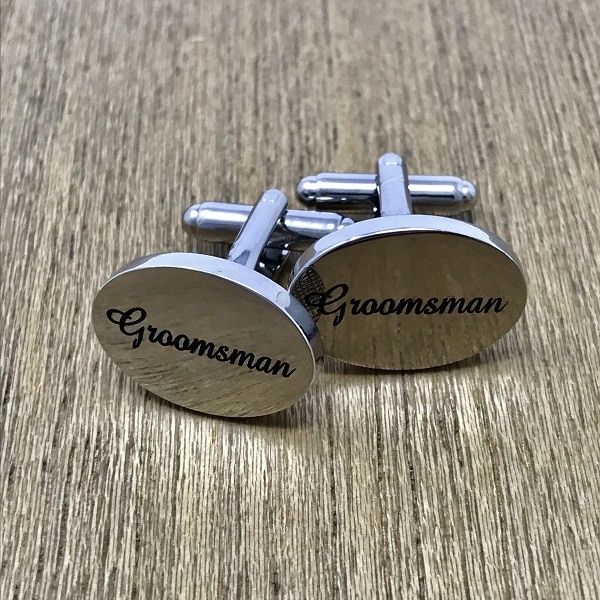 Groom Crew Cufflinks
Make your groomsmen feel special on your big day. These Groom Crew Cufflinks are the ideal accessory for your wedding party.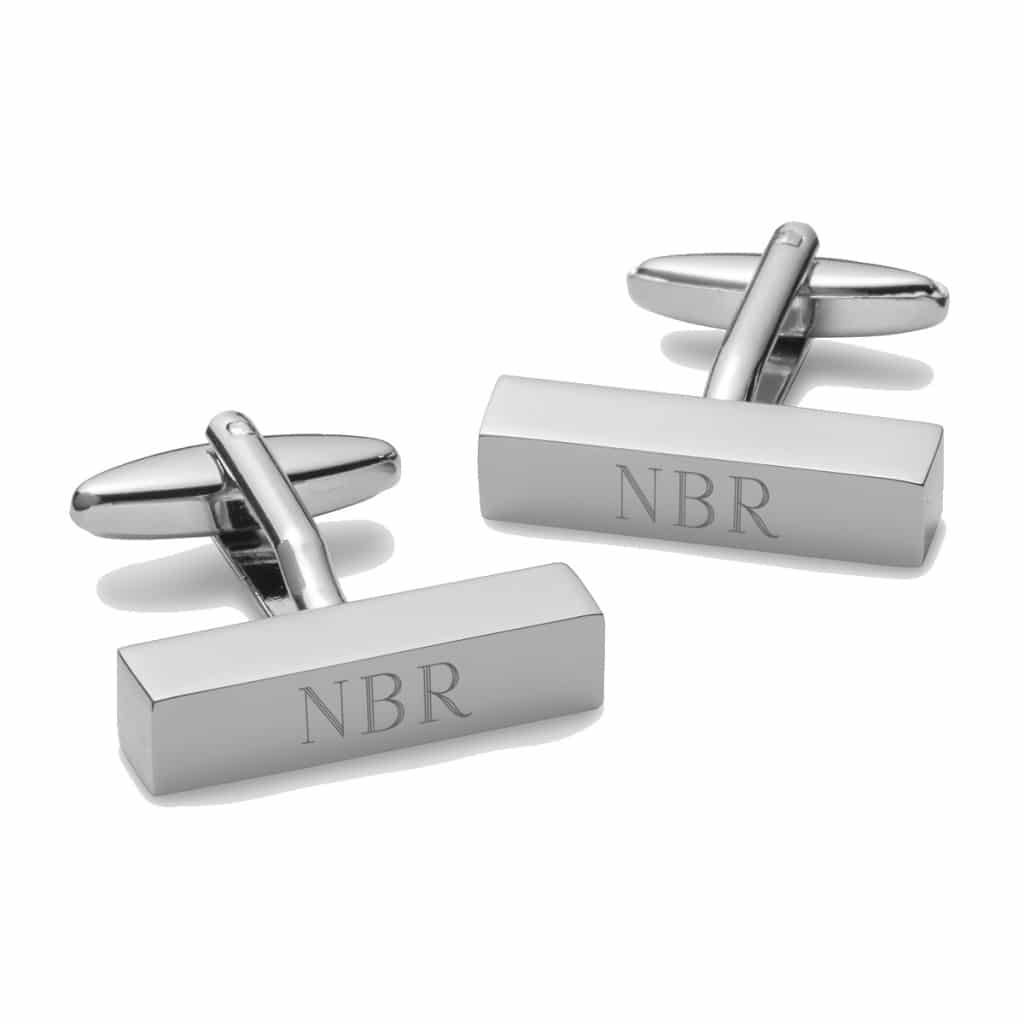 Cufflink Bars
If you want a completely different look, check out our Personalized Cufflink Bars. You'll love this contemporary twist on a classic style.
Walnut Wood Cufflinks
For those who like to wear a bit of the outdoors on their sleeve, we have our Personalized Walnut Wood Cufflinks. They're crafted from genuine walnut wood and will look good with any formal or casual attire.
Bamboo Cufflinks
To round out our list, the Personalized Bamboo Wood Cufflinks are the perfect alternative to any generic cufflink you'll find elsewhere. Crafted from a mixture of bamboo fiber and walnut, this lighter style can be worn to any event.
I reached out to The Man Registry on a Saturday, just 7 days before my wedding, asking for help with my groomsmen gifts. I heard back within an hour and was able to get 8 personalized coolers in just 3 days. Ordering was easy and the quality was top notch. Would highly recommend The Man Registry!
— Parker R.
The Man Registry is phenomenal. The customer service is exceptional - seriously. You send an e-mail and a person (a friendly one at that) actually responds within an hour. Also, gift options are diverse and plentiful so you'll be able to find what works best for you.
— Andrew S.
Featured on: