Groomsmen Proposal Guide: How to Pop the Question (Again)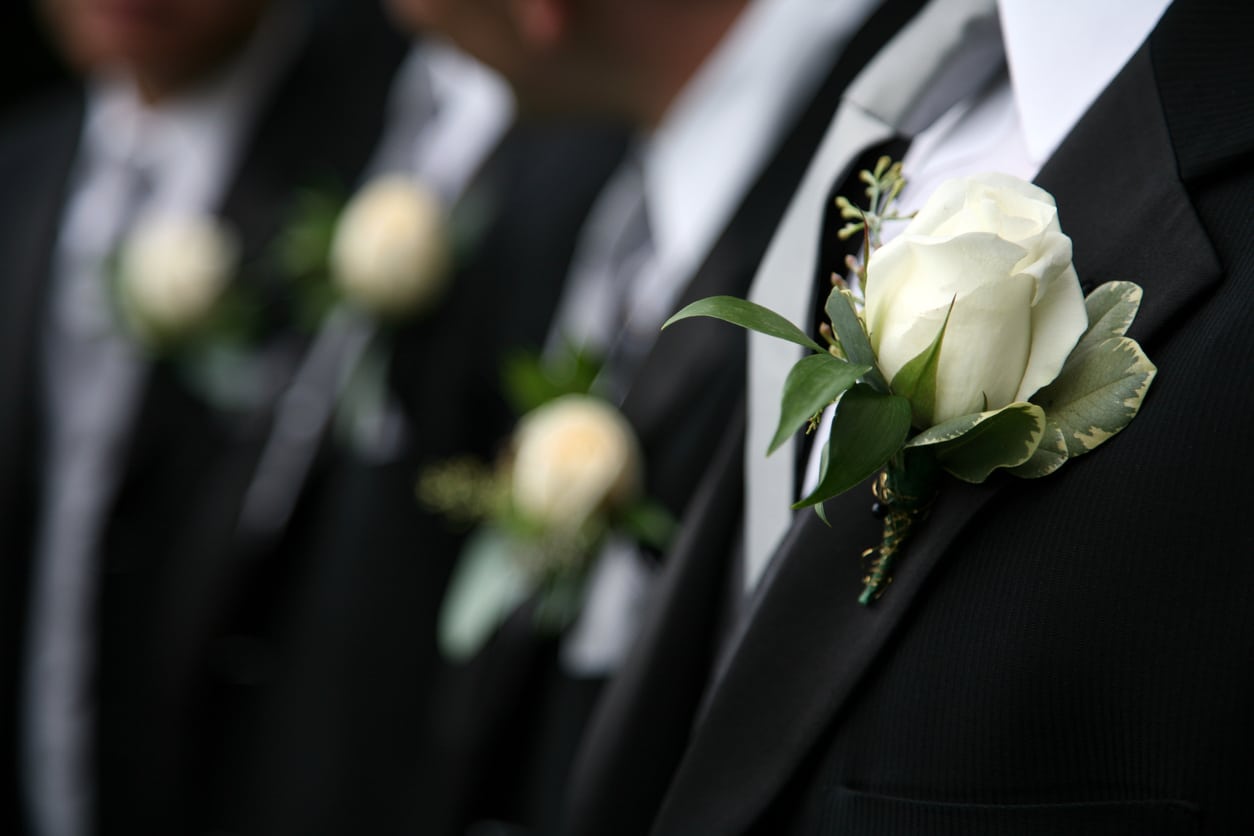 You popped the question and she's said yes – congrats! But have you planned your groomsmen proposal yet? What is a "groomsman proposal" you might ask? I'm sure the simple answer is glaringly obvious: a groomsman proposal is when you ask the important men (or women) in your life to be a part of your wedding party.
This type of proposal is on the rise on both sides of the aisle. Having a wedding party is a social rite of passage for both you and for the wedding party members. Your groomsmen will be both your support system and your comic relief throughout the whole planning process and the big day. Show them your appreciation by making a big deal out of their involvement!
Here's everything you need to know about building the perfect wedding party.
Who Do You Ask to be Groomsmen?
You should choose close friends and family to be in your wedding party. This is an honor that's hard to equal, so focus on people that you have long-lasting bonds with that won't fade away over time. First, you'll want to decide with your fiancé the size of your ideal wedding party. However, as with most wedding planning decisions, it isn't always easy. For most men, the question often becomes "Who should I ask?"
Brothers
Without question, if you have a brother, asking him to be a part of the wedding party is a given. It's often expected that your brother will serve as best man. If you have more than one brother, it's also very common to have two or more Best Men.
Your Fiance's Brother(s)
Including your fiancée's brothers in the wedding party is also a very popular choice. It's also widely accepted as standard practice. You'll be joining their family on your wedding day, and asking them to be groomsmen is a great way to welcome them into yours.
Close Friends
The tough decisions start when it comes to choosing which friends to ask. It's usually wisest to start with any life-long friends you've had. You can also think about close friends from high school and college. A very popular groomsman choice is the college roommate.
Remember, if you reach your maximum number of groomsmen, you can also add ushers. The number of ushers typically ranges from two to four — a ratio of one usher to every 50 guests is a good rule of thumb. But if you want to keep your wedding party small, it's perfectly acceptable to ask your groomsmen to also usher in guests.
Family
Cousins and nephews are also popular choices to add to your wedding party. Even if they're young, you always the option of having a junior groomsman or usher. Other extended family members are also commonly asked to be readers, greeters, or ring bearers.
When Do You Ask Your Groomsmen?
Ask your groomsmen nine to 10 months before the wedding. This gives the guys time to save the date and plan any travel that will be necessary to attend the wedding festivities.
How Do I Ask Someone to be my Groomsman?
If you're feeling like "this is just another thing I have to do", then you're looking at it all wrong. As a groom, there isn't as much focus on you and your wishes for the big day as there are for the bride. This is your chance to make a big deal of your wedding day on your own behalf. Celebrate your meaningful relationships by inviting those people to take part in one of the most important celebrations of your life. Asking someone to be one of your groomsmen is a sign of respect, friendship, and fidelity. Why not honor those bonds with a special moment or surprise gift? It's an invitation to the front row to the party of the year.
The Best Groomsmen Proposal Ideas and Gifts
When it comes to the "How you ask", you have nearly limitless options and possibilities. You could do something creative and funny or you could choose the heartfelt and memorable route for your groomsmen proposal. Your choices should reflect your personal style and the style of your relationship to the people you are asking. There are also some logistics you need to work out. Is everyone getting the same thing? Is everyone being asked at the same time? Will you ask one at a time? Once you have all the minor details, you can get to work on your surprise gift!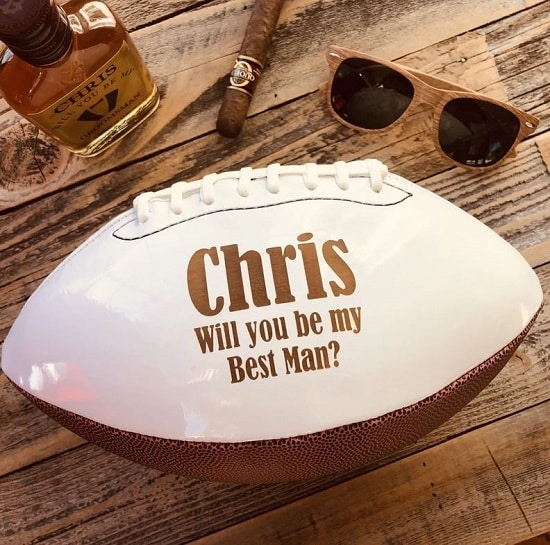 These custom footballs are a perfect way to ask your boys to be in your wedding party. You can personalize each pigskin with the names of your prospective groomsmen, best man and ushers.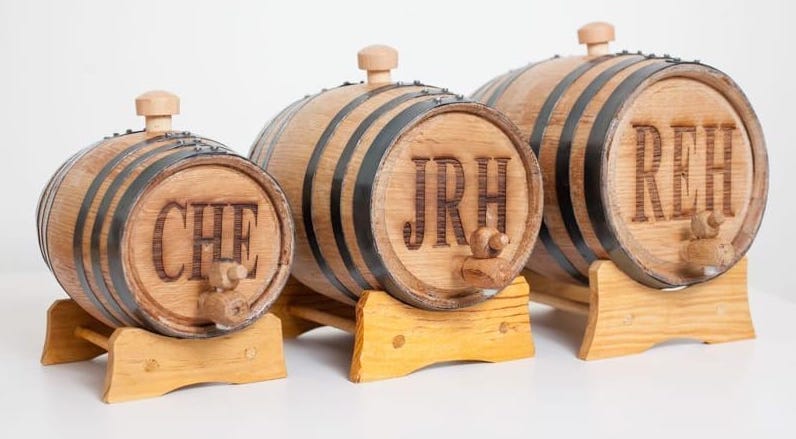 If you and your future groomsmen are whiskey-loving men, this is both appropriate and fun. The personalized barrels, which sport their initials on the front, allow your buddies to create their own custom whiskey blends using Jack Daniels, Jim Beam, or their poison of choice. It's tough to imagine a better way to celebrate than with a toast and a good ole fashioned shot.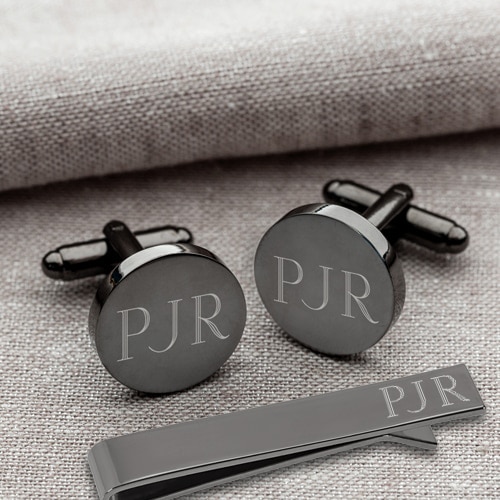 Although gifting at this stage of the game is not a necessity, it can be a nice gesture to help show your appreciation. Popping the question with these sleek, gunmetal cufflinks and matching tie bar can help seal the deal in a classy and thoughtful way. Your pals can then wear their designated pieces on the big day, looking sharp and uniform.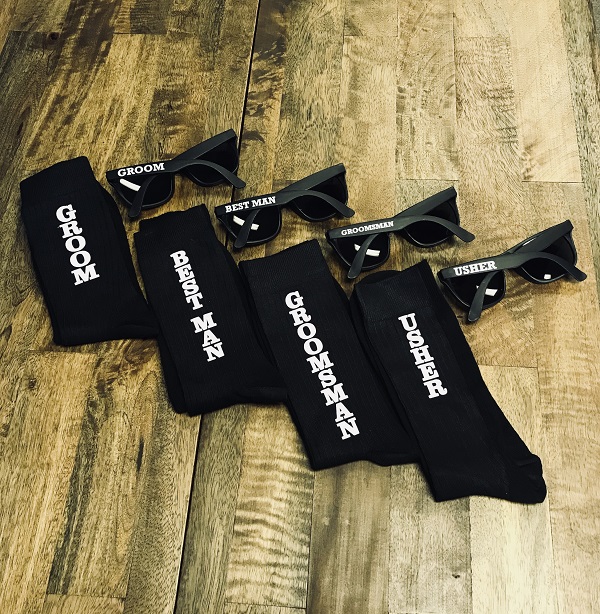 Any time you can make your guys look good, do it! Not only does the Groom Crew Sunglasses and Socks Gift Set announce who's in your groomsmen starting lineup, but it also comes into play for all the pictures that will be taken on the big day as well. We're confident the guys will love them and an immediate "yes" is bound to be said for your groomsmen proposal.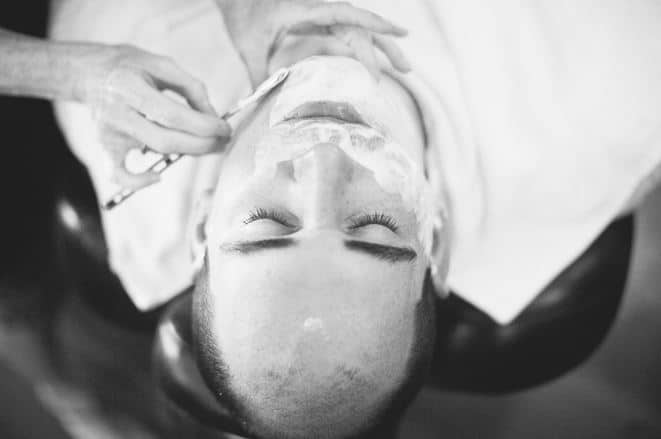 5. A Professional Shave
An afternoon of pampering isn't just for the ladies. Taking your future groomsmen out for a professional shave makes for a relaxing day for your soon to be "well-groomed" groomsmen. Your buddies will appreciate the gesture, and it will help get the wedding planning off to a refreshing start.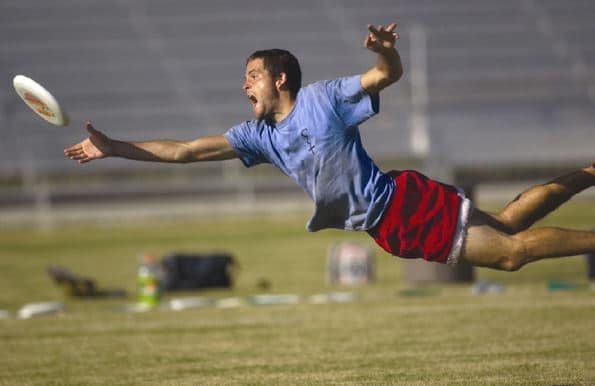 6. Hobby It Up
Do you and your future groomsman have a shared hobby such as golfing, fishing, or video gaming? Keeping it simple and asking your pal to be your groomsman while the two of you are on the golf course or at a baseball game is a great approach. Consider buying him a hot dog and a beer, and then pop the question upon delivery. Or perhaps ask him to be your groomsman after a day of ultimate Frisbee. Most importantly, pick an activity that represents a solid aspect of your relationship to show your future groomsman you value his friendship.
7. Drinking Glasses
It's no secret that a fair amount of drinking goes on after most weddings. Get your guys personalized drinkware for the after-party. You can choose beer mugs, pint glasses, shot glasses, growlers, and flasks. Choose one that fits your taste and the style of the groomsman. Have it personalized with their title and name to make a memorable keepsake for long after the hangover has worn off.
8. Tie One on
Does your fiancée already have the type and color of tie picked out that she wants the boys to wear? Go ahead and purchase those yourself and use it as the gift for your groomsmen. Give the gift of a tie (or bow tie) and a personalized pair of cufflinks so you boys know it's time to suit up! They have something to keep after the wedding that they can use again and again.
There are ultimately many, many ways to ask your main men to become your groomsmen. Getting creative should be fun and personal. Make sure to give the idea some serious thought beforehand, so your future groomsmen know you truly appreciate their support. After all, the wedding day is also a time to celebrate the closest friendships in your life.
What If Don't Have Anyone to Ask to be a Groomsman?
Asking friends and family members to serve as members of your wedding party can be a very rewarding experience. However, location, money, and other external factors can sometimes put the groom in a tough spot when it comes to these decisions. Today we tackle a question from a reader who's struggling to assemble his groomsmen.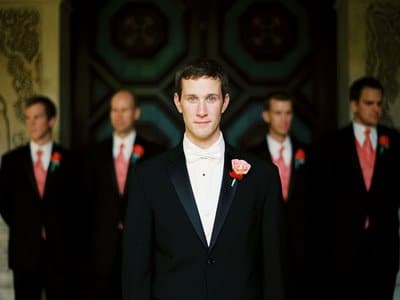 Believe it or not, this situation isn't as uncommon as you might think. Whether your top choices for groomsmen can't make it to the wedding because they've moved away, they're serving in the military, you're an only child, or you've had a falling out with your buds in the last couple of years, sometimes choosing your wedding party isn't so easy. If you don't have any obvious choices for your best man and groomsmen, don't sweat it.
First, there's no rule that says you have to have more than one groomsman, or any, for that matter. But if you prefer to have at least one person standing beside you on your wedding day, consider these options for groomsmen: your father or grandfather; your fiancée's father or grandfather; your fiancée's brother or best guy friend; a cousin, uncle or another extended family member; college roommate; neighbor or church friend. There's also no rule that says your groomsmen must be men. If you have a close female friend or family member, she can stand at your side of the altar during the ceremony.
Another great choice: man's best friend. Why not have your dog serve as your best man for the big day? Spike, donning a tux, can either sit near the altar, rules permitting, or be walked down the aisle by a family member or friend. Either way, he'll be there to cheer you on.
If these ideas aren't quite your style, another option is to forgo groomsmen and bridesmaids altogether. There's nothing wrong with an intimate wedding day focusing on just the two of you. Feel free to skip this tradition and do whatever works best for you and your bride.