Bachelor Party Ideas: Planning An Unforgettable Party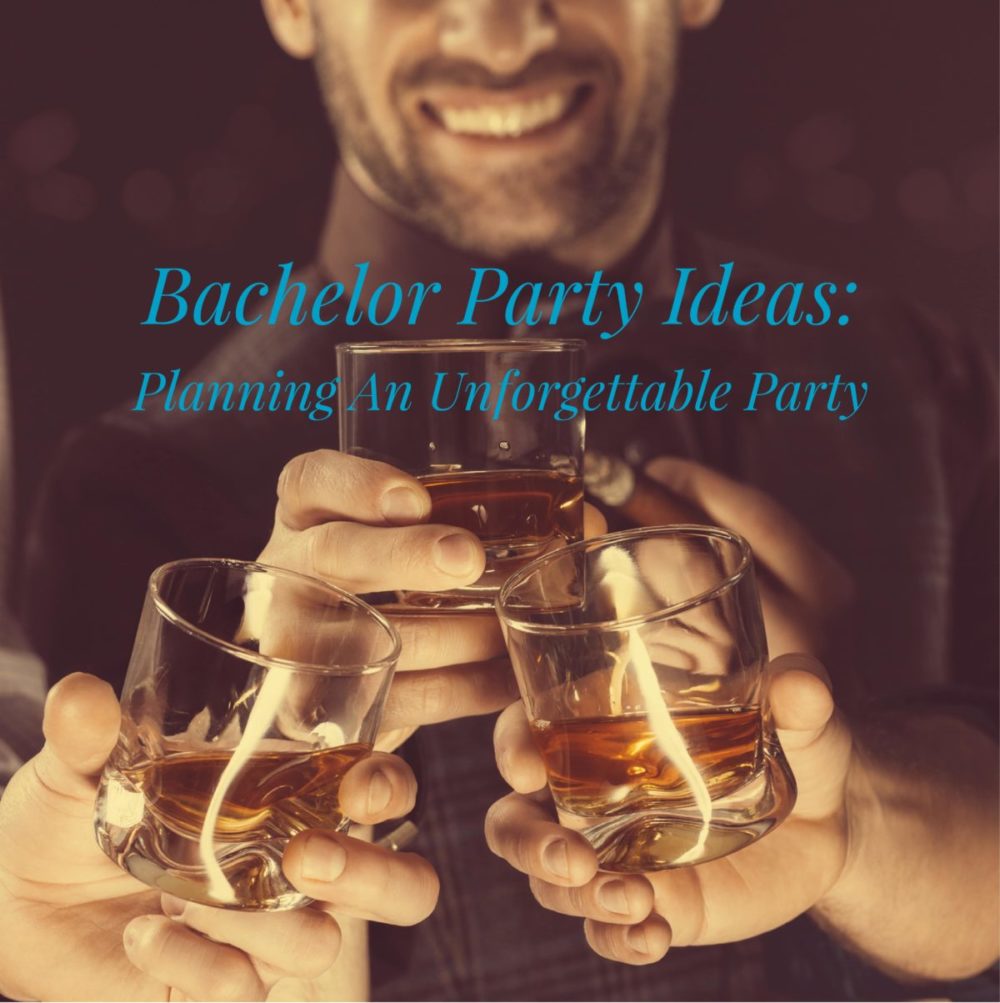 One of your best buddies just got engaged and asked you to be best man or a groomsman – congrats! As part of the wedding party, you're an extension of the groom and one of your first responsibilities will be to help coordinate the bachelor party. We've got your back for planning the ultimate bachelor party with this playbook of bachelor party ideas that you can follow so you don't forget anything important and be on your way in planning the greatest party you've ever thrown.
Bachelor parties are rooted in ancient history. Many believe that the Spartans were the first to hold bachelor parties as a celebration of the groom's last night as a single man. This celebration included dinner and drinks with many and a toast was given in the groom's honor. The term 'bachelor' itself, used as we do today, first appeared courtesy of Geoffrey Chaucer and his Canterbury Tales in the 14th century.
Bachelor parties have come a long way since then, and more importantly, they've become much more creative. With the rise of the hype of these parties, it has become easier to get overwhelmed when organizing the guys, picking a place and time, and making sure it's a party to remember for the groom.
Where is the Bachelor Party?
When deciding on a place, it is important to keep in mind what kind of scene you and the rest of the party envision for the bash. Are you looking for a relaxed environment to celebrate the groom's last night of freedom or is the group ready to shut down the bars downtown?
Choose a city/state that fits that preference and what activities everyone wants to do. Don't make the mistake of choosing an area with a lively downtown if you want to utilize the outdoors.
You'll spend half of your weekend traveling because the location does not actually match everyone wants to do.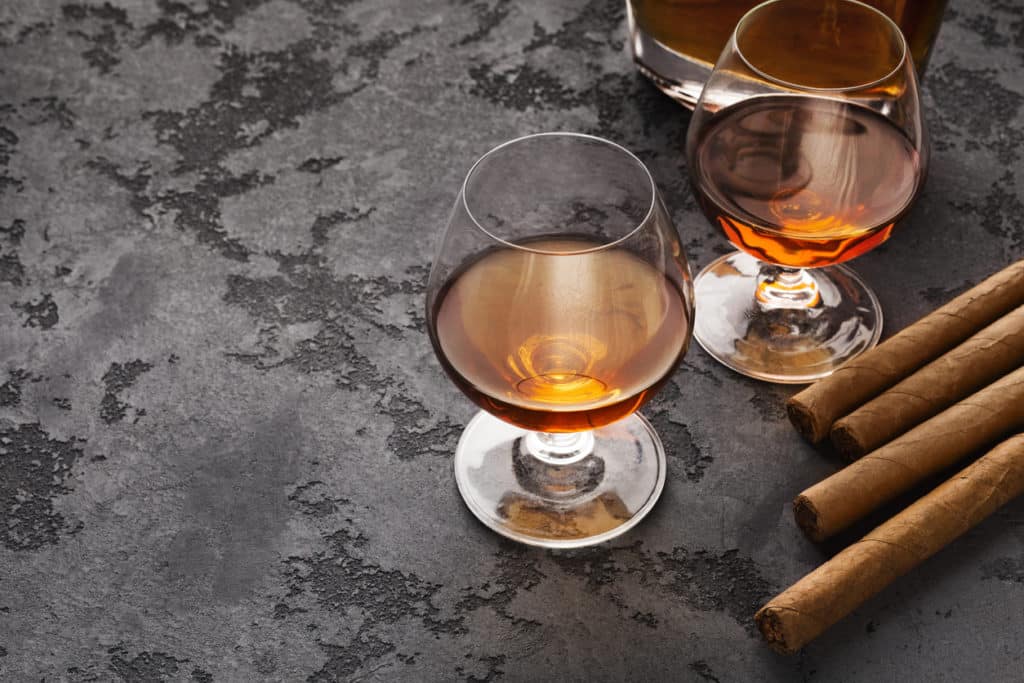 When to Have the Bachelor Party?
Typically, the bachelor party takes place between 1 and 4 months before the wedding. The "when" will greatly be impacted by how much planning needs to be done for activities during the weekend or all-day event. Making reservations and looking into the schedules of everyone who will be invited is also important to keep in mind.
Remember that some groomsmen might still be in college and have a tighter schedule. Take into account times when these guys would be able to get away from their schedules to join ahead of time.
You also should stray away from planning on a holiday weekend. Doing this might set you up for conflicts with plans that other groomsmen might have previously lined up. This is also undoubtedly a time where hotels and airlines spike their prices for the busier travel seasons.
Where to Stay for the Bachelor Party?
Once you decide on an area and a time, you need to find where you will be able to crash at the end of the day. From Airbnb's, hotels, family lake houses/cottages, condos, the list goes on with options. Again, be sure to pick a place that makes sense. If you know that you are going to focus the party in a downtown bar/club setting a hotel would be a good fit since most hotels are central to those areas and transportation will be a breeze.
If you decide to make it a weekend-long party, talk with the groom and groomsmen about their favorite weekend destinations to get suggestions on where to stay. Reserve a hotel, condo, or campground. On the pricier side, trips to cities such as Las Vegas, Atlantic City or Cancun are always a great time.
Just remember that bashes like these can sometimes exclude those with busy schedules or who are a bit strapped for cash.
TMR Recommendation: We know that getaway man weekends aren't always easy on the pocketbook. If you're staying in a hometown, we recommend planning an activity during the day and then hitting the bars at night.
Who Should Be Invited to the Bachelor Party?
Once you've figured out the destination for the day/weekend, you should discuss the guests to invite with the groom. This is probably one of the most important, but sometimes overlooked areas.
First, you need to solidify if you want to go the traditional route with guests or branch off into a newer territory of bachelor parties — co-ed parties or joint parties of the bride and groom.
Joint parties are gaining popularity due to the rise of people getting married at an older age and is new to the scene of bachelor/bachelorette parties. The reviews are mixed on this topic, but make sure that you make the decision that you think will allow the groom to bond the most with those who have been by his side through it all, for one last night of "freedom."
Some guests to consider including are the fathers — both the groom's and his future father-in-law. They'll definitely appreciate the invite. Just make it clear if they're being invited only to dinner or to dinner and a couple of drinks, etc. You may or may not want them around later in the night, depending on plans and if any bachelor party games are going to be played.
If the plan is to have a small wedding or a destination wedding and the bachelor party will be in the groom's hometown, you should feel free to also invite guests that may not be invited to the wedding, once approved by the groom. Remember, the bachelor party is the chance to celebrate the groom's life leading up to marriage, so you don't necessarily have to only include only those who are invited to the actual wedding.
The last thing to think about is friends from different groups that may not be friends with each other, such as the groom's fiancée's brother and his fraternity brother, for example. You may want to think about talking to one or both of them as to what would be considered acceptable conduct and discussion during the party.
Do yourself a favor and consider possible problems ahead of time and either warn people or tell them to keep things mellow to avoid offending anyone — especially the groom's future relatives.
Bachelor Party Do's and Don'ts
There are many different ways to throw a bachelor party, from fancy five-star dinners to a Texas Hold'em weekend at the casino. But regardless of your party preference, there are some basic tips and advice worth following. These bachelor party do's and don'ts can make or break the celebration – and even the groom if you're not careful.
1. Don't Let the Groom Pay
No matter how generous he is, the groom shouldn't have to pay for anything during his bachelor party. It's his last night out as one of the guys, so take care of him. Certain exceptions can be made, especially if the celebration spans a weekend or longer: think Las Vegas. But make sure to cover him when it counts – after all, it's his celebration, right?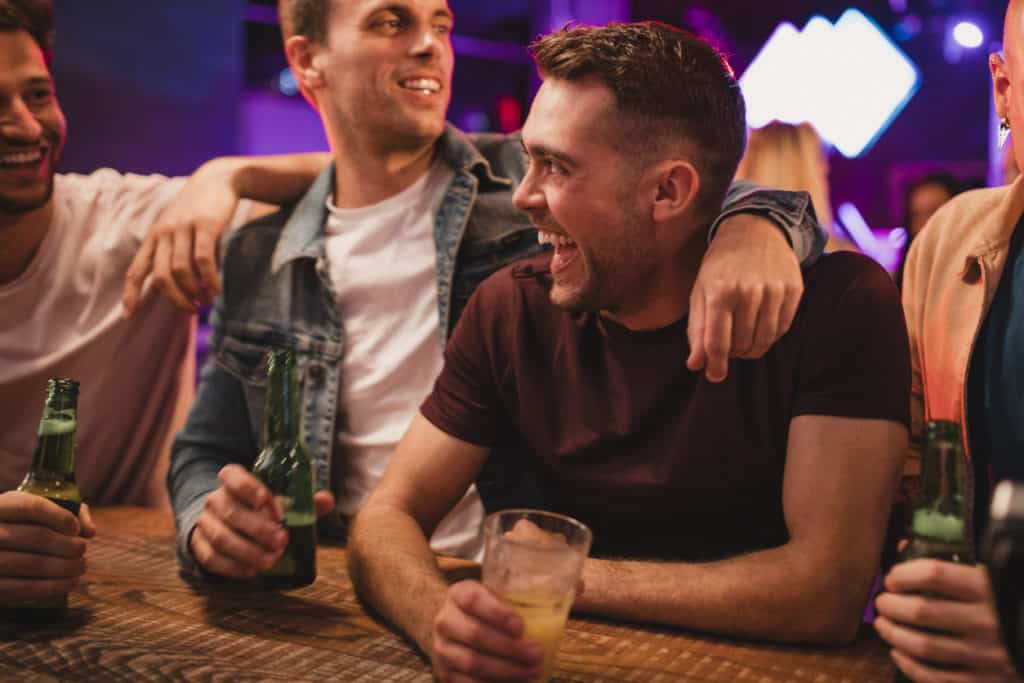 2. Do Something Different
If your group always hangs out at the same bar or goes to the same restaurant or club, don't go back to that place for the bachelor party. Take the groom somewhere different – hopefully somewhere nicer too. Whether he'll admit it or not, this is a big deal for him, so do something special. Go all out – that way there are no regrets when he looks back on the night 10 years from now.
3. Don't Let Yourself Get Tired
This is particularly important for weekend excursions or trips to Vegas. No, we're not talking about doing anything illegal here, but some real simple things can help make sure everyone is energetic and enjoying the party. Sleep can be hard to come by on a bachelor party weekend, especially if a night-long poker tournament is in the cards.
So know where to find a good cup of coffee if you're on an overnight trip. Better yet, bring one of your own coffee makers along with you. This can save you some serious money too – Starbucks gets expensive!
4. Do Some Advanced Planning
As great as it made the plot of The Hangover, don't try to hold a bachelor party any closer than three days before the wedding. There's just too much that can go wrong. Trust me – the bride and her family will thank you. Be sure to start planning early as well, especially if there are a number of guys traveling for the occasion.
5. Don't Let the Groom Do Anything He'll Regret
He's still engaged, after all, so don't let him get too out of control. It's the best man's job to make sure the groom behaves, which is actually the second most important thing he has to do – other than plan the bachelor party. Everyone else is on his own, just make sure to keep an eye on the groom. If Mario Lopez can get caught, then there's no reason to expect that he won't.
6. Do Remember to Have Fun
Despite all the excitement and planning going into the bachelor party celebration, the most important thing is to just have fun. At the end of the day, it's all your friends together celebrating an important moment in the groom's life. Don't lose sight of that amongst all the other craziness that may or may not be going on. And remember that at the end of the day, it's not where you are or what you'll do that matters – it's who you're with that really counts.
Bachelor Party Ideas
The opportunities are endless with things to do for the bachelor party. Maybe it's an all-day affair or possibly a weekend celebration is in order – such as going to Vegas or arranging a float trip, hunting or fishing trip, or anything else you think the groom will enjoy.
It's important to decide what course you want to take with the bachelor party. Hitting the bars, strip clubs, or casinos for the bachelor party are a great time – even with the accompanying next-day headache. Beware of this scene if you have worries of the groom ending up in the doghouse with his future wife.
Not going the "traditional" route does not limit you. If you're going for the ultimate bachelor party that's outside the norm (and that you might even remember the next day), an adventure bachelor party might be just what you're looking for. Because, hey, who hasn't always wanted to free climb the Mayan Ruins? These have gained popularity among bachelors and can take place anywhere.  
Here are a few bachelor party ideas that will give you some choices on how to help spend the groom's final night of freedom.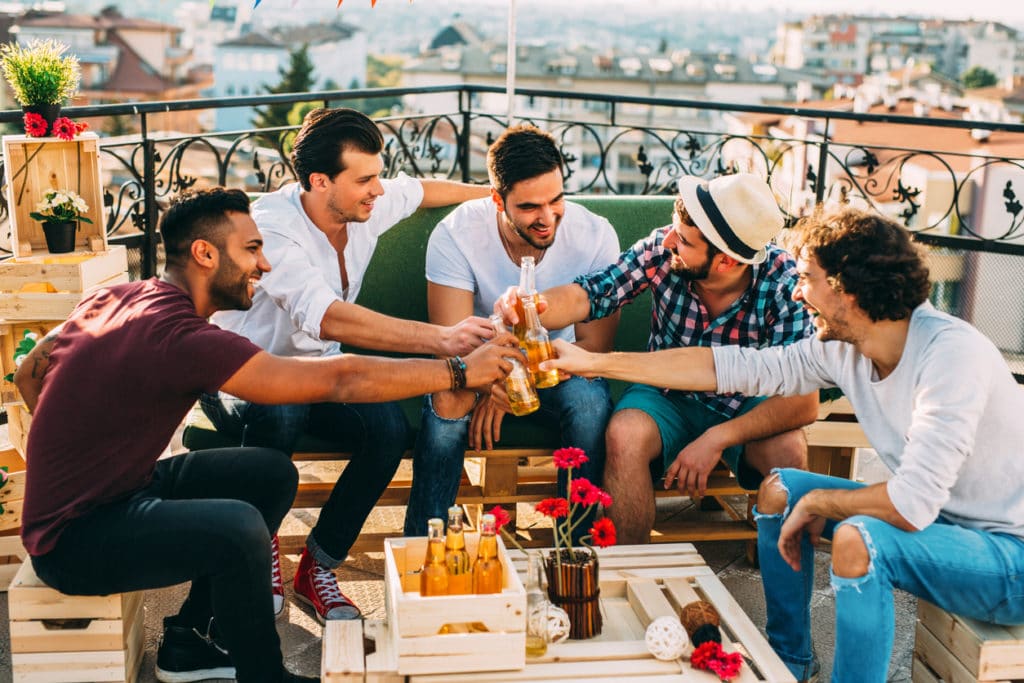 Extreme Sports
Is the groom a thrillseeker or just enjoy getting out and active? Skydiving and bungee jumping are options if you want to push the limits of sanity. If you want to try something a little less heart-attack-inducing, there are always other extreme sports like zip-lining, hiking trips and, paintball. Keep in mind the weather when planning for these activities.
Brewery / Wine Tour / Pub Crawl
Is the groom a connoisseur of beer or wine? No? Well, that doesn't really matter. Brewery tours (and/or wine tours) are really fun. You get to enjoy your favorite beverages while expanding your knowledge and appreciation of it. Some tours include snacks or even a meal at the end of the tour. Not into the brewery tours? How about a pub crawl?
Although pub crawls do not seem unique, you can always make it more exciting with themes or competitions to spice things up. Have each groomsmen put their favorite bar down and then visit each one. Not only will you have fun doing this, but you will learn a little more about your friends along the way.
Live in a city that has a Pedal Pub? Be sure to use that as your means of transportation if you can. Drink as you work out – what better way is there?
Golf Trip
Always wanted to take a weekend golf trip? This could be the ideal time to make that wish a reality. The bachelor party is a once-in-a-lifetime event, so why not play a once-in-a-lifetime golf course? Some top public golf courses you can plan a trip to are: Pebble Beach (CA), Pinehurst (NC), Shadow Creek (NV), TPC Sawgrass (FL) or the Robert Trent Jones Golf Trail (Southeast US).
Of course, you can always plan a 36-hole affair in the groom's hometown as well. This can be a fun option for including the dads, uncles, cousins, and any other relatives you may want to invite. Call in advance to set up a tee time for the entire group and find a course that is fun for varying levels of experience.
If your group isn't ready to commit to 18 holes, check out Top Golf instead. 
Water Sports
A weekend at the lake is perfect for the summer and can provide adventure and still give you some time to kick back and get your drink on. Popular water sports are waterskiing, wakeboarding, white water rafting, and tubing. Just make sure the driver of the boat is sober and can make you do this!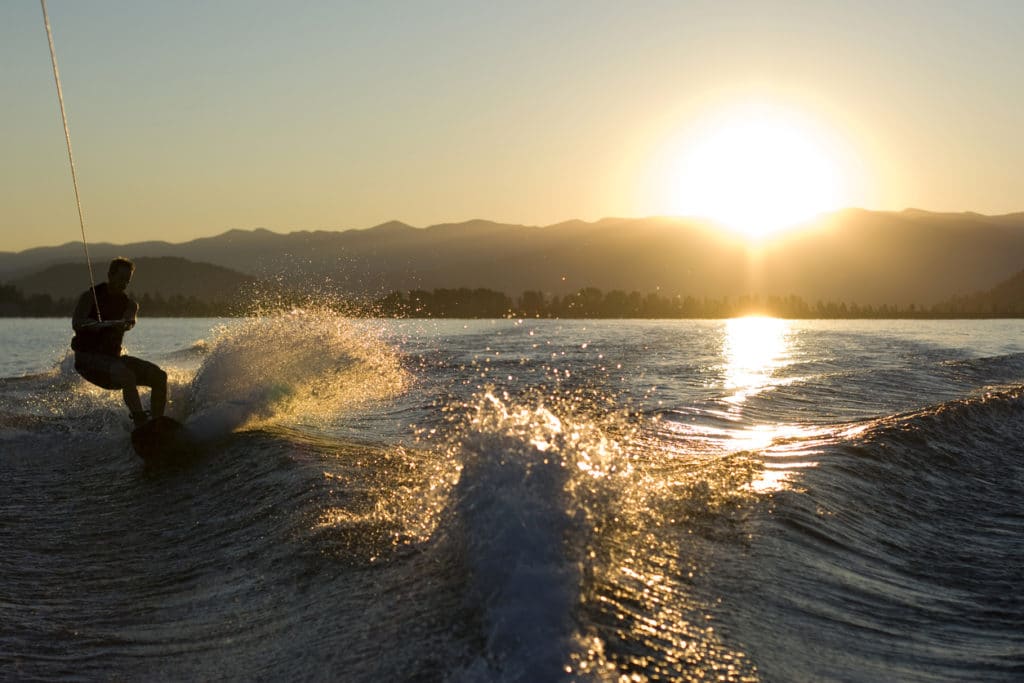 Fishing
Fishing is one of the most incredible experiences a guy will ever experience. If you've never been and you live moderately close to a lake or the ocean, definitely consider this trip as part of the bachelor party weekend. Chartering a fishing boat can be fun, and it's a no-brainer for grooms who love fishing. But even if all of the guys aren't fishermen, most people can quickly learn the basics.
(*TheManRegistry.com is not responsible for any shark attacks incurred on deep-sea fishing trips – stay safe!)
Planning a bachelor party in the winter? Try ice fishing! Research optimal areas that will be able to provide you this unique experience. There really is nothing like bonding with the boys in frigid temperatures while sitting around a small hole in the ice waiting to get a bite.
Maybe you will, maybe you won't. But it's really not about the fish, it's about the loving memories you'll be creating. (This paragraph sponsored by Dr. Phil.)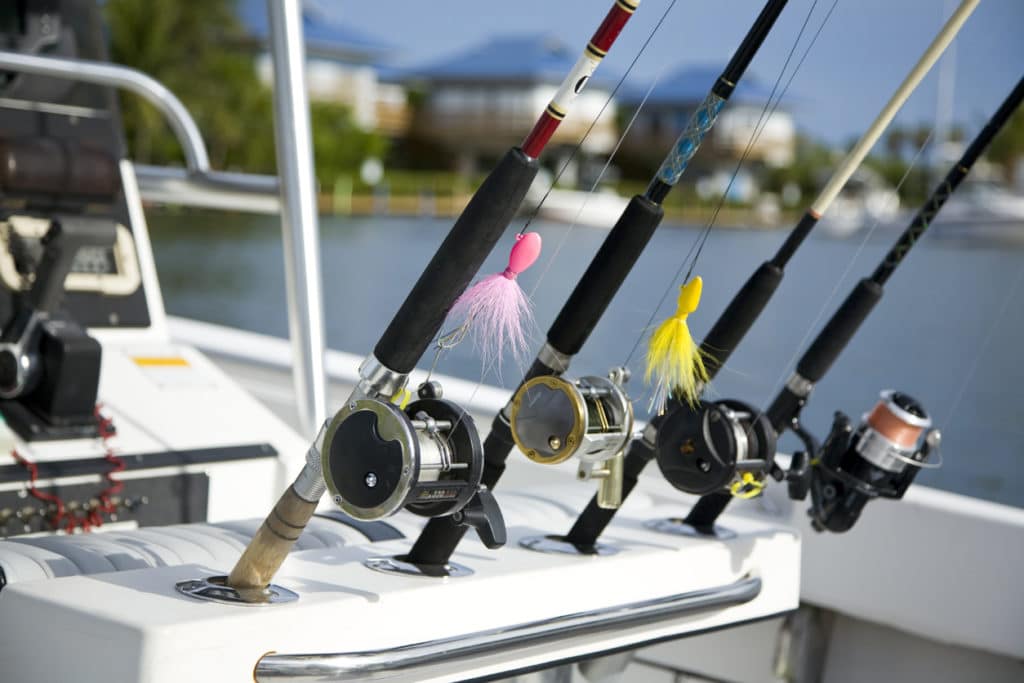 Road Trip
What do you get when you have an RV, a group of rowdy men and miles of open road? Something comparable to The Hangover most likely. A road trip is your chance to see the states like you've never seen them before; with all your best friends! Supply your sustenance, pick places to stop and be sure to mingle with the locals.
Whether you go to Vegas and gamble all your money away or you find every food challenge location ever aired on Man vs. Food, the groom and the rest of the groomsmen will always remember (but never tell) all the crazy adventures you went on while touring the states.
Mountain Climbing
Unless you're a professional or do this kind of thing on a regular basis, what we'd recommend is more of a hike. If Mt. Everest isn't in your price range, there's some great mountain climbing right here in the states. Consider California, Colorado, Tennessee, North Carolina, or up-state New York.
Motorsports
NASCAR Experience Weekend, 4-wheeling, dune buggying, go-karting… you get the picture.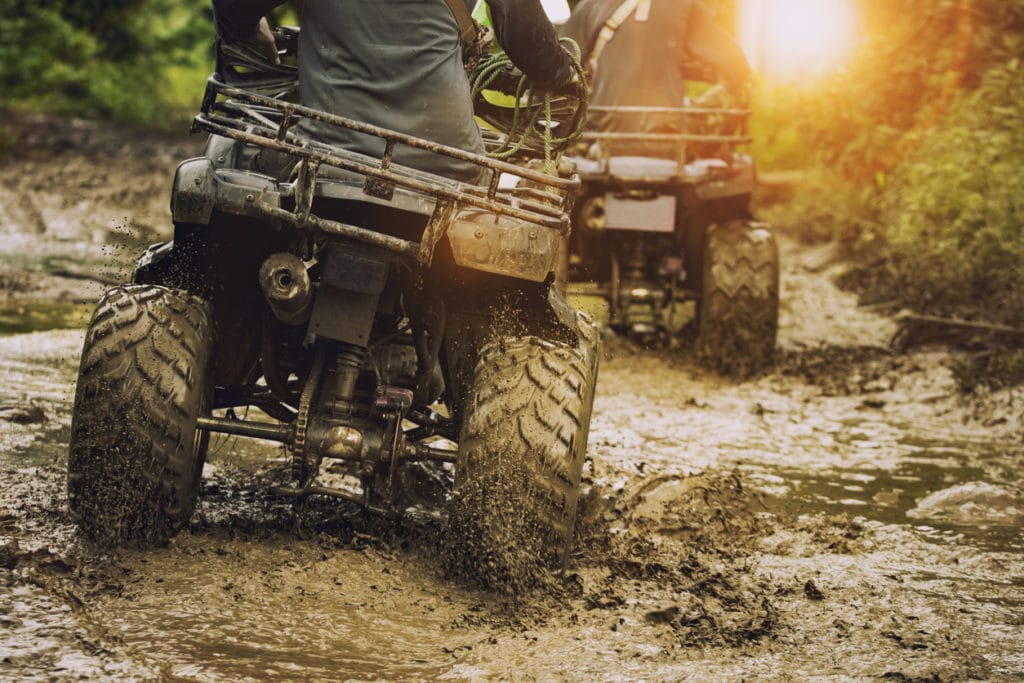 Ski Trip
If the wedding is in the winter, a ski trip can be a great time. If Aspen isn't in your budget, don't worry. Most large cities in the U.S. have a local skiing destination complete with fake snow and beginner's classes. They may even offer special group packages for the bachelor party.
Camping
Do you or one of the groomsmen have a cabin? Here is a way to save a little money and still have a great time! Seclude you and the rest of the merry men up at a cabin for a weekend. You can supply your own food and beverages and come up with some manly events to entertain yourselves.
Examples? Hunting, four wheeling, fishing, and, of course, drinking.
Create competitions to make things a little more interesting. If you don't own a cabin, you can always rent one or rough it out and sleep in tents. What better way to bond with your friends than recreating a Man vs. Wild experience.
If the Groom is a Card Shark
Reserve a hotel room at a local casino and the group can gamble, eat, and drink all evening. The bonus is having a place to stay at the end of a long night partying.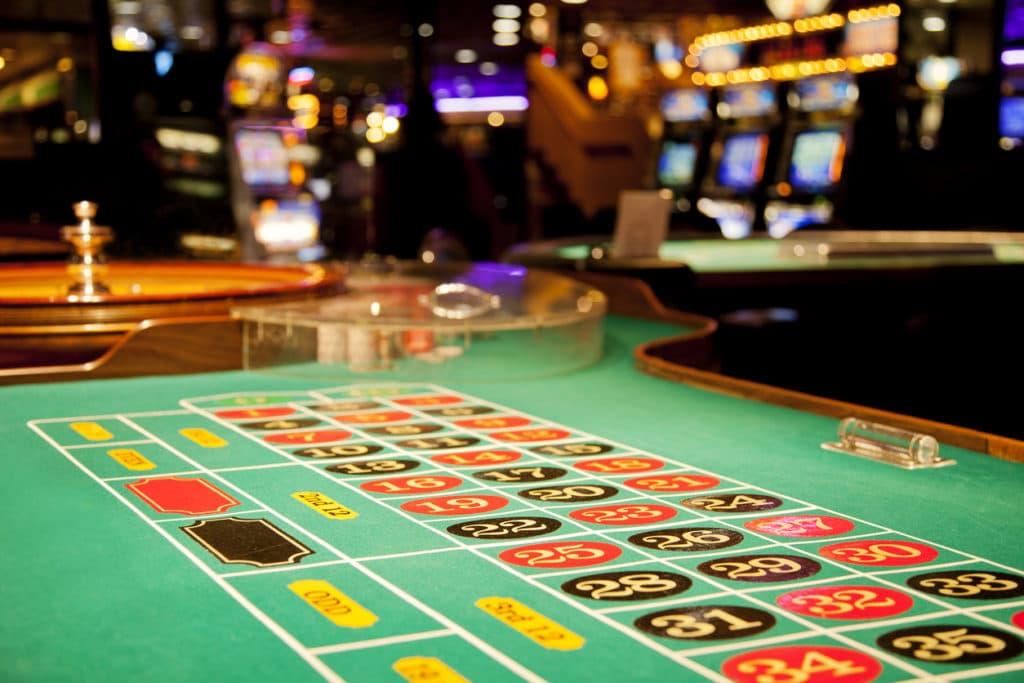 Sky Box or Club Level Seating to a Sporting Event
Sporting events are a man's best friend, so what better way to spend time with each other than watching your favorite sport in style? Skyboxes are usually owned by companies or by someone's rich uncle. If you can, find this rich uncle and ask him if you guys can take over the box for a game.
If you can't get a private skybox, try looking into club-level seating. It still has that luxury feeling but is probably more attainable than your private suite.
Another idea is to look into independent league teams and what they have to offer for special events. It's usually less expensive, just as fun, and sometimes more unique (Hot tubs in the outfield? Don't mind if I do!)
Whichever route you go, be sure to try and find out if there is a way that members in your group can be included in the promotional contests in between periods, quarters, innings or whatever.
Strip Club
Let's be honest, when it comes to bachelor parties, the first thing that most men think of is strippers. Yep, nothing says "I'm about to get married" like a strange naked woman dancing all over the groom. A "pole and tassel" themed stag night isn't for every guy.
Your job is to find out what kind of bachelor party is acceptable for not only the groom… but also his bride-to-be. Naturally, you want to give your groom a proper send-off into married life, but not at the cost of ruining the mood of the wedding if his fiancée finds out what went down during the bachelor party.
Always keep in mind that a bachelor party trip to the club can downhill in a hurry for any number of reasons. Remember to play by the rules and always have the groom's back. Don't let him do anything stupid. Also keep in mind that if the guests are rude or do something stupid (like trying to take pictures or video), the party's over.
TMR Tip: Just remember, bachelor parties don't always have to include poles and tassels to be fun. The alternate ideas listed above are just a few possibilities. The bottom line is to find an activity that fits the groom and to celebrate the end of his bachelorhood while spending some quality time with his friends.
Bachelor Party Challenges
One of the best man's most important duties is to plan an epic bachelor party (aka stag party) to celebrate the groom's final night of freedom before married life. Wanting to plan a crazy night that the groom might not want to remember, this one's for you. Our challenges for the groom is sure to set him up for a wild night out. This is the groom's night, but that doesn't mean he should get off easily.
We've prepared this list of funny bachelor party challenges for the groom to attempt. Even if he can only accomplish a few, it should make for a night of hilarious moments. Don't forget to keep score!
No Fear
Carry around an inflatable doll for an hour. Introduce her as your fiancée.
Do a body shot off of a woman.
For every beer or drink the groom gets, make him ask for a girl's phone number. Every time he gets shot down, he has to take a shot.
Try to convince a woman that women should remain virgins until marriage and that men shouldn't have to.
Find a woman who can tie a cherry stem into a knot with her tongue. Make her prove it and then buy her a drink.
Your New Best Friend
Serenade an unsuspecting girl with a love song.
Ask three strangers if you're making a huge mistake.
Convince a stranger that your bride is still a virgin.
Find a woman that doesn't smoke. Offer her a light five times.
Buy a drink for a blonde, a brunette, and a redhead.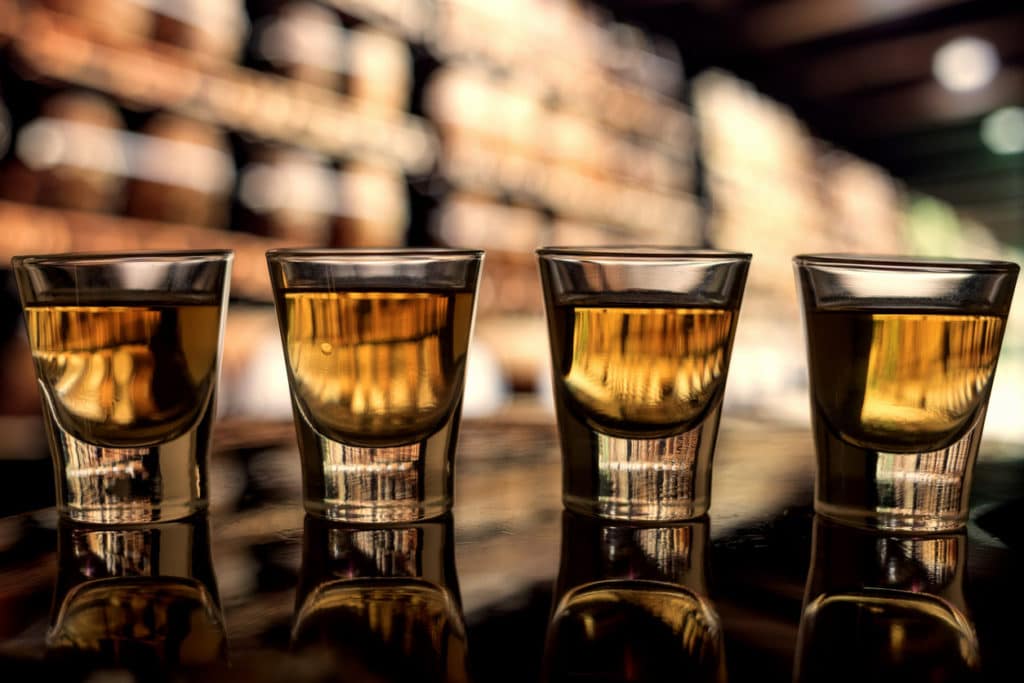 New Type of Scavenger Hunt
Get a woman's underwear.
Get a condom from a woman.
Find a girl with the same name as the bride-to-be and buy her a drink.
Get a woman's phone number.
Find a bachelorette party and dance with the bride-to-be.
Don't Worry, You Look Great
Proudly wear a Viking beer horn around your neck all night and ask strangers to fill you up.
Wear a ball and chain around all night.
Get 50 women to sign your shirt.
The best man and groomsmen stuff a fanny pack full of embarrassing random items. The groom wears it around all night until he's handed out all items to strangers.
Have the groom find a girl with a really bright lipstick to kiss his cheek. Don't let him wash it off all night.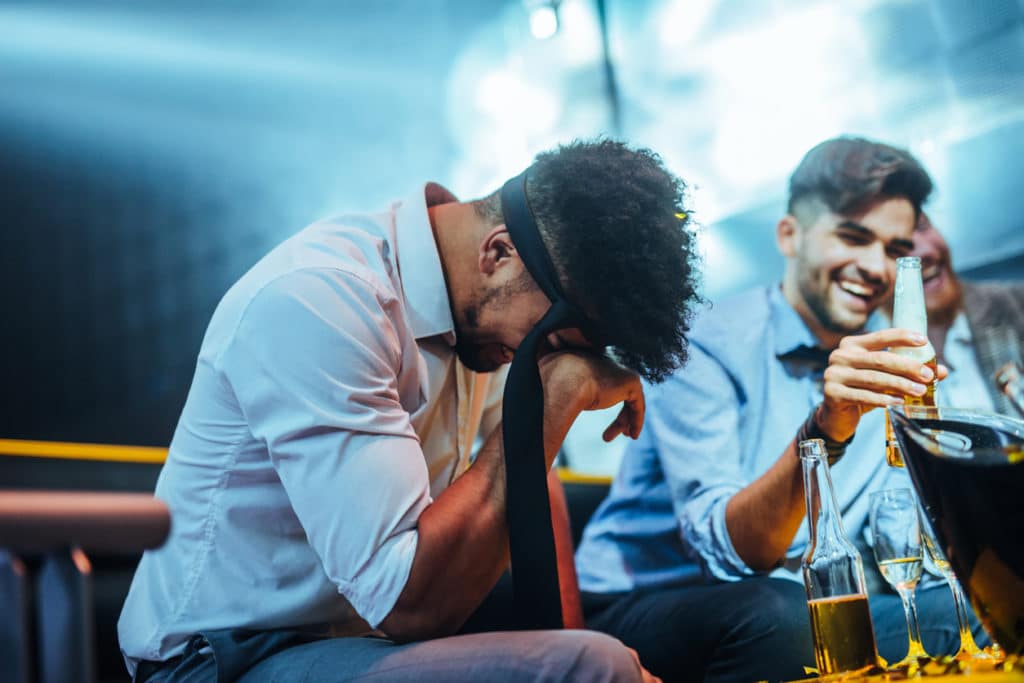 All You Have to Do is Ask
Have a girl do a naughty dance move for the groom for a drink or beads.
Get two girls to kiss each other in honor of the groom's upcoming nuptials.
Convince a girl to rub the best man's shoulders.
Have a woman do a body shot off of the groom.
Give the best man's phone number to five single ladies.
Scoring Guide
0-5: Is he already married?
6-12: Maybe a couple more years of bachelorhood wouldn't be a bad thing.
13-20: Time to cut off the booze.
21-25: Maybe marriage isn't the best idea for this guy.
Want to embarrass the groom even further? It's never a bad idea to have him wear some type of ridiculous T-shirt or hat that announces to the world that it's his bachelor party. You can always get creative and come up with your own custom t-shirt design – which we definitely recommend.
You're Set
The bachelor party is for the groom and is the last night for him to live it up as a single man. Follow this guide of bachelor party ideas for an unforgettable weekend and make memories with the guys who have stuck with the groom through it all. 
Before You Go…
Here's one of our favorite videos about bachelor parties. Late night host Conan O'Brien threw an office bachelor party – complete with Jägermeister shots, a DJ and strippers — for his producer Jordan Schlansky. Despite O'Brien's best efforts, Schlansky could not have been a more reluctant participant. Check out the hilarity that ensued.