10 Irish Groomsmen Gift Ideas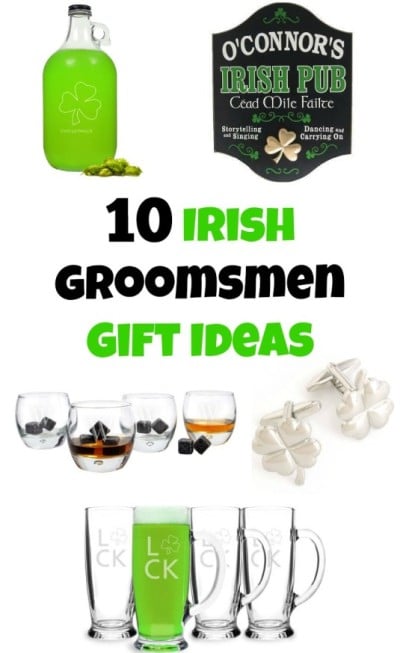 Whether they enjoy celebrating their Irish roots or are simply fans of green beer, these Irish groomsmen gift ideas are a great way to thank your merrymaking crew for their role in your wedding day.
Luck of the Irish Craft Beer Mugs (Set of 4)
Perfect for drinking green beer or any favorite beverage, each 18-oz. glass in this set of four mugs has an ergonomic rounded handle, a weighted bottom and a modern shamrock design. The glasses also come in a fun beer can glass design. Get them here for $42.95.
Custom Cead Mile Failte Wooden Irish Pub Sign
Elevate the humble home bar to official Irish pub with this handmade wooden sign, which features the phrase "Cead Mile Failte" (a hundred thousand welcomes), a 3D clover design and free personalization. Get it here for $48.95.
Shamrock Beer Mug With Personalized Name
Make St. Patty's day perfect with a personalized shamrock name. This beer mug is waiting for 25 ounces of your favorite Irish ale. . Get it here for $19.95.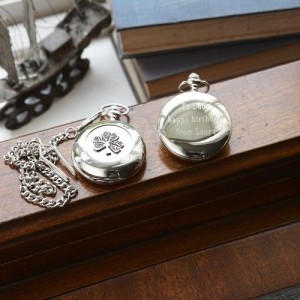 Personalized Irish Mullingar Pewter Shamrock Pocket Watch
Elevate his special occasion attire with this handsome pewter pocket watch. Handmade in Ireland, the quartz pocket watch features a classic engraved shamrock design and is a highly appropriate Irish groomsmen gift. Get it here for $59.95.
Erin Go Bragh Irish Craft Beer Growler
Great for celebrating with friends and family, this sturdy, 64-oz. glass beer growler sports a large shamrock, the phrase "Erin Go Braugh" or "Ireland Forever," a comfortable handle and a screw-top lid. Get it here for $23.95.
Personalized Authentic Irish Pub Print
This framed, 29×13-inch authentic Irish pub print, which features a happy leprechaun raising a pint in salute, will make the perfect addition to his home bar. Customize the design with his name, date and pub name at no extra charge. Get it here for $79.95.
Personalized Irish Coffee Mugs
Top o' the mornin' to ya! Next time you Irish up your coffee, do so in a personalized 10 ounce glass coffee mug. Just between us, these can be enjoy with a regular coffee or espresso, if that's more your style. Get them here for $37.95.
Personalized Heavy Based Whiskey Glasses with Whiskey Stones
Perfect for any Irish whiskey lover, this set of four 10.5-oz. heavy-based glasses comes with whiskey soapstones for keeping his cold without watering it down. Add his initial to the glasses for free. Get them here for $67.95.

Personalized Authentic Barrel Top Signs For Home Bar
Liven up your home bar with our barrel top sign, personalized just for you. Made from the top of a real, used whiskey barrel, these signs make perfect decor for your basement, den or game room! Get it here for $149.95.
Personalized Irish Pride Beer Stein
Ideal for sipping Irish beer or Irish coffee, this 16-oz. ceramic mug features a striking Irish flag and shamrock design. Personalize it with a custom name for free. Get it here for $29.99.
Which of these Irish groomsmen gift ideas would be perfect for your wedding? Tell us in the comments below.