34 Best Christmas Gifts For Men in 2022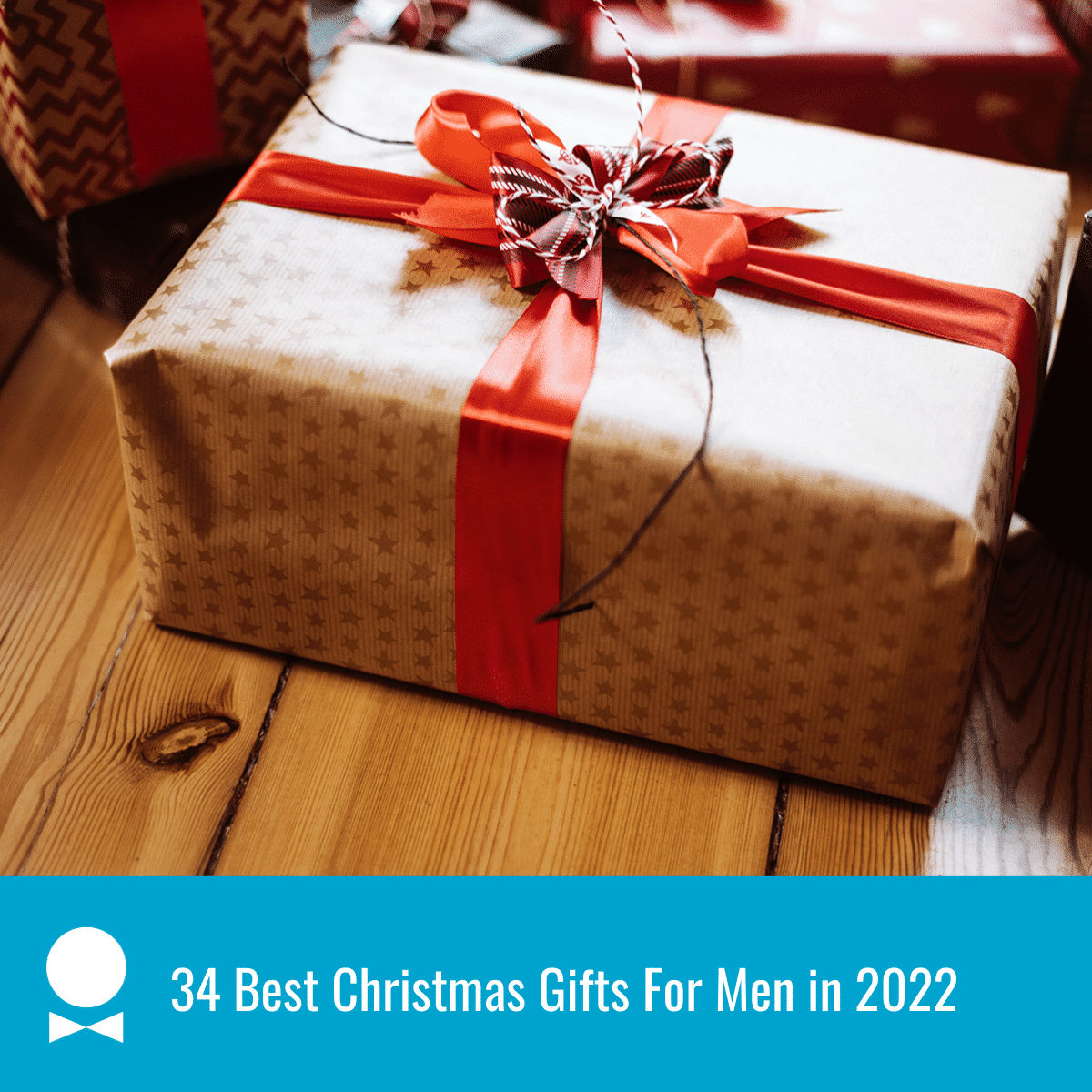 If shopping for the men on your holiday list typically leaves you perplexed, exasperated, and hunting for the nearest bottle of wine (no judgment!), you've come to the right place. Don't spend another minute contemplating whether he needs another tool or something for the yard because, and we'll level with you, the answer is almost always no. Save yourself some stress this year, and check out these fun, dude-approved gifts we've rounded up instead. It'll be our little secret.
For all the men on your list this year – young, old, or young-at-heart – we've got you covered. This year, we're offering the true motherlode of Christmas gifts for men ranging from personalized axes and barware to travel essentials, sports memorabilia, cufflinks, and decanter sets – and much, much more. If the men in your life want it, we've got it – and you can get it all online, right here.
Totally Unique Christmas Gifts
Personalized 2-in-1 Sit 'N Sip Cooler Chair
Ever heard of sit 'n sip? This attractive and sturdy combo gift is perfect for the tailgate-loving man in mind. It has plenty of room for favorite beverages and snacks, and extra pockets to protect car keys, cell phones, and other important accessories. We'll embroider each cooler with initials or a name (in white thread) for no extra cost.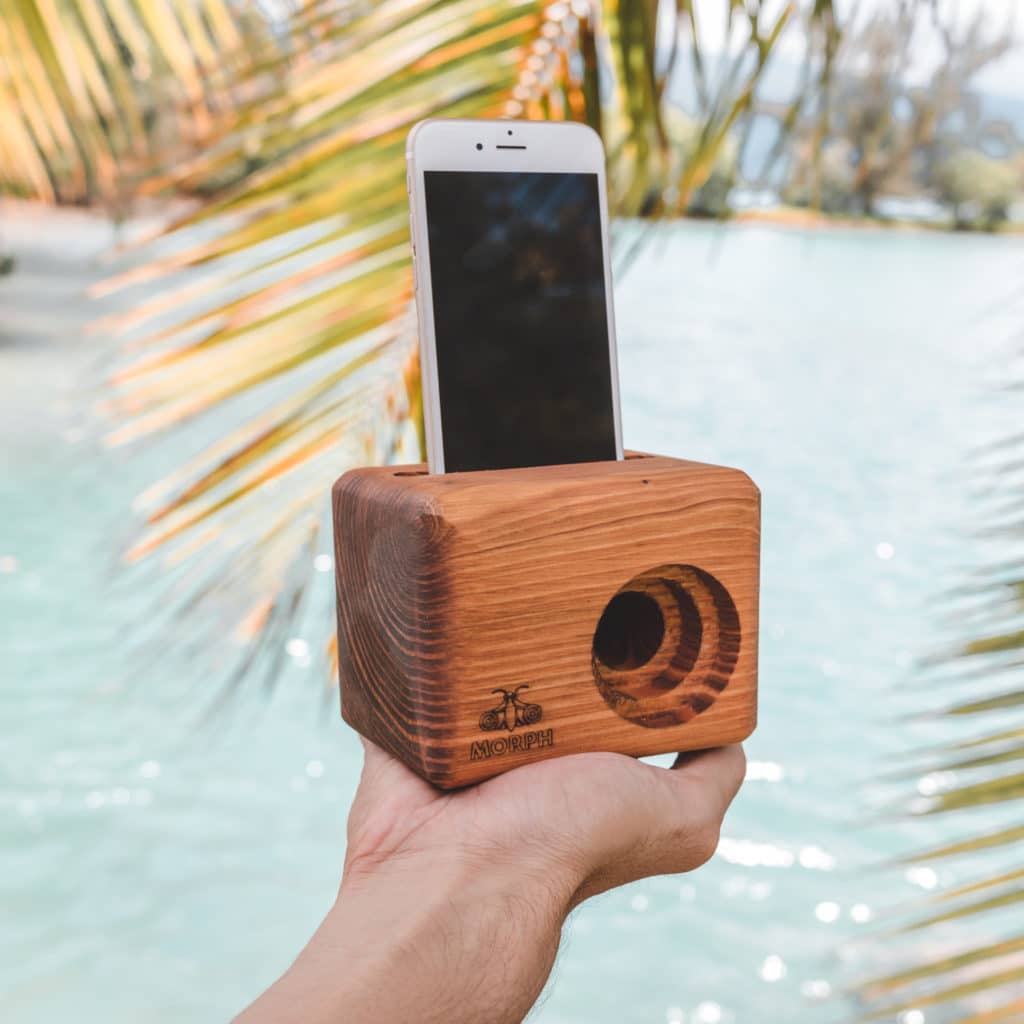 Wooden Cell Phone Speaker
Meet our Wooden Cell Phone Speaker. Just place your phone in the slot and let the hand-carved American Walnut wood amplify the sound of your favorite music and podcasts. A truly unique gift for this holiday season and won't disappoint.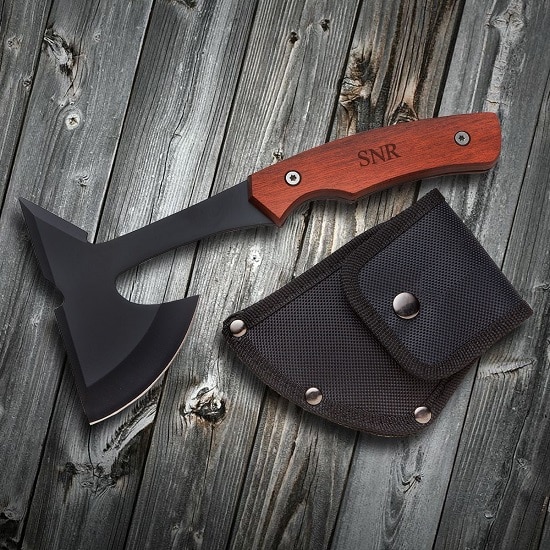 Blade of Honor Personalized Axe
This is truly a kick-axe Christmas gift. Our Blade of Honor Personalized Axe is a gift that the men in your life definitely don't already have. Perfect for outdoorsmen, hunters, campers and nature-lovers. For that extra touch of customization, we'll engrave the recipient's name or initials on the handle for no extra cost.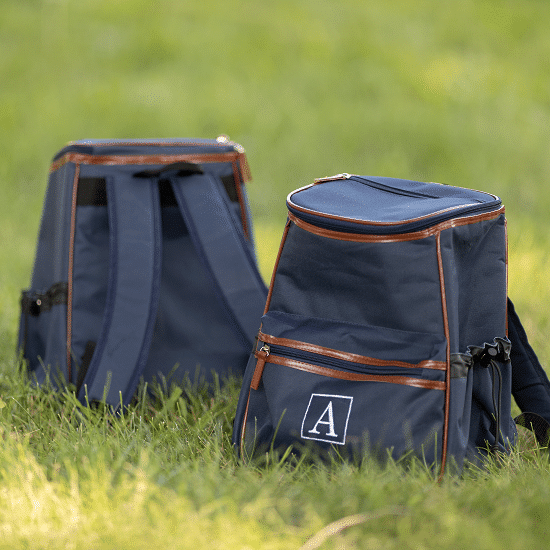 Personalized On-The-Go Insulated Backpack Cooler
This gift has "Life of The Party" written all over it. As soon as the weather warms up, plan on using the On-The-Go Backpack Cooler for camping trips, summer softball games, pre-wedding outings, or better yet, class.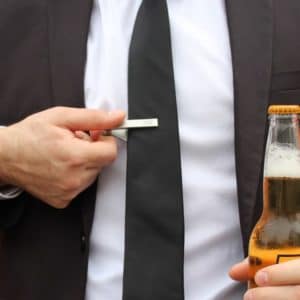 Personalized Bottle Opener Tie Clip
It's more than a tie clip. The little secret is that there's a high-quality bottle opener hidden on the backside. Great for weddings, fraternity brothers, and formals.
Christmas Travel Gifts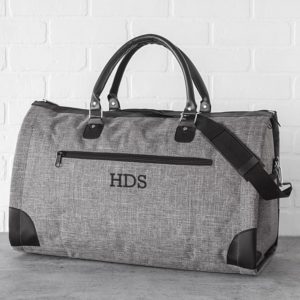 Personalized Men's Convertible Suit Saver Duffle Bag
Don't let a wrinkled suit get in the way of your vacation plans. This customized travel-proof duffle transforms into a hanging garment bag to allows you to transfer your dress clothes with ease. Make it customized at no additional cost.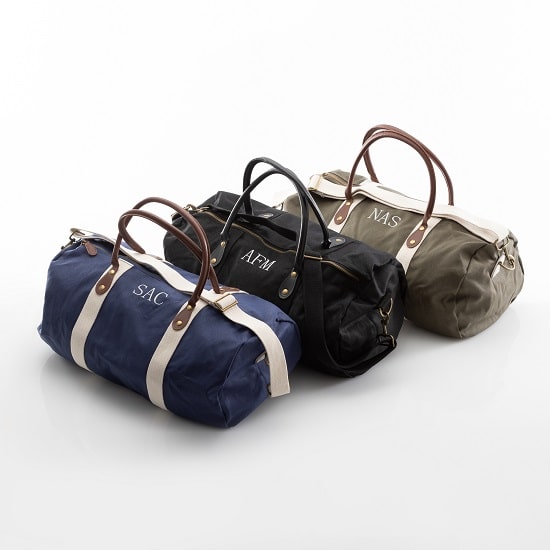 Personalized Canvas & Leather Duffle Bag
Our best-selling duffle comes in clutch for any occasion. It's available in three colors and customers love to comment on the spaciousness and durability of this quality bag. It's perfect for any type of weekend getaway!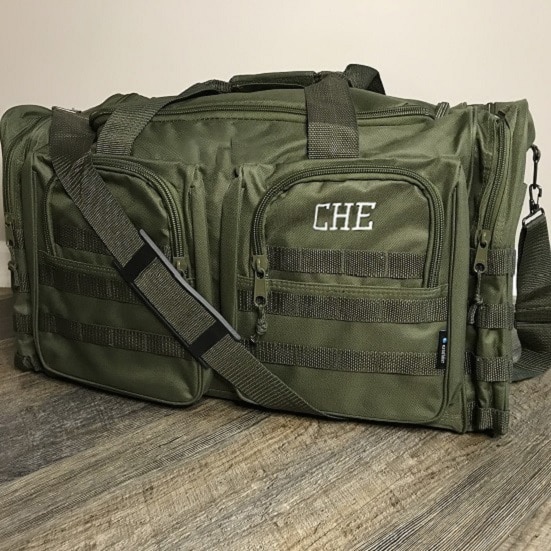 Personalized Waterproof XL Adventurer Duffle Bag
For those in need of a little more excitement in their life, we bring you the XL Adventurer duffle bag. The travel possibilities are truly endless with this bad boy. We sense some camping trips and mountain getaways coming on.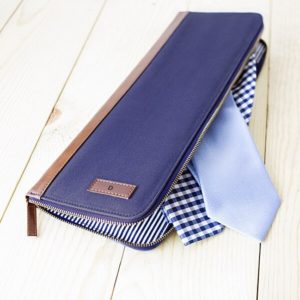 Personalized Tie Case
Does a man in your life never know how to pack their ties without avoiding wrinkles and creases? If that's the case, this tie case is ideal for the gentleman on the go! This 16″ case protects your ties so you can show up looking dapper right off the plane.
Personalized Leather Weekender Duffle Bag
If you or someone you know are more into refined goods, look no further than this vegan leather duffle bag. This travel bag is ideal for those getting away on a business trip or attempting to impress the in-laws. Consider pairing with the personalized leather travel Dopp kit for the perfect travel duo.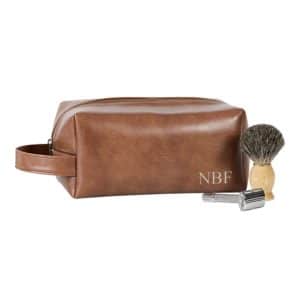 Personalized Leather Travel Dopp Kit
We don't know who needs to hear this…but stop throwing your toiletries haphazardly into your duffle bag. Have a little class! Use this vegan leather Dopp kit to organize all of your travel essentials.
Personalized Brown Leather Travel Tech Case
Fear tangled cords, wires, and tech gear no more. Our vegan leather travel case is perfect to house all of your miscellaneous tech items while you're away. Truly, save yourself from the nightmare. You'll thank us later.
Bar & Party

Personalized Craft Beer Coolers
Perfect for toting 12 bottles or 18 cans of his favorite brew to the next tailgate or BBQ, this rugged craft beer cooler with an attached bottle opener, front pocket and a removable shoulder strap, will keep his beverages nice and frosty. Personalization included. Available in 6-pack size and 12-pack size.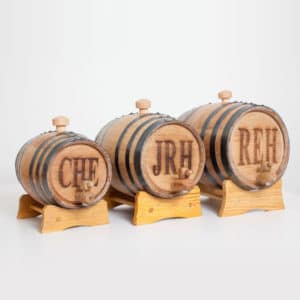 Personalized Mini Bourbon Whiskey Barrel
Become the master of your own booze! These personalized bourbon whiskey barrels are ideal to start your own mini-distillery. If that sounds too intimidating, it's not. Each set comes with a detailed set of instructions so that you can enjoy your own whiskey from your desk, kitchen, bedroom, really anywhere. We don't judge.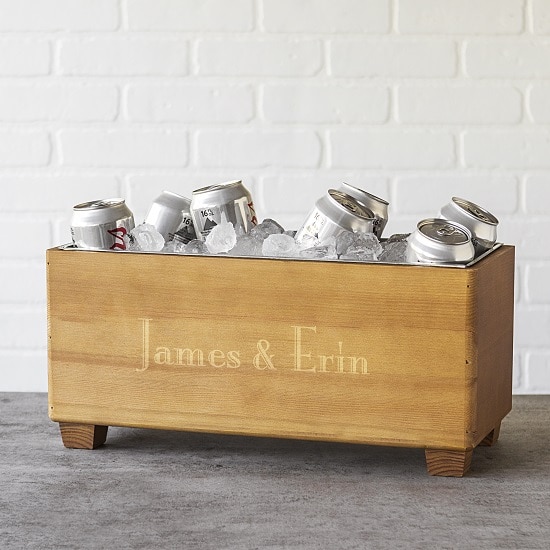 Personalized Wooden Party Beverage Trough
Our Wooden Party Beverage Trough is a year-round gift that keeps on giving. Chill your champagne on New Year's Eve, your beer during summer barbecues, your wine during dinner parties, and every event in between.
Personalized Decanter Sets
Add a touch of class to your Christmas festivities with a personalized decanter and whiskey glass set. Choose from our Round Whiskey Decanter Set (pictured above) or our Vintage Decanter Set a style and design that matches his taste.
3 Piece Tipsy Tasters
Our Personalized 5pc. Wine Decanter & Tipsy Glasses Set is the perfect gift for a friend or family member who loves to host parties. The 66oz. decanter boasts a curvaceous shape and birch wood stopper.
Home Bar Wall Mounted Bottle Opener
Constructed from acacia wood and slate, this rustic bottle opener will fit into any home bar or man cave seamlessly; we'll even include the hanging hardware, so you won't waste any time getting this tool up on the wall! Plus, with the handy magnetic cap catcher, you won't have to worry about picking up those messy bottle caps later.
Whiskey Taster Glasses
This set of four unique glasses is perfect for taking some time before the wedding to sample some new whiskeys with your groomsmen. This great gift is made even better when we customize each glass with the recipient's initials. Bottoms up, friends!
Barlow Beer Glasses
Drink your next beer in style with our Personalized Barlow Beer Glasses. This set includes four unique beer glasses that each holds 16oz. We'll engrave the set with a single initial on each glass. This customization makes this beer set an amazing gift for your best man and groomsmen.
Christmas Gifts for Sports Lovers 
Official "The Duke" NFL Football – Personalized with Your Text
For the past few months, all he's been talking about is football, so the custom "The Duke" NFL football is the only gift for him this Christmas. It's the same ball the pros have been playing with since the '40s.
Louisville Slugger Full-Size Personalized Baseball Bat
As the calendar turns to a new year, baseball fans begin to get excited for the beginning of spring training. If the man in your life falls into this category, our engraved Louisville Slugger bats make for a perfect gift idea. With up to two lines of personalization allowed, he can proudly display the bat in his office or man cave. Between us, it's one of our favorite Christmas gifts for men this season.
NFL 3 Piece Grill Tool Set
We strongly believe that for the ultimate tailgating experience, no ordinary BBQ utensils will do. Now you can fire up your team spirit with this premium BBQ set that includes a Sportula, tongs and fork, each crafted from heavy duty stainless steel and each featuring hard maple handles.
Men's Style/Accessories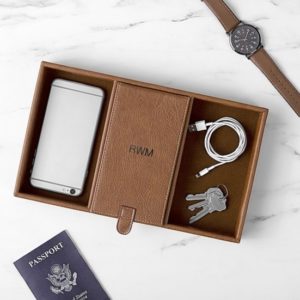 Personalized Men's Dresser Valet Box & Charging Station
Between phones, chargers, wallets and cash — guys have a lot to keep track of. This makes having an organized dresser set extremely important… especially if you're constantly on the go. This valet tray is lined with felt and includes two charging ports, two open compartments, and a closed compartment, secured by a magnetic closure.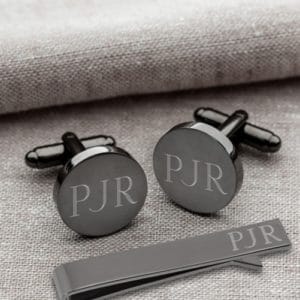 Personalized Gunmetal Cufflinks and Tie Clip Set
He'll be the sharpest-looking guy in the room with this custom set. Our gunmetal cufflinks and tie clip set is a fan favorite and we're not surprised. Don't forget to personalize each with up to three initials (the same on all pieces).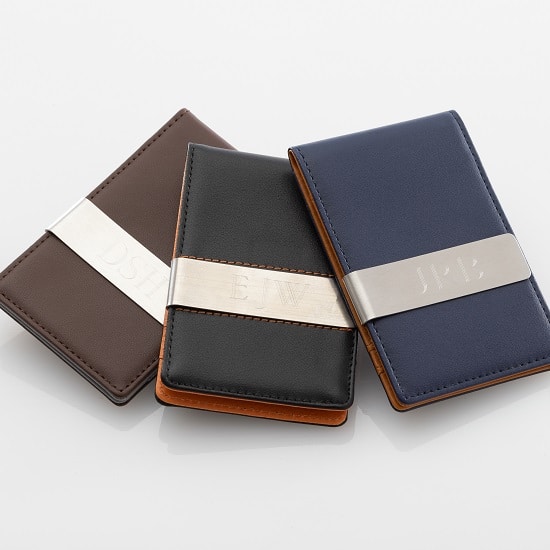 Personalized Metro Leather Wallet + Money Clip
Look flashy every time you pull out your money or credit cards. This personalized wallet has a smooth brown exterior and features orange stitching to add a little extra color. We can engrave initials or names for no additional cost to you.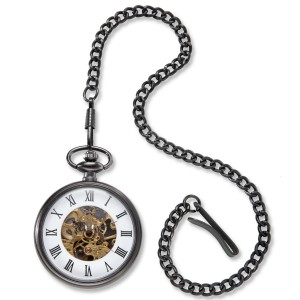 Exposed Gears Pocket Watch
Our Personalized Gunmetal Gray Pocket Watch with Exposed Gears is a fresh take on a classic gentleman's accessory. The face of the gunmetal watch exposes the actual gears that make the watch run. This gift is ideal for the man on the go who enjoys the finer things in life.
Christmas Gifts Under $30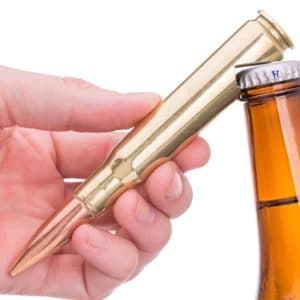 Personalized .50 Caliber Bullet Bottle Opener
Have a beer-drinking, gun enthusiast on your shopping list? You better give this authentic .50 caliber bullet bottle opener a shot. It's easily one of the most unique Christmas gifts for men.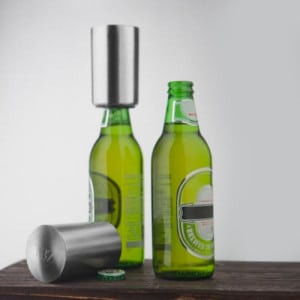 Personalized Leonardo deCapper Bottle Opener
No more opening beer with keychains, table edges, or teeth.  The Leonardo deCapper is a sophisticated man's bottle opener, especially after we engrave it with a name, wedding date, or special message to the recipient for no extra charge!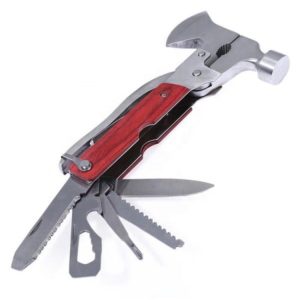 Personalized Wood Grain Axe & Hammer 15-in-1 Multi-Tool
Hammer? Check. Screwdriver? Check. Bottle opener? Check. Wire cutters? Check. Pliers, knife, nail file? Check, check, check! His initials engraved on the handle for free? CHECK! Get this super tool for your superman.
PortOPong Inflatable Floating Beer Pong Table
While summer may be the furthest thing from his mind on Christmas morning, he'll appreciate the thought behind this floating beer pong table that can hold up to 20 cups.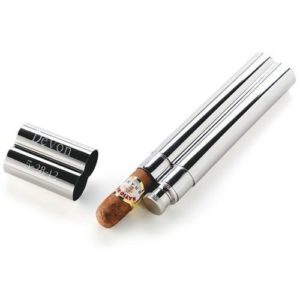 Personalized Stainless Steel Cigar Case/Flask Combo
The perfect gift for the guy in your life that likes to think he's the "most interesting man in the world." This ultimate gentleman's accessory fits neatly in a breast pocket. The Cigar Case/Flask Combo is a winner in 2020.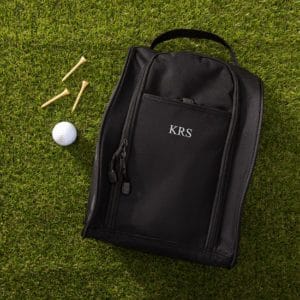 Personalized Black Golf Shoe Bag with Easy-Carry Handle
Shopping for a gift for a golfer? This personalized golf shoe bag is a for sure hole-in-one. Trust us, giving this gift will ensure Santa is "putting" you on the Nice List this Christmas.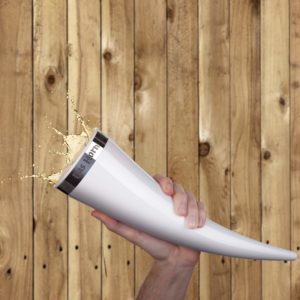 Das Horn
The DAS HORN is essential to any weekend warrior's tailgate or bachelor party survival plan. This premium drinking vessel will hold 24oz. of your preferred drink and comes with a handy stand to display your horn in after the party is over.
One Final Note…
All of the products in this Christmas gifts for men list (plus more) are available on The Man Registry. We offer speedy service, free personalization, and free shipping on orders over $75.