17 Personalized Stocking Stuffer Ideas for Men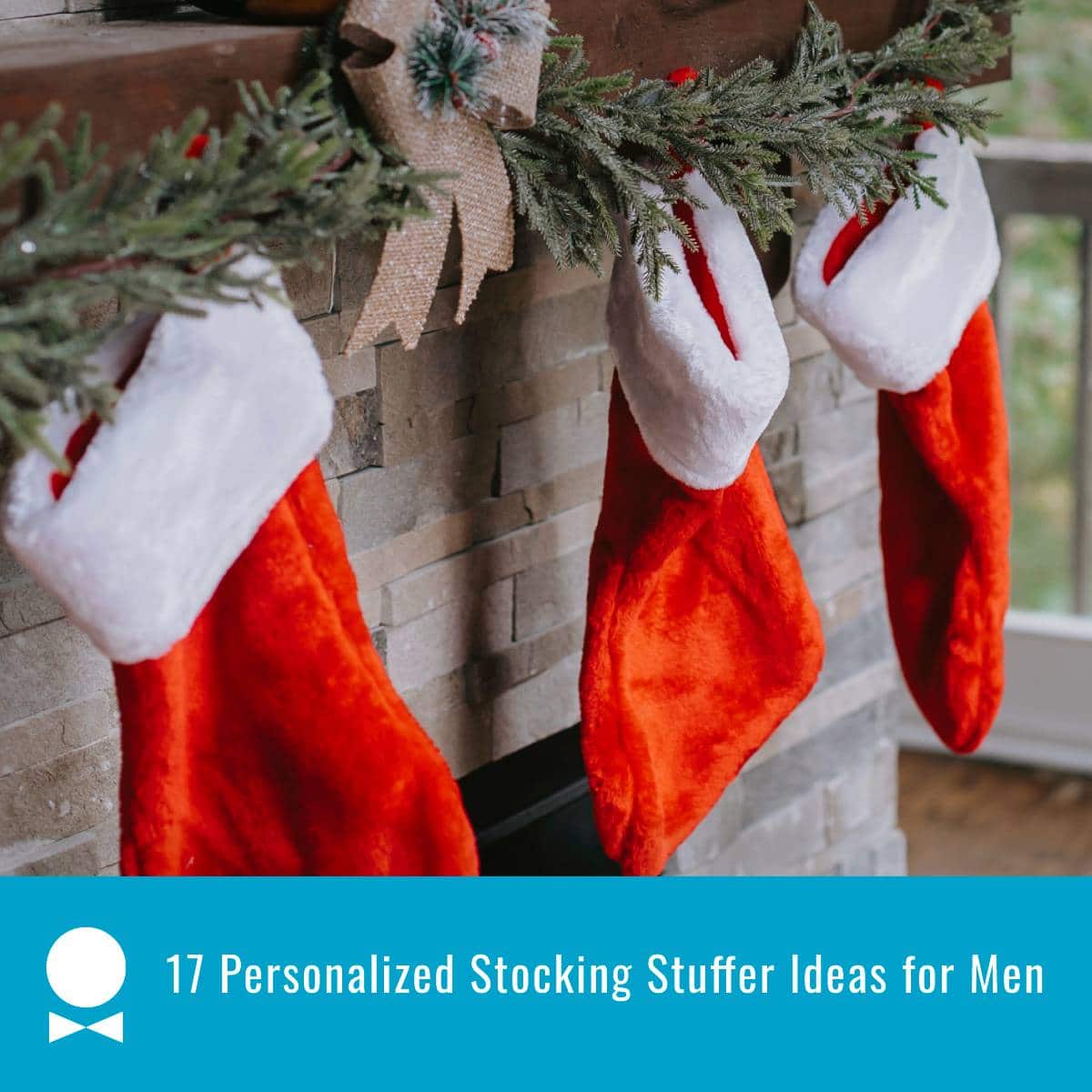 Stocking stuffers don't have to be last-minute after-thoughts to the main gifts under the Christmas tree. The Man Registry is home to the perfect personalized stocking stuffers for men that will help bring more meaning to your mantel. Nothing says thoughtful like a custom Christmas gift for the men that mean the most to you. Whether you're shopping for your husband, father, or son, we're sure you'll find the perfect stocking stuffer in the list below. Our 17 Custom Stocking Stuffer Ideas for Men Gift Guide features a hand-picked selection of gifts that please him no matter what his interests are. We have gifts for Mr. Fixit, the golf pro, the fashionable gent, the party animal, and more!
If you're looking for a meaningful under-the-tree gift to go with the stocking stuffer you got him, check out The Man Registry's 34 Best Christmas Gifts for Men in 2022 Christmas Gift Guide.
Personalized Christmas Stocking Stuffer Ideas For Men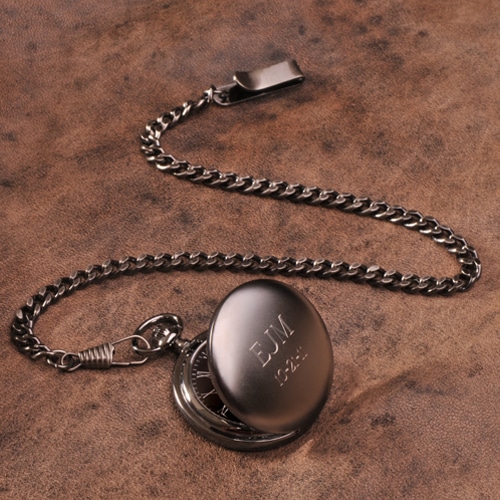 Personalized Gunmetal Pocket Watch
They'll have a lot of time on their hands with this Personalized Gunmetal Pocket Watch. This watch is the epitome of class with its gunmetal gray finish and sleek black face with Roman numerals. It includes two lines of personalization for free and a sturdy chain and clip to ensure they never lose track of time.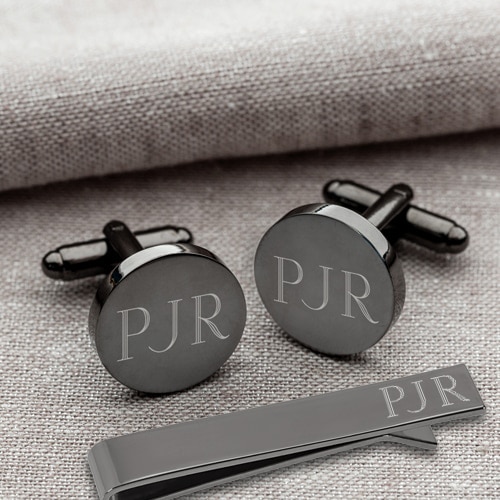 Gunmetal Cufflinks and Tie Clip Set
Add a little bang to their wardrobe with this Gunmetal Round Cufflink and Tie Clip Set. Both items come in a dark gray finish perfect for any outfit. Include our free personalization of up to 3 initials for that extra touch.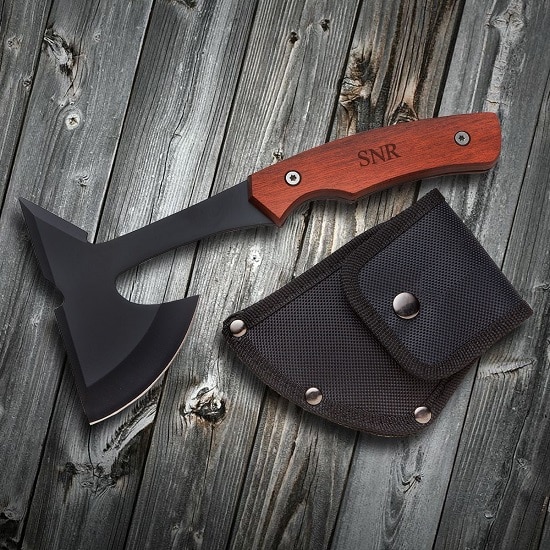 Blade of Honor Personalized Axe
This Personalized Blade of Honor Axe is a perfect gift for nature-lovers, campers, or those who just love axe throwing! No matter how this 9" axe is used, there'll never be a dull moment.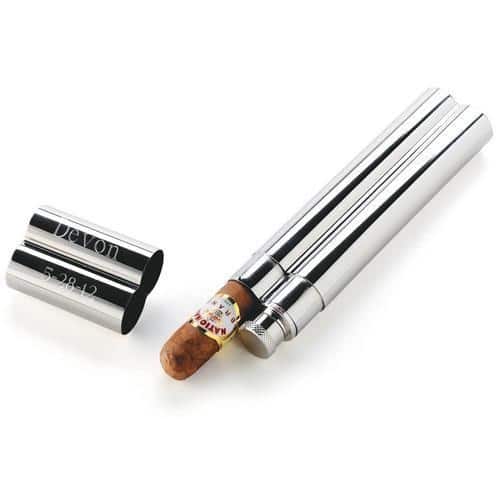 Stainless Steel Cigar Case & Flask Combo
Fill up the flask side with his favorite liquor and slip a nice cigar into the other. That's practically three gifts in one! Perfect for kicking off Christmas morning the right way and classy enough to accompany him to any weddings he attends in the future.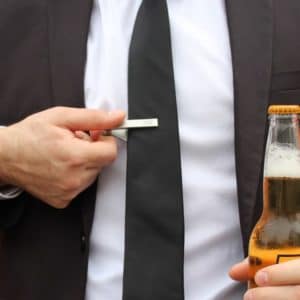 PRYCLIP Personalized Bottle Opener Tie Clip
This Bottle Opener Tie Clip combines style and functionality, making it a must-have gift for all men this season. The bottle opener is crafted out of quality stainless steel and keeps your shirt in place without damaging it. With a classic sleek front, this tie clip adds another meaning to "business in the front and party in the back." 
Golf Towel & Keychain Tool Set
As par as we know it, every golfer needs this Personalized Golf Towel and Key Chain Tool Set – no ifs, ands, or putts about it. This set includes a ball marker, divot repair keychain, and a golf towel, making it a true hole in one set! Personalize it with their initial for free to make this an un-fore-getable gift.
Black Metro Leather Wallet & Money Clip Combo
Trade out his old worn-out wallet with a new sleek Personalized Vegan Leather Wallet/Money Clip Combo. Keep it simple with a custom money clip and a few pockets for the stuff he needs most. Eliminate the numerous cards, paper, and receipts and keep him organized and stylish this Christmas with this stocking stuffer gift.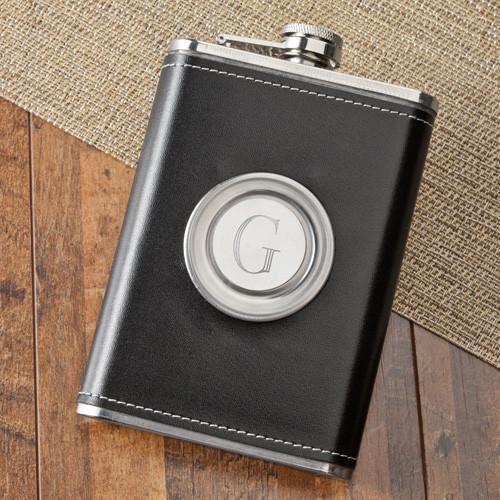 Personalized Black Leather Flask (With Built-In Shot Glass)
The Personalized 2-in-1 Leather Flask will have him cheersing on Christmas morning. Feel free to pre-load this flask with eggnog so he can pour himself a quick shot. This personalized flask comes in handy during weddings, tailgates, and sporting events. No cost for engraving!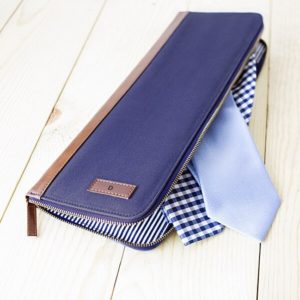 Men's Personalized Tie Travel Case
Does your man travel a lot for work or have a destination wedding to attend next year? If that's the case, this case is a must-have item for any fashionable traveler. With it, he can pack his ties and avoid wrinkles and creases. This 16″ case protects your ties so you can show up looking dapper no matter where he goes.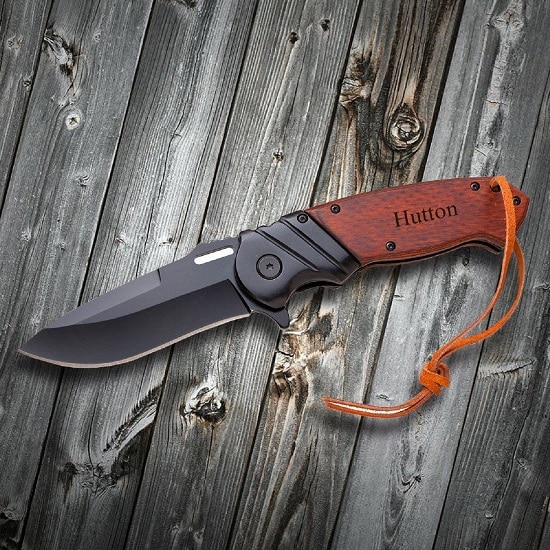 Elk Ridge Wood Handle Folding Pocket Knife
Don't cut it close with gifts this holiday season. This Folding Pocket Knife is practical and stylish with its black blade and brown wood handle. Don't let him head out on his next hunting, camping, or fishing trip without it. 
The Beer Belt
No more "can you grab me a drink" every 30 minutes… save yourself trips to the fridge with this Beer Belt. It holds 6 drinks at a time and even has pockets for personal items to keep everything in one place. Perfect for game day tailgating, BBQs, or even just sitting on the couch.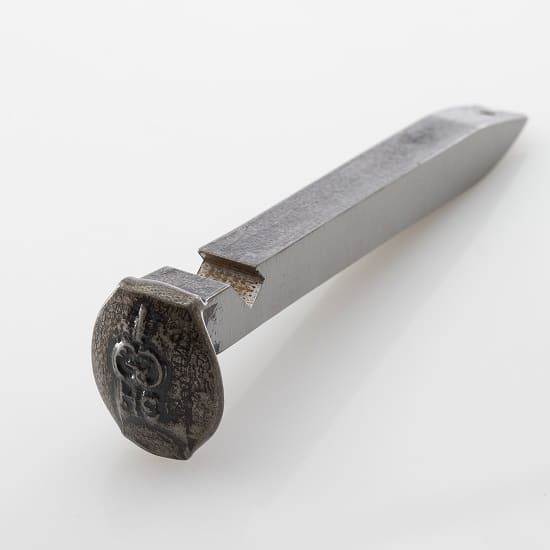 Personalized (Authentic) Railroad Spike Bottle Opener
They'll be chuggin' along this holiday season with this unique Authentic Railroad Spike Bottle Opener. Weighing in at a little over 1 pound, it won't be hard for him to keep track of this one-of-a-kind, heavy-duty bottle opener.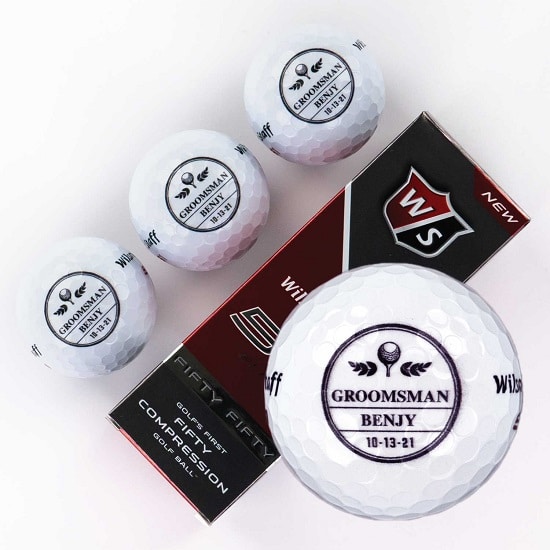 Custom Groomsmen Golf Balls Sleeve
Don't fore-get to add these Custom Golf Balls to your loved ones stocking this year. With 3 customizable lines, you can create a funny or sweet message for the golfer in your life. We can't promise they'll hit them straight, but we do know they'll be easier to find. Personalization included.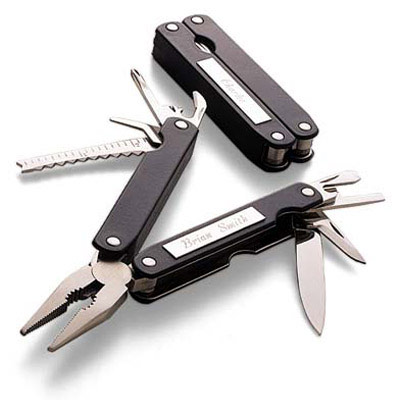 Black Handle 10-in-1 Multi-Purpose Tool
For the person who is constantly tinkering and fixing things everywhere they go, they'll appreciate this Personalized 10-in-1 Multi-Tool in their stocking this year. This tool conveniently fits in a pocket or straps to a belt for easy access for that "we need to fix this" project.
Stainless Steel Personalized Harmonica
This sharp Personalized Harmonica is a gift that won't fall flat for music lovers or casual hobbyists. Be warned though – this harmonica may lead to you jamming out to new versions of your favorite Christmas classics while you open the rest of your presents. Engrave up to three lines into the stainless steel frame to make it an especially sentimental gift that may be passed down for generations.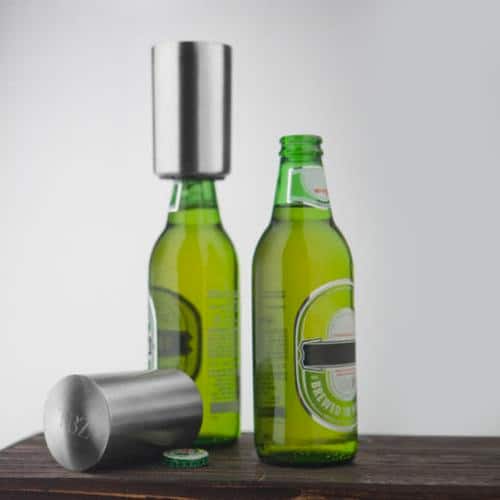 Leonardo DeCapper – Personalized Modern Bottle Opener
Crack open a cold one with one push using our Personalized Leonardo Decapper Bottle Opener. This modern take on a bottle opener will have you chugging your drinks so you can open more. Add a special note or name to the top of the opener free of charge!
Cocobolo Wood Gear Shift Wine Bottle Stopper
Who says a musclehead can't be a wine connoisseur? (As long as he enjoys his hobbies separately.) The Gear Shift Wine Bottle Stopper is made out of handcrafted cocobolo wood and chrome-plated steel to make the good times last. Help him shift his wine experience into the next gear.