Wedding Rehearsal Dinner Guide 2023: More Than Just A Dinner
Rehearsal dinner planning is often the largest responsibility for the groom and his family in the wedding process. This event, which immediately follows the wedding rehearsal, is an opportunity to honor the bride and groom one final time before they take their vows. It also gives the couple a chance to thank their families and the wedding party for their support and for being a part of the wedding. While the reception will be the biggest party of the weekend, there's no reason the rehearsal dinner can't hold its own.
We know that most men don't have extensive event or party planning experience (it would be scary if you did). Rest assured, though, throwing a memorable rehearsal dinner shouldn't be difficult for you and your family. Chances are you've been to at least one rehearsal dinner in the past and can draw from that experience. Your parents may even want to incorporate some aspects of their rehearsal dinner (location, menu, photos) into yours.
What is a Rehearsal Dinner?
A rehearsal dinner is a dinner (surprise) where the bride and groom and everyone involved in the wedding run through the game plan for the next day so that everything can go off without a hitch. You'll go over who's walking down the aisle, who's standing where, and who's saying what. Just because it's practice doesn't mean you shouldn't have fun. This is a chance for your wedding party to party before the party.
Traditionally held the night before the wedding, the dinner is a way to kick off your wedding weekend with the people who mean the most to you.
What Happens at a Rehearsal Dinner?
Rehearsal dinners provide a casual, less stressful environment for the wedding party to get excited for the big day. The rehearsal dinner is a time to celebrate a marriage with more immediate friends and family. This also gives the party a chance to get to know each other better and relieve pre-wedding nervousness.
Dinner
There are few things in the world that bring people together more than food. Good friends, good family, and good food is the perfect recipe for creating a fun, loving environment.
Gifts
Gift-giving is also a prominent part of the rehearsal dinner. Giving out gifts to the parents and wedding party during the rehearsal dinner provides a small environment where gifts and thank yous can be exchanged more intimately. This allows for more time to be spent discussing and opening gifts; making the experience overall more meaningful.
Toasts
Along with this, toasts are also a great way to express gratitude to the wedding party, the bride & groom, and the parents. A smaller crowd also helps to create a space for more personal speeches to be given. As an added bonus, scheduling speeches for the rehearsal dinner can help cut down on the number of speeches during the wedding reception.
Dessert
At a traditional rehearsal dinner, the groom's cake normally concludes the dinner. Of course, not every rehearsal dinner has to have a groom's cake. Other treats can be served, but every good dinner should end with a yummy dessert.
How Much Should You Spend On a Rehearsal Dinner?
Traditionally, the groom and/or his family is financially responsible for all of the rehearsal dinner planning. But if they're unable to do so, it's perfectly acceptable for another family member or friend of the groom's family to take charge of it. This event doesn't need to be a ritzy, black-tie affair. While some couples like to stage a more formal affair, others prefer to just invite the wedding party to their home for a backyard barbecue.
Whatever the case may be, there are some basic pieces of information that any groom-to-be should know when it comes to the rehearsal dinner.
Who Pays for Rehearsal Dinner?
Wedding customs are changing. Traditionally, the groom and his family are in charge of planning and paying for the rehearsal dinner. With more modern practices, here are some common options for who pays for the rehearsal dinner:
A combination of both families
The bride and groom themselves
Whoever offers!
Analyzing the wedding budget and determining what is fair/agreed upon by everyone involved is the best way to approach the bill. Another good way to determine who should pay for the rehearsal dinner is by breaking down how much everybody has spent. Along with this, asking the person/group who has spent the least on the whole wedding can be a good way to approach who pays for the rehearsal dinner.

Who Gets Invited to the Rehearsal Dinner?
Traditionally, the rehearsal dinner guest list consists of the wedding party, immediate family, and anyone else who took part in the rehearsal. However, it's not uncommon to invite any out-of-town guests who have traveled in for the wedding. This is another way to thank them for making the trip to be a part of the big day.
What is the Etiquette For Rehearsal Dinner Invitations?
Unlike the wedding, you have a chance to be a little more casual and creative when it comes to your rehearsal dinner planning and invitation style. If you're on a tight budget, e-vites are a free alternative to the traditional invitation. Remember to wait to send out the invites until the wedding invitations have already gone out from the bride's family.
Where to Have a Rehearsal Dinner
When choosing a venue, the most important thing to remember is headcount. You'll need to know if you have enough room for everyone. It's a safe bet that most, if not all, of your wedding party will be attending the rehearsal. Therefore, it should be easy to get a solid idea of the rehearsal dinner size. Ideally, the location of the venue will be relatively close to the church so there won't be a long delay in getting there after the rehearsal. Common venues include banquet halls, country clubs, restaurants, church halls, golf courses, hotel event space, and homes. Realistically, anywhere with a suite or private room should be suitable.
TMR Recommendation: Get creative. If you and your bride-to-be enjoy watching your favorite team together, see if their stadium has any private suites that are available for rent.
What Do You Serve at a Rehearsal Dinner?
Unless you're holding the rehearsal dinner at a restaurant with menu options, you'll need to decide on a caterer and a menu. The main thing to remember is to make sure that you don't duplicate the wedding reception menu.
While grooms aren't typically expected to make too many of the culinary decisions associated with weddings, you may be asked for your input or to attend one of the best parts of wedding planning: the food tasting. We highly recommend adjusting your schedule to attend this amazing event that centers on free food samples of all the food choices available for your wedding reception. Because the groom and his family are usually in charge of the rehearsal dinner, you might even want to set up a similar tasting with your venue or caterer.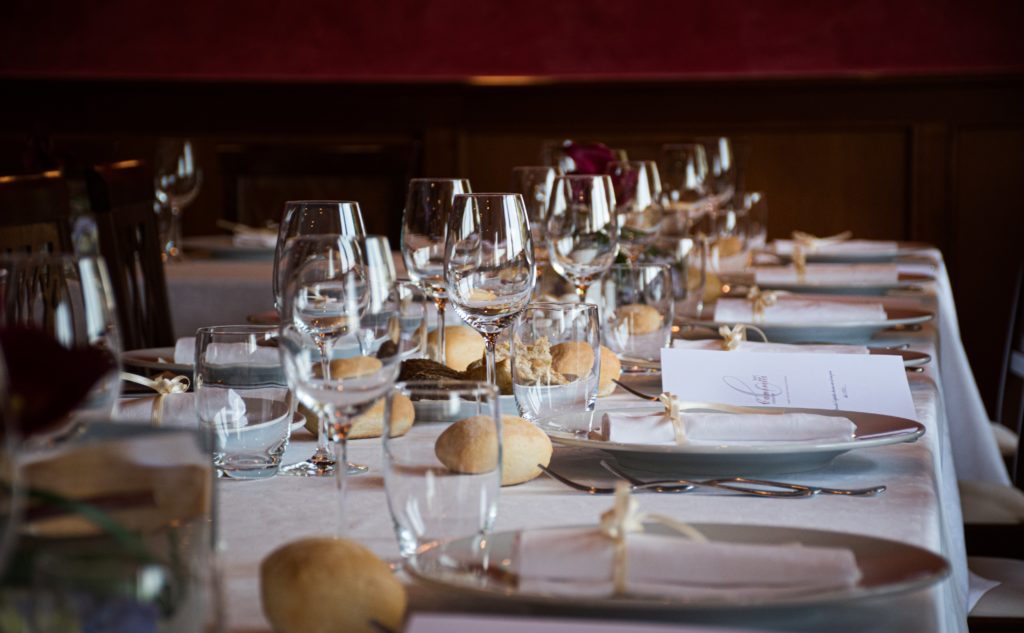 It's important to think about not only what kind of foods you and your fiancée like, but what your guests will enjoy as well. Some options to consider:
Will vegetarian options be necessary?
Do any of your guests (especially family or close friends) have any special diets or food allergies that restrict the types of foods they can eat?
How many children will be attending? Remember, kids don't always have the same taste buds as adults.
This is also a great opportunity to think outside of the box when it comes to selecting different foods for the reception and rehearsal dinner. Generally, if you hear the words "burrito bar" or "ice cream cart," you might think of a fast-food restaurant or an amusement park. But when done tastefully, both of these options can be a great addition to your wedding plans.
Some other unique food ideas that will have your guests buzzing for months:
Have milk and your favorite cookies available for everyone towards the end of the event. The same goes for milkshakes.
Consider using one of your parents' or the bride's parents' secret family recipes. It could be for something as simple as the dessert or as large as the main course.
Set up a candy bar, so guests can fill up a bag of sweet treats to take home with them.
If you want to keep the dance floor lively until the end of the night, stock the bar with energy drinks and have them distributed to the crowd as they begin to look sluggish.
TMR Recommendation: This is another small part of the wedding day or rehearsal dinner where you can really make a statement. Anytime you can break from the norm, people will appreciate your creativity and personal touch. Even if you focus on something small, such as a unique dessert option, your guests will remember it long after the festivities are over.
A great way for the groom to get involved is to plan the rehearsal dinner bar. Designing the menu and stocking the drinks can be a lot of fun and will help save money in the long run. Although some venues won't allow you to bring your own liquor, most will at least let you have some say in what will be served. Other venues will leave the bar entirely up to you to either cater or set up yourself.
The first thing to remember is that a rehearsal dinner bar is much different than what will be at the reception. Something to consider is the size of your guest list and the different types of guests you'll be hosting. You'll want to make sure you have something for everyone without blowing your budget.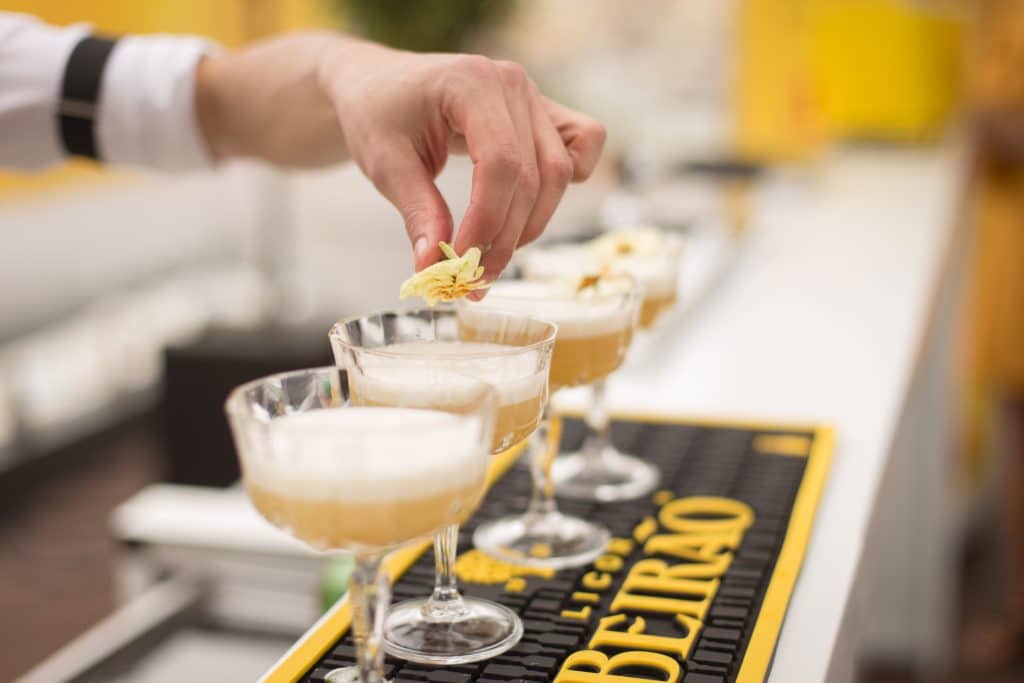 The Bar
First things first. Some families don't drink and prefer not to have alcohol served. Be conscious of this as you plan. Also check with the venue to see what rules it may have, such as allowing only beer and wine, beer or wine, and liquor, whether you can provide the alcohol, if there's a corking fee for wine, etc. Once you have green lights from both families and the venue, it's time to get down to business.
Need gifts for grooms who love a good drink? Check out The Man Registry's collection of personalized home and bar gifts – glassware, bottle openers, coasters, pub signs, and much more!
Cash Bar or Open Bar For the Rehearsal Dinner?
Talk it over and decide if you'll be offering a cash or open rehearsal dinner bar. This will help you set a budget for alcohol. Next determine how many guests there will be, figure three drinks per person and estimate the average price per drink. Then set your budget and stick to it. Another popular option is to provide drinks until a certain time in the evening where the bar switches to a cash bar. If your venue will be providing the alcohol, check to see what type of packages it offers — gold (well drinks and basic beer), silver (premium beer, liquor, and wine options), platinum (top-shelf alcohol, wine, and local brews).
What Drinks Should Be Served at the Rehearsal Dinner?
Beer and wine are probably the easiest choices to offer. A good wine list usually consists of a common white wine such as a chardonnay or pinot grigio, which most people are familiar with and enjoy. For red wines, a cabernet sauvignon or a merlot are good options. Another option is a white zinfandel, which complements a wide variety of food. For beer, decide if you'll be serving beer on tap or by the bottle. If you'll be having a keg or two, a light beer is a great cost-effective option. You could also consider offering a good local beer or a smaller keg of premium beer or microbrew.
Liquor can be a bit trickier with so many options available. A good rule of thumb is to choose more popular liquors such as vodka, bourbon, rum or gin. If you have a favorite drink, such as a martini, it's nice to include it as an option for you to enjoy along with your guests. Going with a signature cocktail as opposed to an open bar is one of the best ways to reduce your budget (especially if your friends drink like mine). A fun and increasingly popular concept is to opt for two cocktail selections, one selected by the bride and another by the groom. This way, you can have the best of both worlds.
For the guys, here are a few personal favorites to consider as you begin your quest to get your wedding guests sufficiently drunk and satisfied:
Vesper (James Bond) Martini
Feeling like an extra stealthy groom? The Vesper is famous for being James Bond's drink of choice.
Ingredients – 3oz. Gordon's gin, 1oz. vodka, 1/2 oz. Lillet Blanc
Preparation – In the words of Bond himself, shake it very well until it's ice-cold, then add a large thin slice of lemon peel.
Manhattan (Whiskey Martini)
It doesn't get any more manly than the Manhattan. If you've never had one, you'd be doing yourself a huge favor ordering one the next time you're out on the town.
Ingredients – 3/4 oz. sweet vermouth, 2 1/2 oz. whiskey (pref. bourbon), 1 dash Angostura bitters, 1 maraschino cherry, 1 twist orange peel
Preparation – Mix the vermouth, whiskey, and bitters with three ice cubes in a mixing glass. Gently stir the drink. Place the cherry in a chilled cocktail glass and strain the whiskey mixture over the cherry. Rub the cut edge of the orange peel over the rim of the glass and twist it over the drink to release the juice.
Rusty Nail
Trust us, it's not as bad as the name implies. And did we mention, its main ingredient is scotch?
Ingredients – 1 1/2 oz. Scotch whisky, 1/2 oz. Drambuie Scotch whisky, 1 lemon peel twist
Preparation – Mix the Scotch and Drambuie together over ice and stir. Use the lemon twist to garnish the glass.
Tom Collins
If you're having a summer rehearsal dinner and want a classic drink that's perfect for a hot day, look no further than our old friend Mr. Tom Collins.
Ingredients – 1¼ oz. Tanqueray gin, 1 oz lemon juice or lime juice, 1 tsp sweet and sour mix, 1 splash club soda, 1 maraschino cherry, 1 orange slice
Preparation – In a shaker, mix the Tanqeray, juice, and sweet/sour mix over ice. Shake well and then strain into a Collins glass that's pre-filled with ice. From there, add the club soda and garnish with the orange slice and cherry.
Sidecar
Another classic cocktail that fits in great at rehearsal dinners. It's origins are French, France is romantic, you do the math…
Ingredients – 3/4oz. Cointreau, 3/4oz. brandy, 3/4oz. lemon juice
Preparation – Fill a mixing glass with ice and add in all three ingredients. Shake heartily and pour into a cocktail glass. For added taste, wet the rim of the glass and coat with a thin layer of sugar.
It's also wise to decide ahead of time if you'll allow shots, which can easily get expensive and may even lead to some guests getting a little crazier than you might want on the night before the wedding. Remember, guests at the rehearsal dinner often range from frat brothers to your grandmother. Consider what's appropriate.
TMR Recommendation: Because the rehearsal dinner bar can be a major part of the event, it's helpful to make it as diversified as possible. While it's tough (not to mention very expensive) to have every drink possible, you can please almost everyone by putting a little thought into it beforehand. Offering some well-known names in liquor along with good beer and wine choices will help you create a night to remember.
Hosting a Rehearsal Dinner Ideas
During your rehearsal dinner planning time, consider making it memorable by making it more than just a dinner.
Many couples utilize the rehearsal dinner as a time to present their wedding party gifts to the wedding party and parents. It's always nice to personally thank each attendant again for being part of your wedding weekend.
The rehearsal dinner is also a great time for toasts. Oftentimes, couples will decide to get the toasts out of the way at the rehearsal dinner so they won't distract from dancing time at the reception.
If there are plans to put together a photo montage of the couple, the rehearsal dinner can be the perfect time to show it.
Rehearsal Dinner Timeline
How will you remember everything without losing your mind? This checklist offers a helpful timeline for what should be done and when.

9-12 MONTHS OUT
Locate and secure a venue. Determine what the deposit amount is and when the final balance will be due.
If you'll be using a caterer, book one as soon as possible (caterers are often booked up to a year in advance).
Get a list of menu options from the venue or caterer. It's also helpful to ask for a list of the venue's and catering company's policies. d
Carefully review your vendors' contracts and make sure everything fits your needs before signing on the dotted line.
5-6 MONTHS OUT
Decide on the specifics (menu options, open or cash bar, etc.) and try out the different types of they offer.
Begin preparing the guest list. For a small event, you may decide to invite only the wedding party. For a larger affair, you'll also want to consider inviting any out-of-town guests and extended family members or life-long friends.
Begin compiling the addresses of all invited guests.
Select and order invitations.
1-2 MONTHS OUT
Address and send out invitations.
Begin keeping a detailed record of responses.
Choose any special linens, flower arrangements or decorations you'll be using at the venue.
1 WEEK OUT
Notify the caterer of your final headcount.
Also, inform them of any small children who will be attending (their meals are typically provided free of charge).
If you'll be using an assigned seating chart, draw it up.
Purchase name cards to place at tables for assigned seating.
DAY OF
Visit the venue during the day to make sure everything is properly set up.
Relax and enjoy the night!
After the event, make sure that any personal belongings are removed from the venue If required, clean the area (or recruit family members to help).
Pay any outstanding balances to the caterer or venue.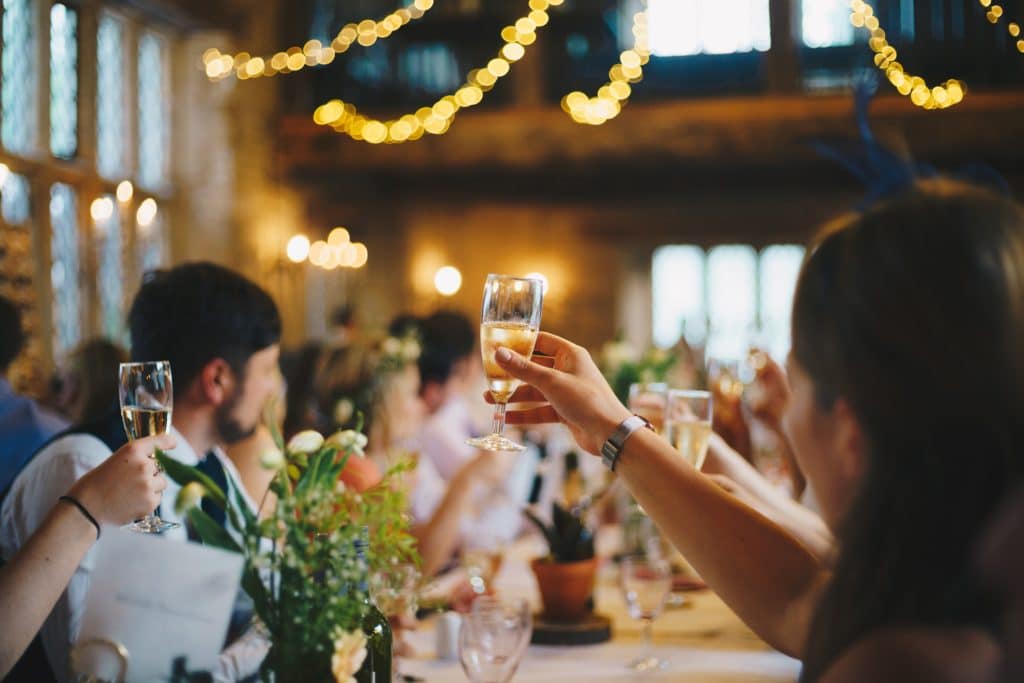 TMR Recommendation: Sit down a week or so before the wedding and put together a list of things you'd like to say about each of the people you'll be toasting in your speech. You can either create an outline to work from or type up the entire speech and print it out. It's always a good idea to practice your toast at least a couple of times beforehand, especially if you plan on having a couple of drinks before the toast. Most importantly, relax and enjoy yourself – you'll be great.
For more rehearsal dinner ideas and inspiration, check our Pinterest board which we update frequently.