Wedding Attire for Men: The Style Guide for 2023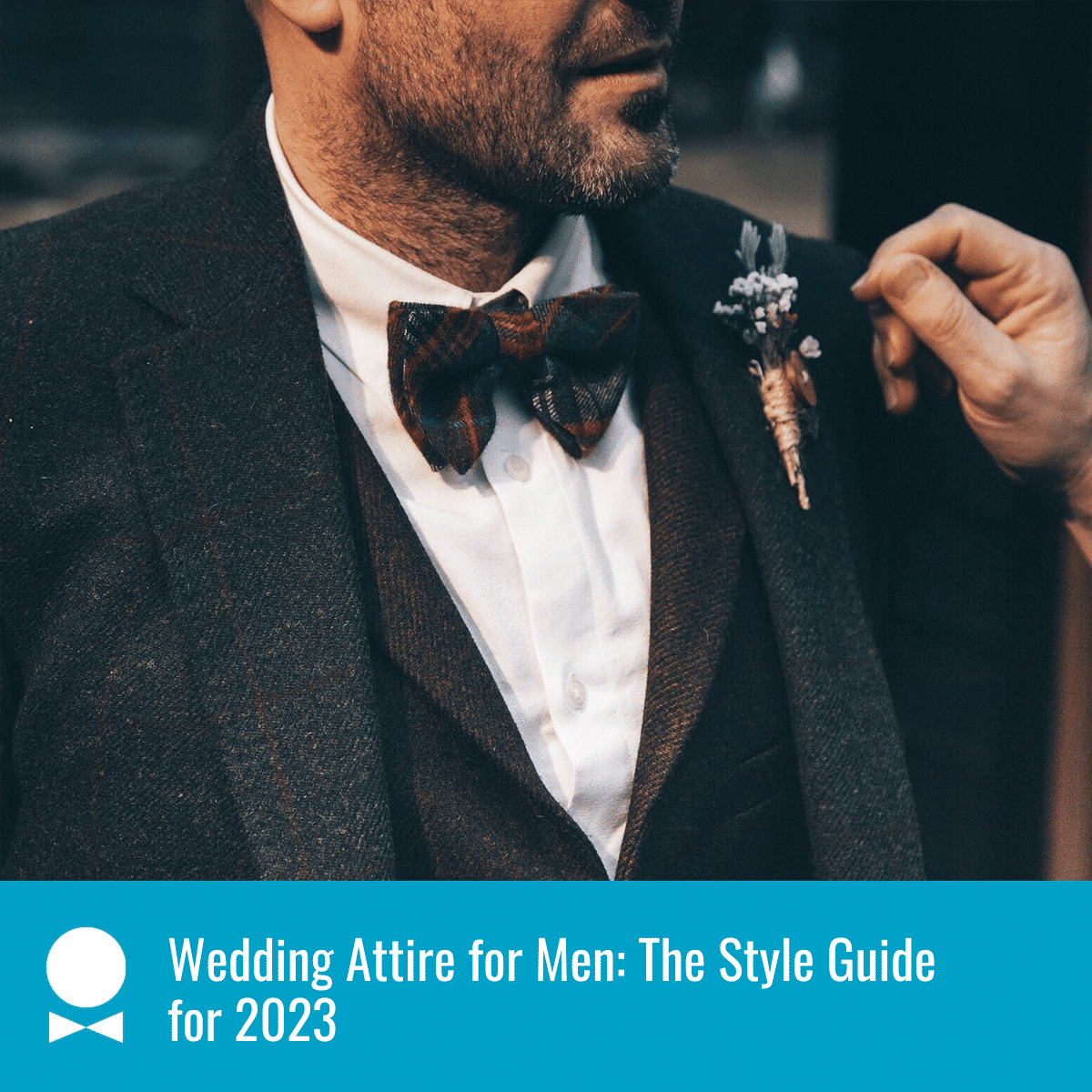 While things can go wrong on the wedding day, it's important to understand what you can control and what you can't. One of the things you can control is ensuring that the attire for you and your wedding party is ordered and ready in time for the big day.
Picking out a suit or tuxedo for your wedding day doesn't have to be difficult. The biggest challenge is that most men often don't consider the type of tux they want until they walk into the tux shop. But if you ask yourself a few questions ahead of time, you can make it a pretty easy process. Our 2023 guide will walk you through the most important aspects when it comes to wedding attire for grooms and how you can look your best on your important day.
Should You Wear A Tux Or Suit?
Talk to your fiancée about the formality of your wedding. A formal wedding almost always calls for the groom and groomsmen to wear tuxedos. However, for a semiformal wedding, a dark suit with an off-white shirt is a popular choice, and khaki or white suits are often good choices for summer or destination weddings.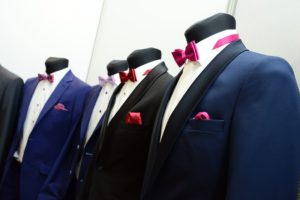 Quality Always Wins
You can always tell the difference between a tailored suit or tux and one that is off the rack. Be it the lining, the stitching, the fabric the garment is made of, and most of the time, the fit itself. If you are renting, go to a higher-end rental place, forget Moore's rentals and the "booklet" people. Go to a place that has stock on-site and will let you try stuff on.
NEVER, EVER order sight unseen! If you've decided to get married in a suit, buy a new suit for the wedding, a custom suit, just for you. I suggest Indochino, I get all my suits from here and I can say, they do good work. You can wear that suit after your wedding, unlike the dress that gets wrapped in plastic and stuck in a box. So spend a little extra on it. You'll have it for a long time.
Gutsy Groom Advice
At your wedding you should be the best-dressed guy in the room, nay…you MUST be! So do your research, look into various styles, look at both suits and tuxes as options. Research the colors and accessories and go shoe shopping. Never wear rental shoes!
Try EVERYTHING on! If you're thinking about wearing it on your wedding day, try it on beforehand. Put on the full look, down to the cufflinks and socks. If you're wearing sunglasses for an outdoor ceremony, put those on with the outfit. Although, they may not look as good with a suit as they do with a beer and board shorts. Finally, make sure they fit properly. Sunglasses should fit the frame of your face, not hang off the side.

When Should the Groom Start Looking For a Tux or Suit?
Once the bridesmaids' dresses have been selected, you should start the process of choosing your wedding attire. Up to this point, the colors haven't yet been chosen, so you'll need to wait to choose the colors of your vest and tie. As much as you might think the tux colors will drive the whole color scheme for the wedding, that's most often far from true. This step should usually happen no later than four to six months before the wedding.
Rent or Buy?
Estimate how many events where you might be able to wear the attire in the future to justify the purchase. If you don't expect to wear it again within the next couple of years, it will save you money to rent instead of purchase.
Of course, if you opt to purchase your tux or suit, there's no doubt that you'll feel great in your attire, and that will show in your posture. Our only advice is that if you're going to buy, make sure that you go with something traditional so that it will be in style for years to come.
However, remember that if you rent, you'll most likely only spend about a third of the cost of buying a new suit or tux. This way, you also won't feel obligated to wear it again, if your attire choice changes or goes out of style in the next few years.
TMR Choice: Rent. In most cases, it will save both time and money.
Where Can the Groom Rent a Tux or Suit?
The best option for locating a tux or suit rental store is to ask your friends and family for a recommendation or try an online search. It's important to be comfortable with the company and its services to make sure they're adequately equipped to accommodate your requests up to a couple of days before the wedding.

How Do You Pick a Tuxedo For a Wedding?
For a semiformal wedding, you'll usually want to wear a dark tuxedo with a bow tie, cummerbund, or vest. If you're going with a dark suit, wear it with a white or off-white shirt during the spring, fall, and winter months. A khaki or white suit is acceptable during the summer months.
For a formal wedding, you can never go wrong with a black tuxedo, white shirt, bow tie or necktie, pocket square, and a vest. Depending on how traditional the wedding is, you might also consider tailcoats and a cummerbund.
I love wearing a tuxedo; there is just a feeling about putting one on. Most grooms just go for the standard tux no matter what kind of wedding they are having. But this doesn't have to be single or double-breasted. 2 or 3 piece…3 piece comes with a vest or waistcoat. Then we get into the tails (not a fav of mine) or the Morning Coat (I do like this one). The Morning Coat is a very British look (in my humble opinion) and I really like it, plus it gives you an excuse to wear an ascot.
It's up to you what you decide on, but these are the options for a Black Tie or Formal wedding. If you are having a black-tie wedding, I suggest including some text on the invitation stating this, so your guests know there will be a dress code. So…there are so many choices for a black-tie wedding. You have the standard tuxedo, but you can get a 1, 2, or 3 (and so on) button jacket.
When Should the Groom Pick Up the Tux Before the Wedding?
About two days before the wedding, you and the wedding party will need to pick up your tuxedos (the store will provide you with a pickup date). Remember: It's very important to try it on to ensure that you'll have ample time for any necessary alterations or to correct size mix-ups.
Check for all of the appropriate pieces and accessories that should be included with your tux, such as a bowtie or regular tie, a cummerbund or vest, cufflinks, and shoes. Although it might be funny for your groomsmen, you don't want to end up looking like the fat guy in a little coat.
TMR Recommendation: Most tuxedo rental shops will give you one free rental for signing your wedding party up. It is common etiquette to give the free rental to your future father-in-law. After all, he has footed the bill for your wedding. Giving him a free tux rental is the least you can do to thank him.
Which Suit is Best For a Wedding?
If you have decided to pass on the tuxedo option and you're looking for a suit, there are limitless options for you. Colors, styles, cuts and so on. It will all depend on what YOU want, and what your bride says you want (Kidding!) Listen to her, but when it comes down to it, you have to wear it and you have to be comfortable in it.
A well-made suit can look amazing! If you can't get a tailor-made one, then buy off the rack and have it altered just for you.
We highly recommend Indochino for all your formalwear needs. I own some of their stuff and it is fantastic! Also, it's not really that expensive. Have a look at your wedding colors. I suggest getting a neutral-ish suit (no wild colors) and adding the color and flair with the tie, shirt, and of course the pocket square. A black, charcoal, or navy suit will look great and you can wear it again after the wedding.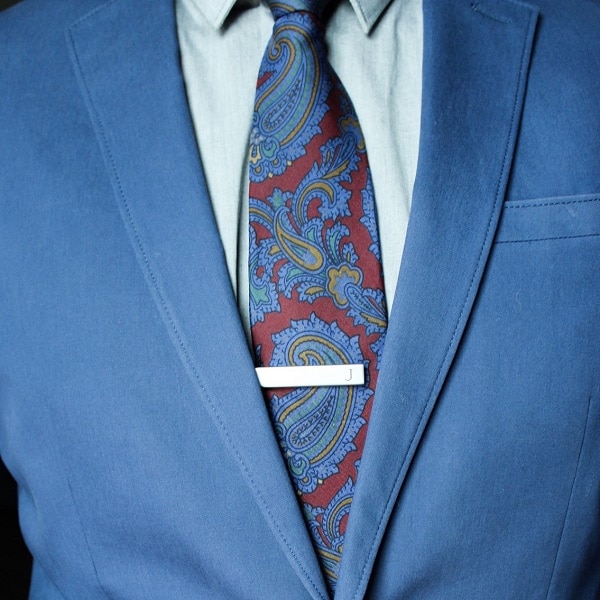 What Color Should Be Used For the Vest or Tie?
If you're considering deviating from the standard black and off-white, it's very important to get the bride's input. If your fiancée doesn't go with you to pick out your attire, be sure to ask her the following questions:
What color is your wedding dress? If it's white, make sure you know if it's white or off-white. This information is imperative if you want your vest and/or tie to match the bride's wedding dress.
What are our wedding colors?
Could you show me a picture or give me a sample of our wedding colors, so I can take them into the store?
What are the colors of the bridesmaids' dresses? Samples?
Cost
Luxury menswear does not have to break the bank; on average the cost of a custom-tailored suit is between $700 and $1000. Considering that renting a tuxedo can cost you $200, this option is reasonable and has the luxury of having a perfectly fitted and custom styled suit that becomes a permanent part of your wardrobe.
The Process
The process typically takes two consultations and can be done at a location of your choice. You can have your groomsmen over to your house to relax, have a few beers, and watch football. During the first visit, you'll decide on fabrics and cuts, and you will have your measurements taken. Following this visit, your garments will arrive in approximately four weeks. The next visit is to present the outfit and make sure the clothes fit properly.
Size Does Matter
It's a pretty simple concept, but it's also simple to screw this up because a lot of guys don't know exactly what to look for. A well-tailored suit will make you look a million times better than a suit you pulled off the rack at the department store.
When choosing your shirts and suits make sure that the shoulder seams fall on your shoulders. A collar on a dress shirt should fit snugly around your neck, not too tight though. If you can fit more than one finger between you and your collar, that neck size is not the right one for you.
With the pants, a pant worn lower will elongate your torso, I like this look and it works for me. A higher waistline will make your torso appear shorter and more stocky. A jacket that drapes low on you will give you the appearance of having shorter legs, but a shorter cut on the jacket will make them appear longer. It's important to try on a few different styles to make sure you get the right one for you.

Style and Sand
Destination weddings have always been popular. Sadly most of the destination wedding photos I see are all the same, khakis and a white shirt. Just because you don't want a formal wedding and it's a little warmer on the beach doesn't mean you have to sacrifice the style and look like everyone else. You can still rock the suit, it doesn't have to be black, of course not.
Try light grey linen, a pale blue, maybe you go plaid or striped, or go all out and sport a skinny fit white suit. You don't have to even wear a jacket.
How Soon Do Groomsmen Need to Get Fitted?
If possible, schedule a group fitting for you and the wedding party four to six months before the wedding. No one likes walking into a tux shop to waste 30 minutes of their day. A group fitting allows all of the guys to get together and of course, to also make fun of the groom.
A second fitting can be scheduled, if necessary, but usually, those who can't make the first fitting can stop by any tux shop, have their measurements taken, and email them in to the local store.
How Does the Groom Know If Everyone in the Wedding Party Has Been Measured?
A few weeks before the tux shop's fitting deadline, remind the wedding party that they need to be measured and give them a "fake" deadline that's a few days before the real deadline to help ensure that any habitually late people will still make the actual deadline. Then, call the tux shop to make sure that they have received everyone's measurements a few days before the deadline.
The shop's deadline is usually two months before the scheduled pickup; otherwise, the shop can't guarantee that the tuxedos will be available for the wedding date.
When Should the Groom Verify That the Tux Shop Has Everything They Need?
One month before the wedding, call the tux shop to verify the pickup date, time, and that they have everyone's deposits.
How Can the Groom Stand Out From the Groomsmen?
While back in the day it was traditional for the wedding party to wear identical clothing, today it's completely acceptable and practiced for the groom to differentiate himself. A couple of ways to accomplish this is to wear a different colored vest and tie; or for a more subtle approach, wear a slightly different boutonnière.
You can also help your guys accessorize by gifting them items such as cufflinks or ties.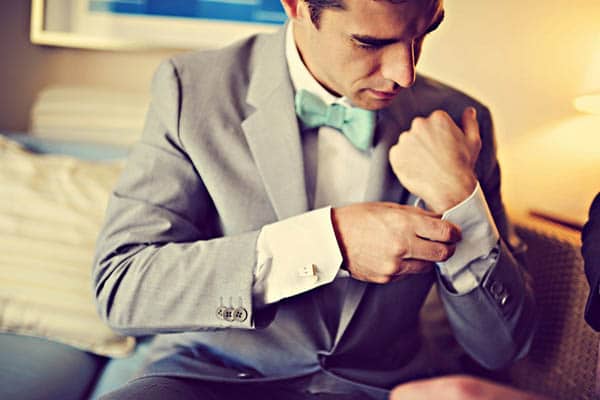 Need a little help on what to think about when choosing what to wear for you and your best friends on your big day? Keep these tidbits in mind when picking out groomsmen's attire.
Formal or Unique?
Tuxedos and a uniformed color scheme is the traditional view of a wedding, but times are changing. Converse shoes can replace dress shoes and a pair of khakis and a white shirt can substitute for a suit and tie all depending on your personal style.
What is your style? Do you want a traditional wedding where all your groomsmen wear tuxedos or do you want them in superhero costumes? Knowing what type of wedding you want will help in choosing the attire for the entire wedding party.
Realizing your theme or style will be the base of your entire event.
Budget Concerns
As much as you don't want to mention it, how much things cost is an issue at every wedding, and not just for the bride and groom. In the case of groomsmen attire, some couples choose to rent tuxes for their groomsmen while others let their friend's foot the bill. It is important to consider everyone's financial input to your wedding.
You don't want your best friends not to be in your wedding because they can't afford it nor do you want to take on more expenses than what is in your budget. Some inexpensive wedding ideas include:
Let groomsmen wear their own suits instead of renting tuxes.
Go for a more casual look by having them only wear the same color shirts or ties.
Go online. You can find almost anything online, and usually for less.
Rent tuxes as a group. A lot of places have group discounts.
Let the guys wear their own shoes instead of renting them.
Simple changes such as these can save you and your bridal party a bundle.

Time to Shine
In a room full of suits and ties, how does a groom not blend in with the rest? After deciding what your style will be and what your budget is, making sure you stand out from your groomsmen is the next step. Besides the bride, you are the most important person of the day and it is your time to shine.
If in tuxedos, changing vest colors or designs will help designate you as the groom. Try going with a completely different color instead of just changing hues.
Going outside the norm, some men are choosing to wear a completely different color suit or tux than their groomsmen. This bold statement really makes the groom stand out amongst his friends.
Groomsmen in the wedding party will usually be wearing boutonnières. Although they all will be beautiful, the grooms could be a different flower and color than anyone else's.
Remember these simple tips when it's time to start thinking about what the men will be wearing in your wedding party. We all know your bride is going to stand out on the big day, make sure you are standing out with her.
Groom vs. Groomsmen Attire Q&A
Q: Is it improper for the groom to wear a double-breasted tux while the groomsmen wear two- or three-piece suits?
A. While I love fashion and have my own personal opinions regarding wedding attire, I'll admit that I'm no Tim Gunn (if you haven't heard of him, ask your fiancée). But I believe that your wedding day is an occasion where you and your fiancée should feel free to make your own decisions about your attire. Regardless of whether it's "proper," if there's something you really want to wear on your wedding day, and your fiancée approves, go for it.
However, I realize that you don't want to end up looking like a fool on your big day by making a major fashion faux-pas. This is definitely a question you should discuss with your wedding day attire/tux or suit shop vendor as well as your fiancée. Your tux vendor should be an expert in this area and can help guide you in the right direction, keeping the type and formality of your wedding ceremony in mind.
Personally, I think it really depends on the tux and suits you select. If the fabrics match nicely and the styles are very similar, it could end up looking great. However, if the fabrics and styles don't mesh well together, the whole look could appear off or sloppy, which you definitely want to avoid. Talk it over with your tux vendor.
If he or she believes that you can seamlessly blend the two styles, and your fiancée is on board as well, why not go for it? But if you're still not 100 percent sure that the combo works, consider having all of the guys wear either tuxes or suits, instead of a combination of both, to create a cleaner, more streamlined (and classic) look.
Either way, you (the groom) should definitely find a way to stand out from your groomsmen in terms of your wedding day attire. After all, the bride will certainly stand out from her bridesmaids, and the groom is no different. If you decide that wearing a tux while your bros wear suits isn't the way to do that, there are plenty of other options to consider.
For example, think about wearing a different colored shirt or tie than your groomsmen. This can be as simple as having the groomsmen wear colored ties to match the bridesmaids' dresses while you wear a white or off-white tie (to coordinate with your bride's gown), or the groomsmen could all wear light-colored shirts and you could wear a white one.
Or, depending on your wedding colors, you could wear a tie in a brighter shade or even a different, yet complementary, color than those of your groomsmen. Another way to stand out is to wear a tux or suit jacket that has satin or grosgrain lapels, while your groomsmen wear standard versions. Or consider wearing an ascot or pocket square (while the groomsmen don't) or wear one in a brighter color than your groomsmen.
You can also stand out as the groom by wearing a different boutonniere than your groomsmen. Your boutonniere can either be made with different types of flowers, blooms in different colors, or be larger than those of your groomsmen so that everyone will instantly know that you're the groom.
Whatever your decision, rock it. This is your day, and you should feel amazing in whatever you ultimately decide to wear. Cheers!