How to Be a Good Groomsman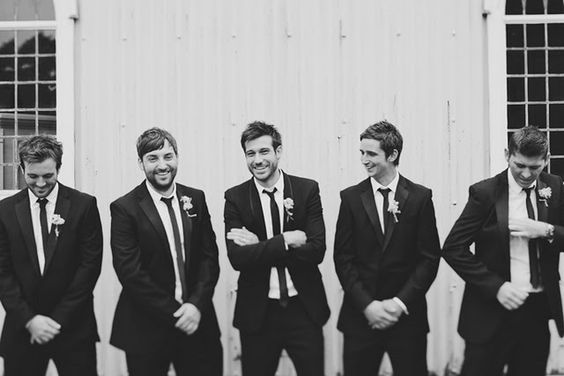 Congratulations! You've agreed to take on the important task of serving in a friend or family member's wedding. But do you know how to be a good groomsman? Follow these easy tips and you'll be an exemplary wedding party member in no time.
Prepare for necessary commitments
Being a groomsman is more than just standing next to the groom on the wedding day. There will likely be several pre-wedding and day of events you'll be asked to attend. There will also be some financial requirements, such as paying for your wedding attire, contributing to the bachelor party, covering any travel costs to attend events and springing for an engagement, shower or wedding gift.
Respond to invitations
Whether it's a tux fitting, bachelor party, rehearsal or photo session, as a member of the wedding party, you'll be expected to be there. Do your best to attend as many wedding-related functions as possible. And if you're asked to RSVP to an event, make sure to send in a prompt response either way.
Show up — on time
This may seem simple, but arriving on time for any events you're invited to (especially on the wedding day) is key. Extra points: If possible, show up around 10 minutes early to events to save the bride and groom unnecessary stress.
Suit up
Most likely, the bride and groom will choose a suit or tux and accessories for you or will provide attire guidelines to follow. Attend any fittings by the set deadline to allow time for alterations, or shop for your look a few months before the wedding to avoid scrambling at the last minute. Extra points: Keep any less-than-positive comments about what you'll be wearing to yourself. You may not love every attire choice, but it's best to go with the flow in this case.
Party on
Groomsmen often work with the best man to help plan the bachelor party. Plan on chipping in for whatever outing you end up planning, along with food and drinks or any necessary pranks and gear.
Don't mince words
As a groomsman, you may be asked to give a speech or say a few words about your relationship to the groom or couple at the rehearsal dinner or wedding reception. If so, take some time beforehand to jot down what you want to say to ensure a more successful speech.
Enjoy yourself responsibly
Once it's time to party at the reception, feel free to eat, drink and be merry. Just plan to pace yourself and go slow on the drinks, so you can enjoy yourself without going overboard.
Have any tips to share on how to be a good groomsman? Tell us in the comment section below.
Gift Ideas They'll Love