5 Things to Avoid in Your Wedding Speech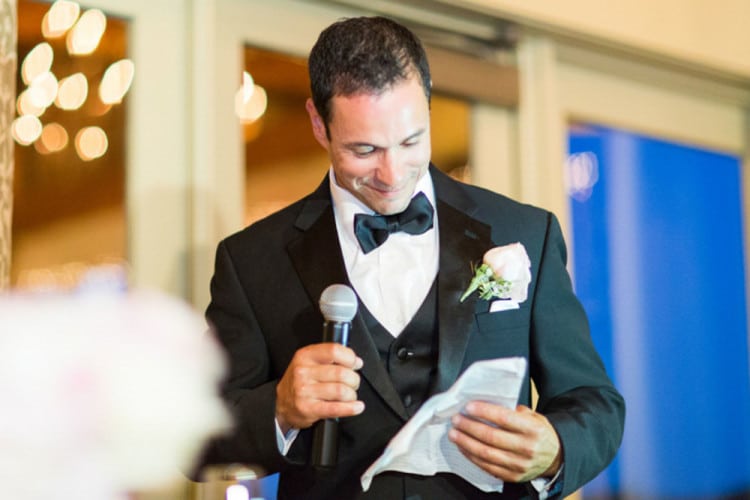 Tasked with giving a best man or groomsman toast? Here are five things to avoid in your wedding speech so you can deliver it like a boss.
No preparation
Being totally unprepared shows. This isn't the time to just wing it. Take some time beforehand to either jot down some talking points or the entire speech so you can practice it a few times prior to the big day and work out any kinks.
Drunken delivery
Nothing can ruin a well-written speech faster than delivering it while completely intoxicated. Make sure to pace yourself before speech time, so you sound jovial and sincere rather than slurry and sloppy. You've got all night to hit the bar, just wait until after you're done speaking.
Bad jokes
While a joke can be a great ice-breaker, stay away from any jokes made at the bride's expense or that will get the groom in trouble with his bride or family. Not sure if your joke's appropriate? If you have to ask yourself that question it probably isn't. Consider running it by a trustworthy friend or family member to make sure.
Inappropriate stories
Remember that time you and the groom got wasted, those strippers showed up, his ex-girlfriend made an appearance and someone ended up getting arrested? You may remember the story fondly, but will everyone else? This is one of the key things to avoid in your wedding speech. Skip those types of stories or anything remotely like them. If his new bride, mother or grandmother wouldn't appreciate hearing it, for the love of all that's holy, leave it out.
Rambling on
Telling one short and sweet, humorous or sentimental anecdote is great. Telling one incredibly long or hard-to-follow story or multiple stories can get out of hand — fast. Do everyone a favor by keeping your speech brief to leave plenty of time for others to deliver theirs.
Gift Ideas They'll Love