The Man Registry's Guide to Honeymoon Planning and Destinations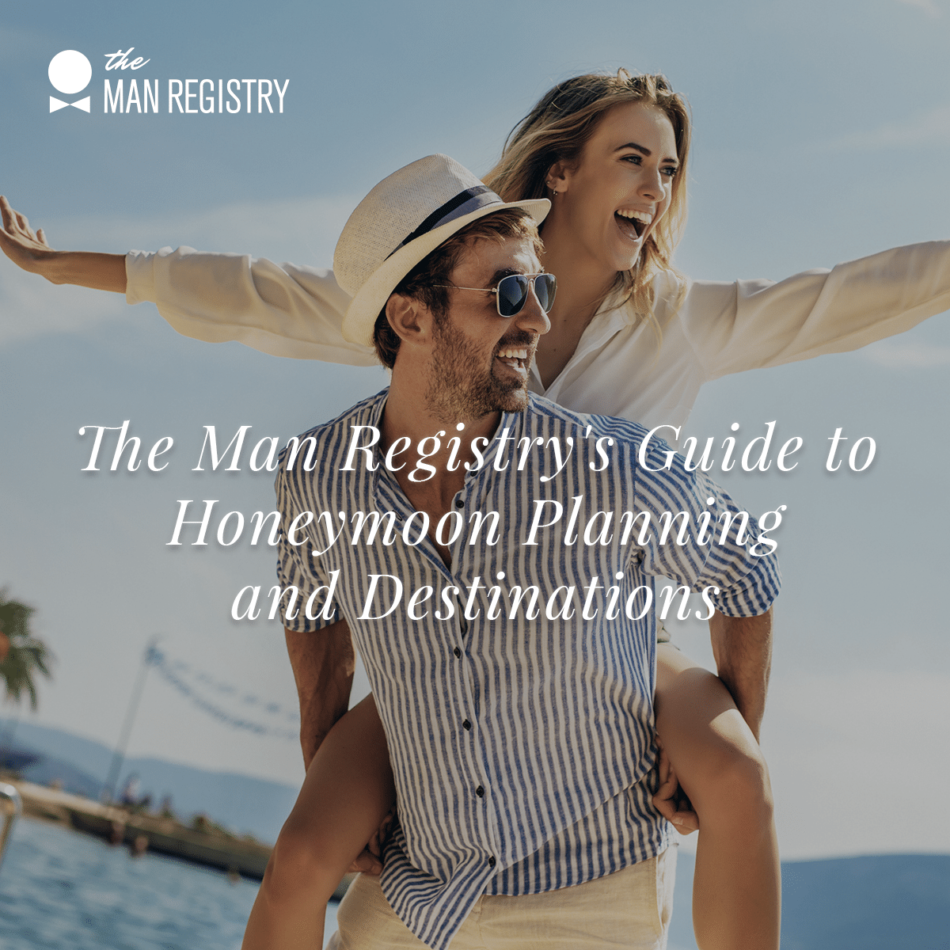 Wedding planning has consumed you for the past several months. You have spent endless nights going over details and arrangements. On more than one occasion you've probably wondered if the stress will ever end. Well, you can breathe easy because it does. A week of relaxation, dining and cocktails await you after the big day.
If you haven't decided where the honeymoon will be, here are a few questions you may want to ask yourself:
Do we want to go somewhere on the beach? The mountains? Overseas? Cruise?
How long is a honeymoon?
Do we want to go somewhere neither of us has ever been?
Do you want a more leisurely or active honeymoon?
Do we want to go all-inclusive?
Going over these questions with your fiancé will get your creative juices flowing. It's very important that you're both 100% comfortable with the decision. The last thing you need is second thoughts after the trip has been booked.
TMR Recommendation: If you take the time to go over these points with your fiance now, you can ensure that the honeymoon planning process will be less stressful.

Honeymoon Tips
8 Tips For Taking a Great Honeymoon on a Budget
More and more couples are concerned with taking a honeymoon on a budget. Luckily, there are many ways to make that happen. You can have the honeymoon of your dreams without breaking the bank if you follow these tips:
1. Check out bed & breakfasts
A quaint B&B can be less expensive than a hotel in the same area, and a home-cooked breakfast is included. Typically, rates are lower mid-week versus weekends. Many B&B's will often have a "special suite" that may include a romantic canopy bed and a Jacuzzi tub.
2. Look at condos and villas
If both or one of you likes to cook, a condo or villa can be a great way to save on your honeymoon. With a fully equipped kitchen, you'll be able to prepare many of your own meals. This can also be a fun time to cook with your spouse while sharing a bottle of wine.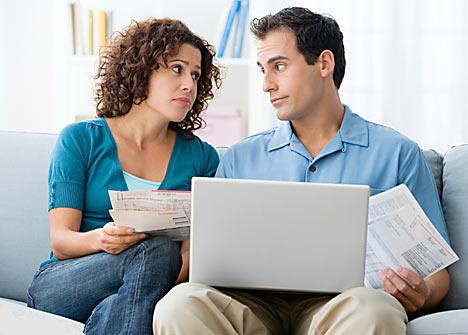 3. Shop for deals online
There are all sorts of great places to get deals online. Conduct an internet search for food or lodging discounts in the city you will be honeymooning. You may be surprised to see all the options that you will help you save money on food, lodging, transportation, and entertainment.
4. Travel in the shoulder season or offseason
In Florida, the offseason is actually the summer, when most people never think of visiting. As a result of fewer tourists and a lower demand, hotels lower their rates to attract business. The same is true with Hawaii. Each destination will have an offseason that is worth considering so you can score better deals on airfare, hotel rooms, and activities.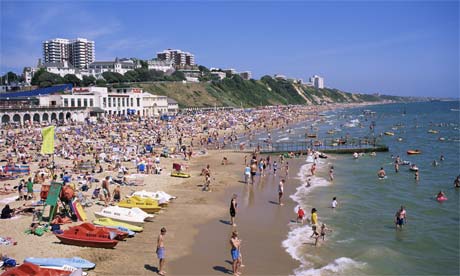 5. Use air passes and train passes in Europe
If you plan on visiting multiple countries in Europe, an air pass may be ideal. It makes travel within the EU affordable.  Most of Europe has an excellent rail system that connects the major cities. So if you are visiting a country like Italy, you can purchase a Eurail train pass to travel throughout the country.
6. Get a cheaper room
Let's be honest – luxury accommodations are nice, but they aren't a necessity for most couples. But this is your honeymoon, so one strategy to employ is to book the least expensive room in a really nice hotel or resort. You then get to enjoy all the amenities that the hotel has to offer while paying a lower room rate. And your room will still be more than adequate!
7. Plan well ahead of time
Booking air travel and lodging six to nine months before your honeymoon will save you money. Many of the automated pricing models are based on demand which is determined by the number of seats sold on a flight or the number of rooms booked at a hotel. There are "last minute deals", but you don't want to gamble on getting the lodging or flights you want on your honeymoon!
8. Know your priorities
Setting a budget and sticking to it is all about prioritization. Determine what is most important to you. Is it the actual destination, the amenities at a resort, a romantic suite, cultural activities, adventurous excursions, sightseeing, dining, or simply sitting by the pool with a cocktail?

7 Secrets For a Romantic Honeymoon
A romantic honeymoon can look dramatically different from one couple to the next. Some couples prefer lying on the beach sipping cocktails together, and others prefer sightseeing through European cities side by side. No matter what your honeymoon preferences, these eight secrets will help make your honeymoon even more romantic and memorable:
1. Choose the Right Location For You
The key to having a truly romantic honeymoon is to choose the right honeymoon destination for the two of you – rather than simply choosing a tropical beach because that's what most people seem to do. Think about the times you feel most connected to your fiancé, whether that's when experiencing new adventures together, snuggling in a luxurious bed, exploring a new city, or simply relaxing. Then, choose a honeymoon destination that will allow you to experience those things together.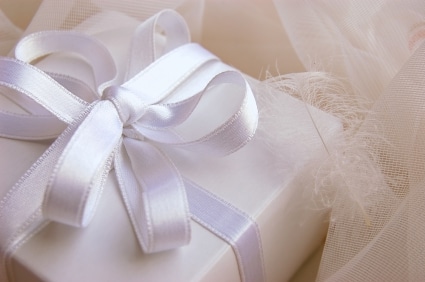 2. Plan Some Little Gifts
You can enhance the intimacy and romantic connection on your honeymoon by planning gifts for your new spouse. Pack little secret presents for every day of the honeymoon and present them to your new spouse at just the right time.
3. Tell People You're on Your Honeymoon
One of the least-known ways to make your honeymoon more romantic is to tell other people on your honeymoon. It can get you discounts, upgrades, or maybe a table with a better view at a seaside restaurant. If you want romantic honeymoon upgrades from your hotel, pack a copy of your new marriage license to verify that you really are on your honeymoon.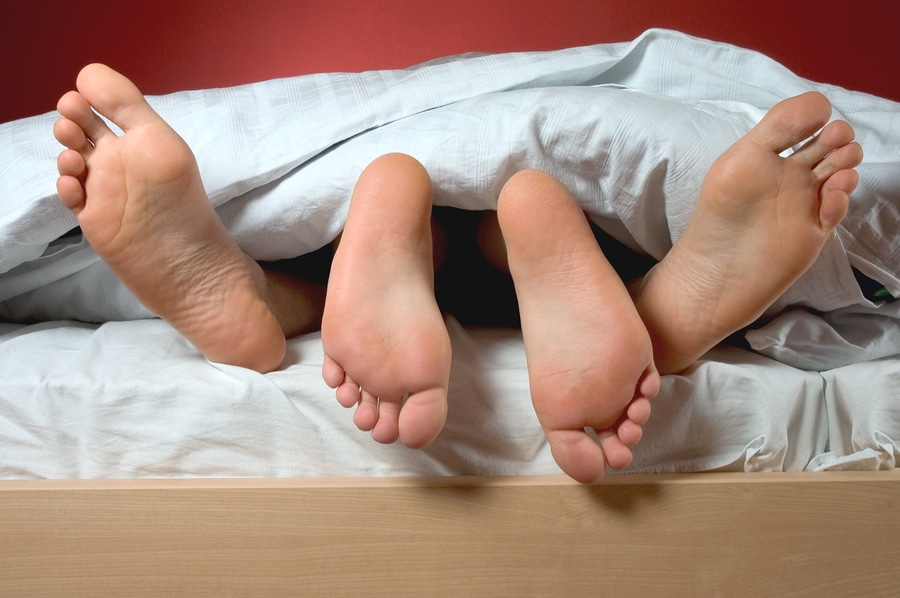 4. Bring Your Own Romantic Items
Don't expect your hotel or destination to provide you with all the romance you'll want on your honeymoon. Instead, bring some of your own romantic items, such as tealight candles, your favorite music, bubble bath, massage oil, and new lingerie.
5. Book a Room With a Jacuzzi
There's nothing more romantic than relaxing together in a dimly-lit, luxurious bathroom with a Jacuzzi tub for two. It's more romantic than a hot tub at a resort pool because it's private.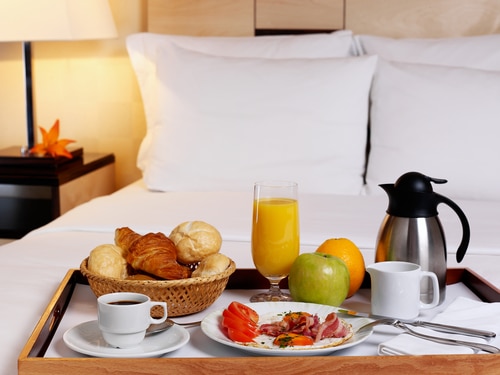 6. Enjoy Breakfast in Bed
Splurge on room service at least once or twice on your honeymoon. Breakfast in bed gives you time to wake up slowly, making your whole day feel less rushed and more romantic. Depending on what you enjoy, you can even bring a board game to play or a movie to watch while you enjoy your luxurious breakfast in the comfort of your room.
7. Tell Your Spouse Why You Love Him/Her
Telling someone about all the reasons you love him or her is possibly one of the most romantic gestures there is. Before your honeymoon, spend time making a list of the reasons you love your fiancé. Then, on your honeymoon, present this list of reasons in a creative way – as a scrapbook, on strips of paper you leave around the room, or just in a list form that you can read during a romantic dinner together.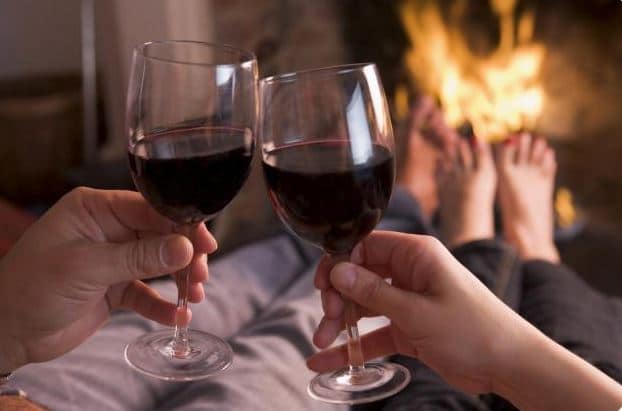 Buying a Fake Ring For the Honeymoon
We all know that diamonds are a girl's best friend. Your bride will treasure her engagement ring and wedding band for the rest of her life. That's why it's so important to buy her a fake diamond ring right before the honeymoon. Sound absurd? Trust us — we're trying to help you out.
Chances are that you've heard horror stories of people being robbed while on vacation outside of the country. Americans are easy targets outside of our borders because criminals assume we have money and valuables. Whether it's a face-to-face robbery or a staff member at your resort stealing from your room, it happens.
A great way to combat the risk is to buy a fake diamond ring to be worn on the trip. Cubic zirconium, moissanite, and white sapphire are great substitutes for diamonds and can be purchased inexpensively.
To the naked eye, it's hard to tell the difference between these substitutes and a real diamond. Some jewelry stores even offer replicas of the exact ring you buy. If you and your wife will be traveling outside the United States frequently, this may be something to seriously consider.
As always, we recommend having your ring insured. However, if you don't, this precaution takes on added importance.
TMR Recommendation: Pay the small amount and pick up a fake rock. You can't put a price on peace of mind. At the very least, make sure you have ring insurance before you leave.
Top 5 Reasons Men Should Use a Honeymoon Registry
The honeymoon registry is one of the hottest trends for engaged couples! It offers you the opportunity to take the trip of a lifetime that your family and friends help pay for. You can go to an exotic destination that might otherwise not be in your budget.
Today, the average bride is 29 and the average groom is 31, and the majority of couples pay for their own weddings. These two statistics suggest that today's engaged couples are financially independent. They already have many of the household items needed to start a new home together and don't need another toaster. Now you know why 35% of all wedding gifts are returned!
If you don't really want more stuff in your life and would prefer to have an exhilarating experience with your fiancé, then a honeymoon registry might be right for you. Still not sure?
Here are five solid reasons why you should use a honeymoon registry:
1. You get exactly what you want
At department stores, the wedding registry salespeople will say you need hundreds of gifts on your registry to give guests plenty of selection and you need to accommodate a wide variety of price points. The problem is that you end up registering for things you don't really want or need. With a honeymoon registry, you can get what you really want – the experience of a truly memorable honeymoon.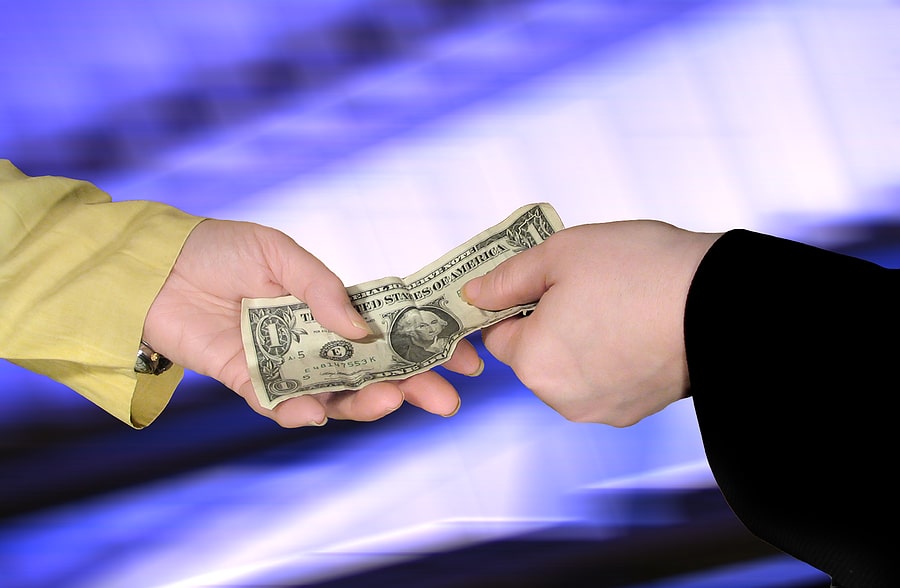 2. You don't have to ask for money
Asking for money as a gift can be awkward. With a honeymoon registry, your guests are essentially giving you money, but each guest will know exactly what that money is intended for – so they can feel good about giving you a special honeymoon gift.
3. You can combine it with a traditional wedding registry
No one said you can't have it both ways! Most couples these days have wedding registries set up at more than one store so they have a variety of items to choose from. If you need a few practical essentials for your home but also want a great honeymoon, there's no unspoken rule saying you can't register at Target or Macy's and Honeymoon Pixie! You can get the best of both worlds this way!
4. You can track your registry online to help you plan for your honeymoon
It's a good idea to register early for your honeymoon registry to provide guests the opportunity to purchase their gift for you well before your wedding. This will help with your budgeting, as you can then monitor the gift funds received and how much money you've got coming in at any given point. Registry gift funds can be redeemed weeks before your wedding to help pre-pay for your lodging and airfare, easing budget concerns. Overall, many couples are pleasantly surprised at the level of gift-giving and find that they can splurge a little more on their honeymoon.
5. Guests get to do it all online
A honeymoon registry is a perfect solution for couples who have friends and family in far-off places. They may want to buy you a gift but would have to ship it to you, which can be expensive.  Plus they may have to pay tax and have the gift wrapped. With a honeymoon registry, they can do all their gift-giving online, avoid the various fees, and not have to guess what you really want for a gift. Your guests will love the convenience. And you'll have a detailed 'thank you' list from your registry, so you'll know what to thank each gift giver for! Your bride will think that you're the smartest husband ever!
If you want an unforgettable honeymoon and don't want to deal with taking back the three extra George Foreman grills you get on your wedding day, then a honeymoon registry might be the perfect solution for you!

Honeymoon Essential: Getting a Passport
After the engagement ring, the honeymoon is the most expensive and important thing the groom will be financially responsible for. It will be a time of relaxation and fun with your new bride. However, if you're planning on traveling outside of the country, your vacation could turn into a disaster if you aren't fully prepared with a valid passport.
The following guidelines will help make sure you don't end up honeymooning in the backyard.
Getting a Passport
If you don't have a passport, apply for one as soon as possible since they can take several weeks – or even months – to be delivered to your home. You must apply for a passport in person. Print the application form and fill it out before you go to the passport office. Just don't sign the application because the person authorizing your passport application needs to watch you sign.
You can apply for a passport in person at several places, including the Bureau of Consular Affairs for your state, the Passport Services Office nearest to you, many public libraries, and many post offices. To check out the closest passport application site, go to the Department of State website and search for a location based on your zip code.
When you go to apply for your passport, you'll need to bring evidence of your citizenship, such as a previous passport, a certified birth certificate, a naturalization certificate, or a certificate of citizenship. You'll also need a current form of identification, which can include a naturalization certificate, a military ID, a government ID, a valid driver's license, or an old passport. Before you apply for your passport, photocopy all of the front and back of the documents. The originals will be returned to you, but the copies will be mailed in with your passport application.
Finally, you'll need to get a passport photo that meets the current requirements. Most local drugstores will take and print passport photos that should meet all the latest requirements.
The cost of a passport varies from year to year but should be around $110, plus a $25 processing fee for first-time applicants. You can get a passport card for $30, which is valid for entering the US from Canada, Mexico, the Caribbean, and Bermuda. The main limitation of the passport card is that it cannot be used for international travel by air.
Renewing a Passport
Check the expiration date on your passport, and renew it by mail if you have your most recent passport in hand.
In certain countries, your passport needs to be good for six months out from your arrival date before they'll let you in.
If that passport was issued when you were a minor (under sixteen) you'll have to re-apply in person as you would when getting a brand new passport!
Expediting Your Passport
If you don't have time to wait on the normal passport application process, you can pay extra to have your passport expedited. You can pay a $35 expedite fee at the application location to get it faster. The fastest way to get a passport in an emergency is to travel to the nearest passport office location. There, you'll apply in person and pay a $60 expedite fee. Passports can be ready the day you apply if you get there early in the morning, or by the next day at the latest.
To qualify for this extra service, you either need to be traveling within two weeks or need to get a foreign visa within a month. You'll need to call the nearest Passport Agency to schedule an appointment. If you already applied for a passport for your honeymoon but don't have it within a couple weeks of your departure date, you can call the National Passport Information Center to expedite the completion of your passport within seven days of your trip.
Changing Your Name
One concern with honeymoon passports is that you may be changing your name, technically, right before you leave. Don't worry, though. Be sure to book plane tickets and do your visas in your maiden name as it appears on your passport.
You can travel under that name legally, and then change your name on your passport by filling out the name change application and sending in your old passport after you get home from your honeymoon.
If You Already Have a Passport
Locate your passport, and keep it in a safe place until the wedding day or honeymoon
Double-check that your passport is still valid. U.S. passports are good for 10 years from their issue date.
When you pack for the honeymoon (usually several days before the wedding), make sure to put your passport in your bag. That way, there's no doubt it will make the trip with you.
TMR Recommendation: If you don't already have a valid passport, apply for one now. The wait time is getting longer, and you don't want to risk it. Play it safe and get it done early.
Common Honeymoon Mishaps to Avoid
Even though you think your honeymoon will be perfect, chances are something, at some point may go wrong. It could be something simple like forgetting the sunscreen in the tropics and leaving your sandals at home. Other problems, like stolen credit cards or a lost passport, are more serious.
Just knowing about common honeymoon mishaps is the start to avoiding them. Here are some of the most common mishaps you may not be able to avoid on your honeymoon:
Lost Passports and Credit Cards
It's vital that before you leave on your honeymoon, you make copies of your passport and credit cards. Copies can be immensely helpful when you need to replace these items. You'll also need to write down the international contact numbers for your credit card company and bank. It's a good idea to scan these documents and email a copy to yourself. The information can then be retrieved from any computer in an emergency.
If you lose your passport, go to the nearest US Consulate as soon as you can. It's a good idea to write down contact information for the nearest Consulate to where you'll be staying before you leave.
If your credit cards are lost or stolen, call your credit card company or bank immediately to suspend the use of the cards. It's a good idea to have some backup methods of funding – even a spare credit card stashed in your luggage.
Missed Flight or Connection
Always plan to be at the airport extra early so you're less likely to miss your flight. Sometimes, though, unpreventable circumstances cause you to miss a flight or a connection. If you miss a flight or connection, don't panic. Instead, talk to your airline's representative as soon as possible. If there is a long line at the counter at the airport, you may get faster service by calling the airline directly on their toll-free number.
If it's the airline's fault that your flight was missed, late, or canceled, you'll probably get a hotel voucher, and the airline will likely rearrange your flight plans for free.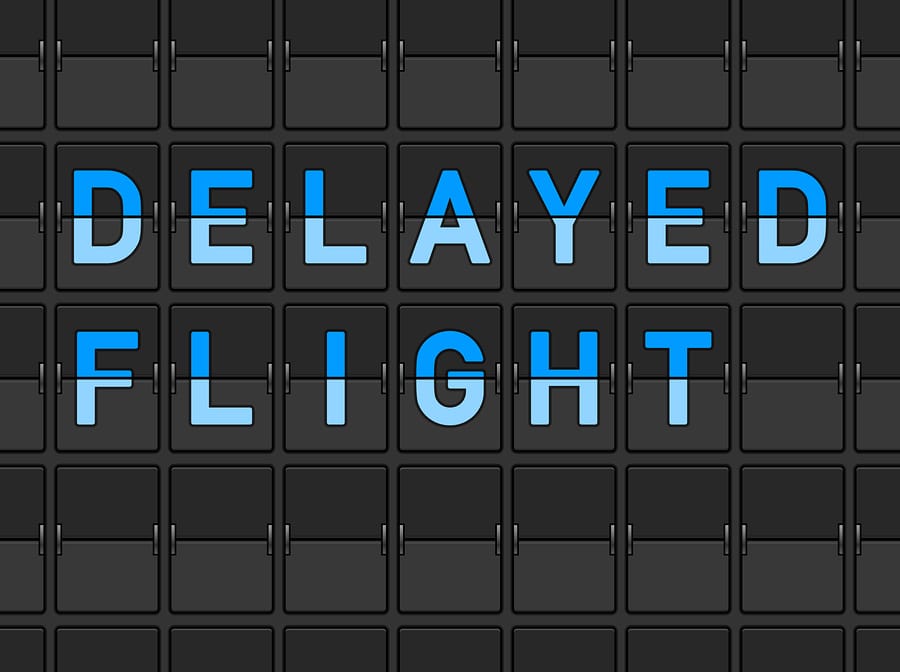 If you're the one at fault (or if airport traffic causes you to sit on the tarmac and miss a connection), then you may not get these benefits. It's always a good idea to have a little extra in your budget just in case something like this occurs and you have to pay for another plane ticket or an extra night in a hotel.
Encounter Weather Problems
The best way to mitigate the risk of encountering this honeymoon mishap is to plan your honeymoon for the right month in the right location so that you miss most of the worst weather in your chosen destination. However, you can never fully predict the weather, and you might just find yourself encountering weather issues on your honeymoon.
It's a good idea to consider travel insurance, which can cover some of your expenses if you run into weather problems. Sometimes, you may even be charged extra if a hurricane lays over your cruise ship in port for another day! Travel insurance and a flexible, adventurous mindset can keep the weather from ruining your honeymoon.
Get Sick
Honeymooners across the globe have experienced everything including allergies, colds, dysentery, food poisoning, serious illness and injury on their honeymoons. It's frightening to get sick or hurt in a foreign country, especially if you don't speak the local language. It's always a good idea to be prepared for any scenario.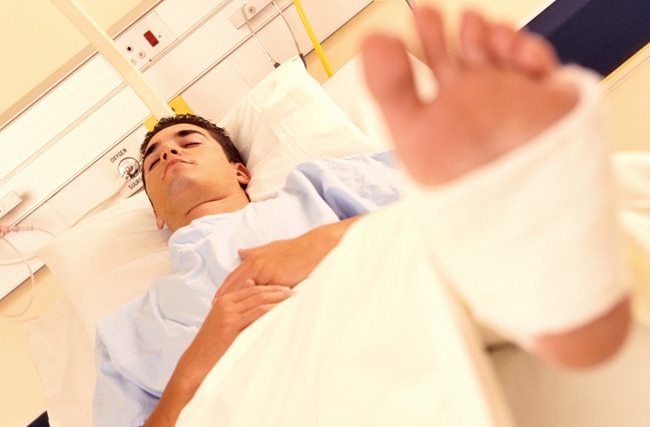 Here's a list of recommended medical safety precautions that should be followed by anyone who is traveling:
Check with your insurance about coverage in foreign hospitals. If you have to go to a hospital, then you don't want to wonder what your insurance coverage will be like. If your health insurance doesn't cover you in a foreign country, you might consider purchasing a health insurance rider for your travel insurance policy.
Pack basic medications with you. Packing things like antacids, cold tablets, and motion sickness prevention medication can make minor illnesses less severe. Also, pack a small first aid kit for minor cuts and insect bites.
Know which immunizations you need. Sometimes you can't get into a foreign country without certain immunizations, and other times they're only optional. Speak with your doctor or a travel agent about the immunizations you should have for your destination, and get them well before you leave.
Wash your hands on a regular basis and use an antibacterial sanitizer when traveling. Avoid touching your eyes and mouth with your hands to minimize the spread of harmful bacteria.
Make smart decisions. Drink plenty of water and wear sunscreen in sunny, hot destinations. Be careful about using the local water supply in questionable situations (bottled water is recommended), and use the safety gear required for all your adventurous honeymoon activities.
Honeymoon Destinations
How to Make the Most Out of an All-Inclusive Resort Honeymoon
When you want a flawless honeymoon experience, all-inclusive couples resorts remain destination #1! After all those months of wedding planning, it's nice to have someone else take care of all the arrangements and romantic details plus, all-inclusive packages offer some of the best bargain deals on the planet! All you need to do is pack your bags and get ready for some love and relaxation. With just one click, you can book an all-inclusive honeymoon package and kiss your cares goodbye.
Island Wedding and Honeymoon Packages
If you're still in the planning stages of your wedding consider an all-inclusive wedding and honeymoon package from your favorite island resort. Wedding packages begin at rock bottom rates for an intimate ceremony for two or may be built up to accommodate over one hundred special guests. For instance, the Caribbean is a steal of a deal. Like most packages, you can customize it to meet your budget.
Your island bride will be radiant with an exotic backdrop of powder-white sands, turquoise waters and a warm breeze from the tropical Trade Winds.
What's Included in an Island Wedding and Honeymoon Package?
From Jamaica to Aruba and everything in between, weddings and honeymoon packages are your best bet to have it all at the price you want to pay. Island brides may elect a basic package to include the ceremony on the beach, a sumptuous champagne dinner for two and a fabulous honeymoon suite situated on the sand. Added amenities are available for nominal fees and include perks such as photography and video packages, additional banquet seating, live entertainment and more.

Things To Do at the All-Inclusive Couples Resorts
In addition to enjoying a comprehensive wedding and honeymoon package, the bride and groom have access to a host of free amenities at the resorts. Spend the day water skiing, snorkeling, windsurfing or take a romantic horse ride down the shore at sunset. In most cases, all non-motorized water sports are included in the one low resort price with additional recreation and entertainment available nearby. Try full and half-day excursions hiking, biking and flying through the rainforest on a zip line. Island weddings keep on giving with abundant natural beauty and a built-in itinerary of fantastic things to do.
Early reservations are best to snap up the best deal of the day. However, last-minute island weddings and honeymoons are plentiful and fiercely competitive to earn your business. Regarded as one of the best deals in the travel industry, pick your pleasure from the South Pacific to the Caribbean for unbeatable late travel deals and fabulous romantic escapes. Some top picks for value and hassle-free arrangements include Jamaica in Montego Bay for beaches, nightlife and golfing, or Ocho Rios for beaches, shopping and affordable excursions.
Top 10 Most Romantic Honeymoon Cities
Romantic cities have several advantages over resorts and beaches, including gourmet dining, rich cultural experiences, and luxurious five-star accommodations. Throughout the year, cities also hold a variety of activities and festivals to enjoy.
Here are the top ten most romantic cities for honeymooners:
1. Paris, France
It goes without saying that the City of Lights is at the top of the world's most romantic cities list. In Paris, you'll find some of the world's best restaurants, where you can get everything from croissants and café au lait at corner bistros to five-course meals at five-star restaurants. And, of course, the Eiffel Tower at night is a romantic sight not to be missed by honeymooners in Paris.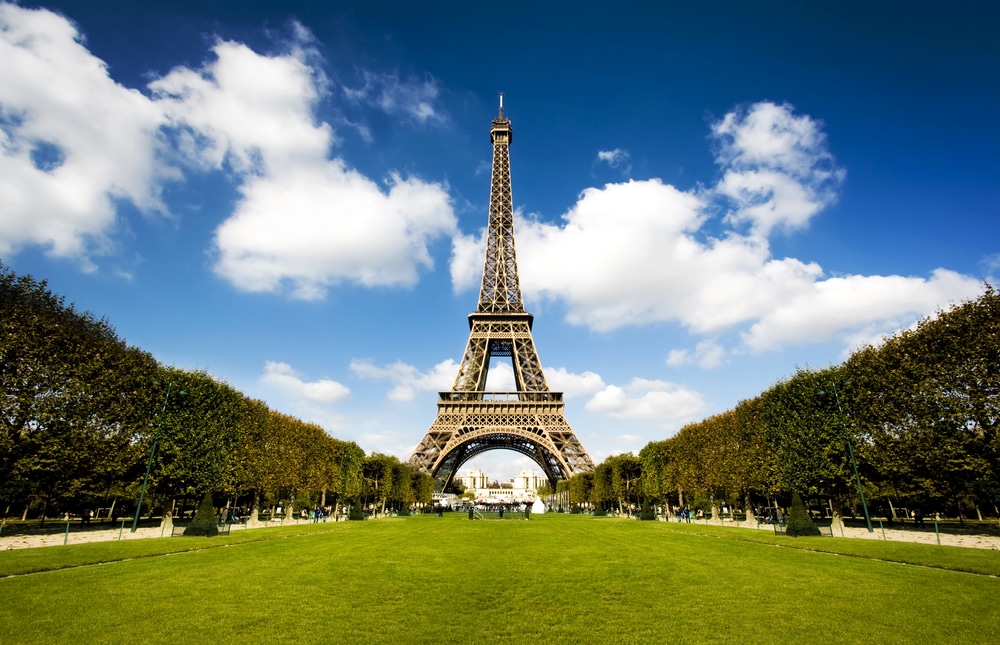 2. Rome, Italy
In Rome, you can enjoy some of the world's most beautiful architecture, monuments, and art. The Vatican Museum, Sistine Chapel, St. Peter's Cathedral, Coliseum, Trevi Fountain, Pantheon, and much more are all within walking distance of downtown Rome. When you're not sightseeing, the next best thing is to enjoy the excellent Italian food at the many restaurants. And don't forget about gelato, the world's best ice cream.
3. Barcelona, Spain
If you want warmer weather in a city that still has all the romance of traditional European culture, Barcelona is your destination of choice. You'll find great food, including some of the best tapa bars in the world, and lively nightlife to spice things up. You must tour the city's breathtaking cathedrals and stroll down colorful La Rambla, one of the most famous boulevards in the world.
4. Vienna, Austria
This is yet another city where you can get European culture while walking through winding streets full of interesting shops and cafes. In Vienna, definitely book tickets to a Vienna Philharmonic concert, and enjoy some of the local foods, like Wiener Schnitzel.
5. Prague, Czech Republic
You can enjoy great views of ancient Eastern European architecture, excellent cuisine, and bustling nightlife in this romantic city. If you go to Prague, you must take a carriage ride through the Old Town Square, where you'll get a unique view of some of the city's most beautiful historic buildings.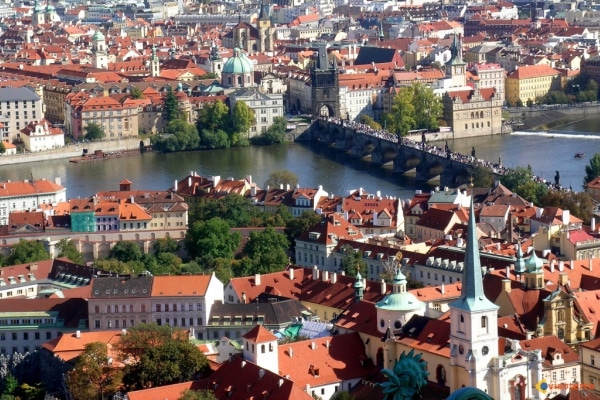 6. Edinburgh, Scotland
Edinburgh is the perfect honeymoon destination if you want to blend cityscape and countryside on your honeymoon since you can travel to Holyrood Park and enjoy the scenic lochs, hilly pasturelands, and quaint chapel ruins.
7. New York, NY
New York is buzzing with events, theater, museums, concerts, shopping, and more. Stroll through Central Park for an afternoon, or enjoy a Broadway musical together. And, of course, any ethnic food you'll find in any of the other top ten cities, you'll also find in New York City!
8. Bruges, Belgium
What's more romantic than a canal boat tour in Bruges? This quaint city is both romantic and scenic and is ideal for lovers. Enjoy a hot air balloon ride over the city center followed by a De Halve Maan Brewery tour. There are medieval museums and cathedrals for art buffs and outdoor sidewalk cafes that ooze with romance. As you browse through town, visit the lively outdoor market and the delicious Chocolate Museum.
9. San Francisco, CA
Travel to San Francisco and enjoy a cable car ride on the city's steep streets or a sunset boat cruise under the Golden Gate Bridge. Hike through the Redwoods in Muir Woods, or enjoy the booming nightlife in some of the world's hottest clubs. There are several five-star restaurants in the city for the ultimate culinary experience.
10. London, England
London is a bit like New York City in that you can find just about everything here. Enjoy a play at the Globe Theater, and get food from any part of the world in this multi-cultural city. Visit St. Paul's Cathedral, and snuggle while you enjoy the city view from the London Eye Ferris wheel.

Taking a Honeymoon in South America
While honeymoons often include trips to the islands or a cruise, you may want to consider a less common option: South America. Our American counterpart has some of the most beautiful scenery honeymoon destinations have to offer. Two great options to check out are Brazil and Argentina.
The dollar currently goes a long way in South America, so you can plan on spending anywhere from $50 to $200 a night, depending on the accommodations.
Honeymoon in Brazil
When you think of Brazil, two things that often come to mind are Carnivale and, of course, the Brazilian bikini wax. But beyond that, Brazil has some of the most incredible beaches in the world. It's home to 30 percent of the world's remaining forests, so there are many options if you want to explore all of its natural wildlife.
Generally, the biggest festival months in Brazil are between December and February, so it's a great place to visit after a winter wedding to escape the cold weather. One caveat is that it can be very hot and humid, so make sure you and your fiancée are interested in an exotic, yet very warm honeymoon.
If warm weather isn't a problem, there are some great activities that can be found around Rio such as hang-gliding, hiking, canoeing, and surfing.
Honeymoon in Argentina
Argentina offers different types of honeymoons to meet almost everyone's needs. For wine aficionados, Argentina offers a beautiful wine country nestled in the foothills of the Andes, which is commonly referred to as the most beautiful mountain range in the entire world. Near the city of Mendoza, some of the world's best red wines come from Malbec, Argentina's variety of the red grape.
Other activities around this city include hiking, rafting, and skiing in the resort of Las Lenas. If you love to dance, Argentina is known for the tango and most resorts offer beginner and advanced sessions.
And if you're looking for a bit of adventure, try a cruise from Argentina. This is no ordinary cruise, as its destination is the Antarctic. Be one of the few people to actually set foot on the rarely seen continent of Antarctica. The views and wildlife seen on this cruise are said to be unbeatable on any other place on earth.
TMR Recommendation: Your honeymoon should be an adventure you'll talk about for years to come, and South America is a great option to consider. Whether you're looking for beautiful beaches, great wine, or an incredible cruise, South America has it all.

Honeymoon Road Trip Ideas
With the rising cost of weddings and the economy at a standstill, it might feel like the honeymoon is nothing more than a pipe dream. Fear not! All you need is your sweetie, a car and the open road to make an unforgettable honeymoon.
No matter where you live in the continental United States, there are countless destinations within a manageable drive. Turn your post-wedding celebration into a honeymoon road trip with the following ideas:
Beach
Whether you're living on the East or West Coast, or smack dab in the middle of the country, there's a beach calling your name. Here's a few of our favorite beaches that we think would be perfect for your honeymoon:
Florida – Siesta Beach in Sarasota and Caladesi Island State Park in Clearwater
Carolinas – Myrtle Beach and the Outer Banks
Northeast – Nantucket or Martha's Vineyard in Massachusetts
West Coast – Ocean Beach in San Diego, and Harris Beach State Park in Oregon
Texas – South Padre Island
Midwest – Oval Beach on the shores of Lake Michigan

Big City
Your honeymoon road trip is a great time to visit that one city you've always meant to see, but haven't had a chance. Major metropolises like New York City, Chicago, Las Vegas, Los Angeles, Boston and Washington, D.C., offer the chance to sightsee, shop, dine at trendy restaurants, experience the nightlife of a big city and take in local entertainment. Find a city that appeals to both of you and offers a variety of activities.
Theme Park
Hands down the best amusement park for roller coasters is Cedar Point in Ohio, which features some of the fastest and tallest in the world.
For Disney lovers, East Coasters can turn to Walt Disney World in Orlando, while West Coasters have Disneyland Resort in Anaheim, Calif.
For waterpark fans, check out Schlitterbahn in New Braunfels, Texas, with more than 40 rides, three lazy rivers and three miles of tube rides.

National Park
Take in the natural beauty of our country on your honeymoon road trip by stopping at a national park. America's most popular park is the Great Smoky Mountains National Park bordering both North Carolina and Tennessee. Featuring 800 miles of hiking trails, the park offers beautiful scenery and wildlife watching.
Arizona's Grand Canyon comes in second in visitor popularity. One of the Seven Natural Wonders of the World, it's a jaw-dropping sight to behold. Other great national parks include Yosemite National Park in California, Gettysburg National Military Park in Pennsylvania, and Yellowstone National Park, which spans Wyoming, Idaho, and Montana.
Top 10 Best Beaches for Honeymoons
The perfect beach for a honeymoon must be stunning, warm, and most of all, secluded. If you want to enjoy a beautiful beach during your honeymoon without hordes of tourists, check out these 10 honeymoon-worthy beach destinations.
1. Antigua
The Caribbean island of Antigua has over 365 beaches, some of which are buzzing with activity while others are secluded and romantic. If you want a good blend of beaches where you can either party or have a private picnic with your partner, Antigua is a great option.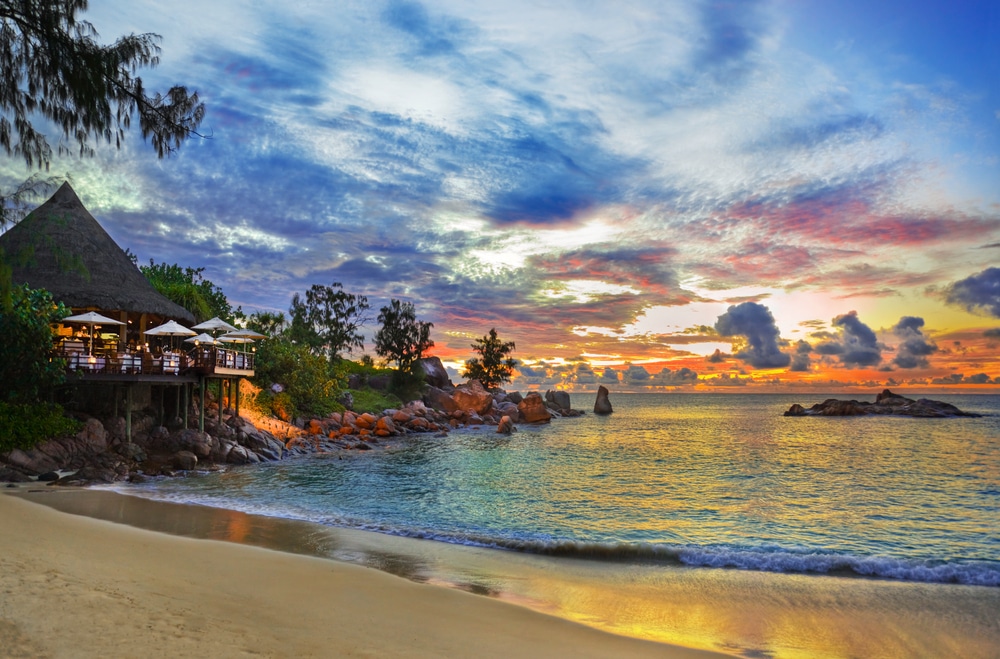 2. Barbuda
Barbuda is a great place to enjoy the Caribbean without having to worry about running into many other travelers. It's not overly populated and it features quiet, secluded beaches. If days of relaxing on the beach get boring, Antigua is only a 20-minute flight away.
3. Bodrum, Turkey
This town on the southern Aegean coast of Turkey offers the ultimate in luxury. It's not as busy as St. Tropez or Naples, but it's just as beautiful, warm, and luxurious. Apart from luxury accommodations, Bodrum offers a variety of activities from archaeological tours and mud baths to windsurfing and diving.
4. Bora Bora, French Polynesia
The white sand beaches of Bora Bora are surrounded by crystal clear turquoise waters. A honeymoon here is intimate and private, as time seems to stand still. There are only a handful of resorts on the island, many of which have bungalows perched on stilts directly over the water.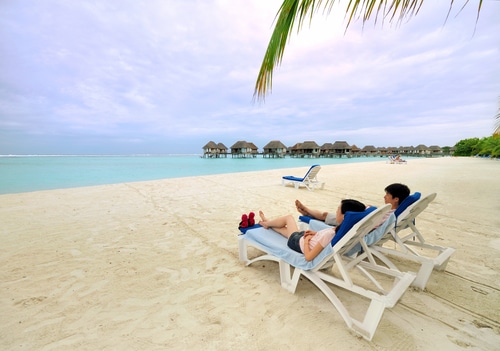 5. Fernando de Noronha, Brazil
Fernando de Noronha is a small archipelago located 340mi off the coast of Brazil. The island's beaches are just as beautiful as Rio's, but with only 3,500 year-round inhabitants, they're much calmer. Stay in a private bungalow right on the beach for the ultimate in luxury and romance.
6. Koh Tao, Thailand
This beautiful tropical island in the Gulf of Thailand has become more popular in recent years, and i yet to be overrun with tourists. The island is only accessible by boat, helping to create a more authentic ethnic experience than other beaches in Thailand. Koh Tao has a wide range of accommodations from private villas to very inexpensive hotels.
7. Lana'i Hawaii
Lana'i is one of Hawaii's lesser-known beach destinations. There are just two resorts on the island which means fewer people around to spoil your seclusion. Once you're in full-on vacation mode, head over to Maui and check out the seaside streets of Lahaina, the beaches of Kaanapali, Haleakala National Park or drive the scenic road to Hana.
8. Sardinia, Italy
With over one thousand miles of coastline and the most translucent blue water in the Mediterranean, Sardinia is one of Europe's most idyllic honeymoon destinations. Sardinia is an ideal choice for couples looking to enjoy the rich culture and history of the Mediterranean.
9. U.S. Virgin Islands
Not all the U.S. Virgin Islands are secluded – many are tourism hotbeds. However, St. John features pristine nature reserves and more privacy than its neighbors – St. Croix and St. Thomas. One of the great things about the Virgin Islands is that they are so close together it's easy to visit more than one during your honeymoon.
10. Zanzibar, Tanzania
More and more couples are heading to Africa for beach honeymoons, and for good reason. Tanzania has a wide variety of cultural attractions including a private island off the coast of Zanzibar, which offers white sand beaches and gorgeous water without the touristy feel.
TMR Recommendation: No matter which beach destination you choose, a honeymoon registry can help make it happen. Your guests can help you upgrade your accommodations, contribute to your flight, or just pay for a round of cocktails on the beach. After all, when you and your partner have your toes in the sand half-way around the world, you'll wonder why you ever registered for that crock pot.

Honeymoon Cruises: Cruise Ship 101
If you're a travel aficionado and don't want to see just one locale during the honeymoon, a cruise ship may be just what you're looking for. Cruise ships offer the best of both worlds— a resort-like atmosphere on board and several different destinations to explore on shore.
Don't know much about cruising? Don't worry. Here's a starter's guide on what you'll need to know when making your honeymoon destination decision.
Cruise Preparation
If you'll be traveling to any foreign countries, remember to have your valid passports as well as other photo identification with you at all times. Be aware of any shots or inoculations you need to have before traveling to certain countries. Your cruise line will supply you with this information. You can also check out the US State Department's health warnings for traveling abroad.
Briefly research the customs of the countries you'll be visiting. Certain clothing or dress styles may be unacceptable. For example, in several Caribbean countries, it's offensive to wear camouflage clothing.
Depending on your cruise line, there may also be several dress "themed" dinners during the trip. It's helpful to look up this information in advance. Typical themes are casual, semi-formal, formal or tropical wear. Check out the next section on packing for the trip.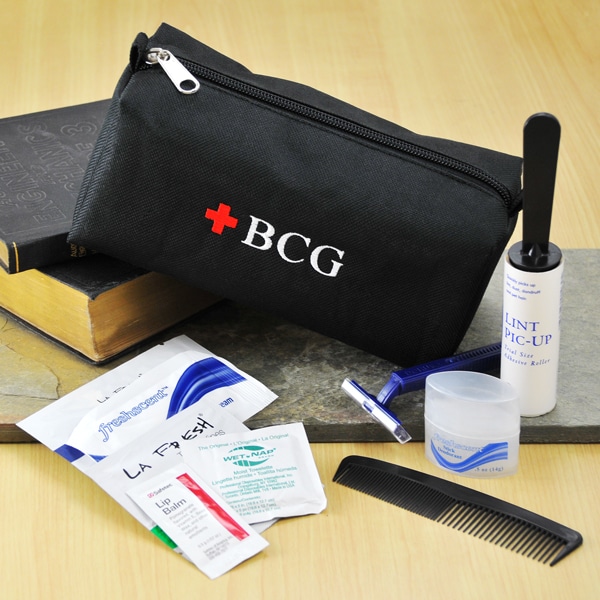 Bring cash as many of the smaller onshore shops may not accept credit cards. There should be an ATM machine onboard, but the transaction fee is likely to be very high.
Your cruise line may require you to select a time for dinner. Eating earlier might give you more free time afterward, but choosing the later seating might give you more time to enjoy earlier activities.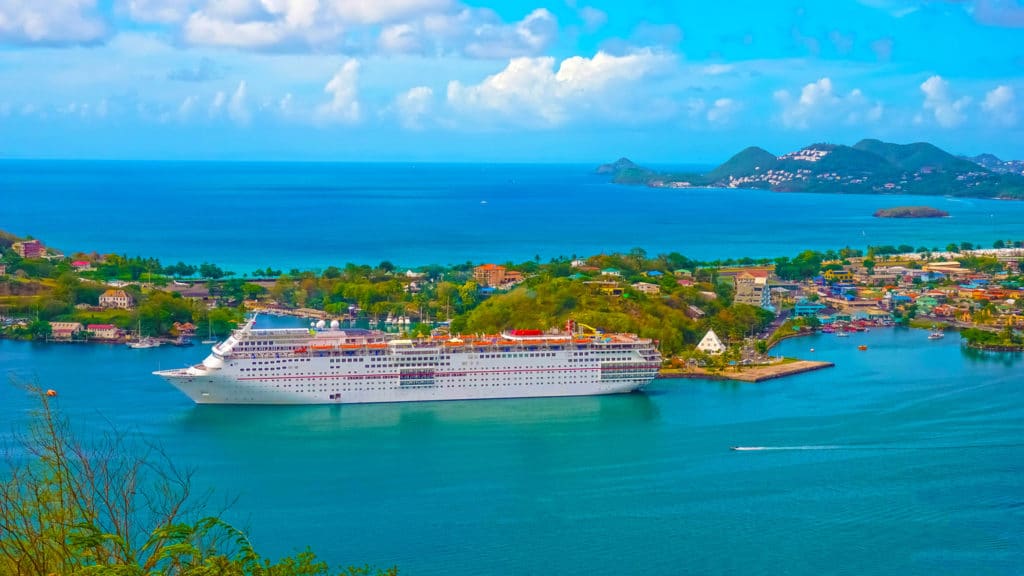 Packing For the Trip
Pack light or bring extra luggage so you can bring back souvenirs and purchases from the trip. Remember that any international travel has duty-free purchases. This means no sales tax.
For formal nights, cocktail dresses are preferred for women, while suits and tuxedos are acceptable for men. Most ships also have tuxedo rental onboard.
For semi-formal nights, dresses, skirts or slacks are preferred for women, while dress slacks and a sport coat are acceptable for men.
Remember to pack any medication you'll need during the trip. Don't bother packing bath or beach towels. They're almost always provided for you onboard.
Pack two swimsuits so you'll always have a dry one. Research the climate for the region you'll be visiting and also go over the activities you'll be doing.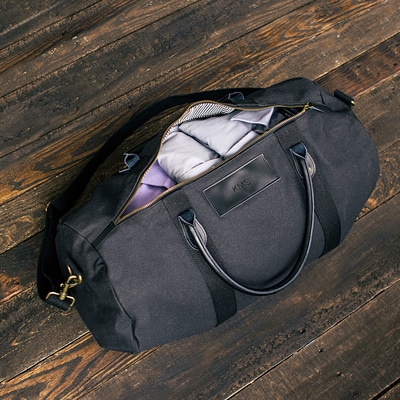 While Onboard the Ship
With the size of today's ships, you may struggle to see and do all that the ship has to offer. There are countless daily activities on a cruise ship. Each night, a different show is featured with world class singers, dancers, comedians, or other entertainers.
Don't feel up to a show? We're sure you'll find something to keep you occupied with the bars, casinos, nightclubs, and movie theaters onboard. As for your wife, something tells us she'll find her way to the shops or the spa. Athletic? Many of today's cruise ships offer a full gym, rock climbing wall, basketball and volleyball courts, putt putt courses, or even a full golf or surfing simulator.
In addition, each day will feature a full schedule of unique activities to help keep you busy. Some of these may include a dodgeball tournament, bingo games, belly flop contests, and possibly even a party for all of the newlyweds onboard.
You'll be given a ship card that will be your form of identification and payment onboard. Keep this card with you at all times because it will be the only way to pay for drinks and gifts on the ship. You'll also need the card to get off and on the ship. At the end of your trip, you can pay it off with cash or credit card.
Most cruise lines have sponsored onshore activities. The cruise lines usually recommend that you not use any independent vendors for your excursions because they may not have the same safety requirements the cruise line recommends.
However, if you thoroughly research outside vendors, it often isn't difficult to find similar options onshore at a fraction of the cost of what the cruise line offers. Just make sure that you're purchasing from a reputable, licensed and insured operation.
Cost
Cruise ships are historically cheaper than staying at a resort. When you book with a major line, you're typically paying for your room and food. Unless you find a rare deal, drinks aren't included. Gratuity is typically included on liquor purchases made onboard.
At the end of the trip, it's customary to tip specific members of the staff for their service during your stay. Tip amounts are per person, per day. Some cruise lines also offer a lump sum tipping option that covers all of the ship's staff members for $XX per day, if you'd rather not fuss with divvying it up yourself.
Depending on your budget, you can find cruises that last anywhere from five days to five weeks. By booking a typical six night cruise with a regular stateroom at one of the major cruise lines, you're looking at an average price tag of $3,400.

Cruise Ship Dining
If you know anyone who's been on a cruise, you've likely heard them raving about the food. They're not kidding. Cruise ship dining is the real deal. You'll enjoy a wide range of cuisines ranging from steaks to seafood to pasta. It might also be your only chance to taste some true international flavors (cruise lines employ chefs from all corners of the world).
If you enjoy a nice, stiff drink there will be no shortage of liquor, beer, and wine on board. For better or worse, the cruise lines find every possible way to put a drink in your hand.
While some cruise lines offer more flexible dining options without requiring reservations, dining schedules, seating assignments or dress codes, others may have a specific dress theme set for dinner each evening, such as casual, semi-formal, formal or island wear.
In addition to the main dining rooms, several cruise lines also offer specialty or fine dining restaurants onboard. These dining options most often require reservations and an additional per person rate. Book early, as peak reservation times can fill up quickly.
Remember, you aren't required to eat onboard, and recommend being adventurous and checking out your dining options on shore to sample some of the native tastes.
TMR Recommendation: If you decide to go the cruise route, be sure to let the booking agent know it's a honeymoon. There just might be something special waiting in your room for you when you arrive.
TMR Bonus Recommendation: Research the travel insurance policies of the cruise lines and be aware of Atlantic hurricane season which runs from June 1st through November 30th.
Typical Daily Activities on a Cruise
This is what a typical day on a honeymoon cruise might look like. Passengers have the option of getting off the boat and exploring the locale or staying onboard to take advantage of many activities and events planned for that day.
TMR Recommendation: Look over each day's cruise itinerary upon receiving it. Plan ahead which activities you don't want to miss. Most likely, you'll want to spend most of your day on shore so pay special attention to the evening activities (this is where the best ones are anyway).
This schedule was taken from an actual cruise itinerary to help give you a better idea of what to expect.
Of course, if none of these activities sound appealing to you, you always have the option of leisurely enjoying yourselves all day at the beach or any of the bars, restaurants, shops, casinos, and other entertainment onboard. Or, because it's your honeymoon— you may have other "activities" planned.

SAMPLE CRUISE SHIP ACTIVITY SCHEDULE
MORNING
8:00 am – Ships arrive at the port of call.
8:00-8:45 am – Workout classes in fitness center
8:00-10:00 am – Pick up port of call shopping guide at the gangway
8:30-9:30 am – Team trivia
9:00 am – Spa special (sample spa services for discounted price)
9:00-10:00 am – Open ice skating
10:00 am – Digital camera sale & demonstration
10:15 am – Adult men's dodgeball tournament (sign up early)
11:00 am – Walk-a-mile @ outdoor track
11:30 am – Coffee chat with cruise director
AFTERNOON
1:00 pm – Scrapbooking workshop
1:00 pm – Men's sexy legs contest poolside
2:00 pm – Movie matinee
2:15 pm – Sudoku challenge
2:30 pm – Name that tune contest
2:30 pm – Bean bag toss tournament at pool
4:00-4:45 pm – Total body conditioning in fitness center
4:15 pm – Caribbean salsa dancing class poolside
5:00 pm – All Aboard
5:30 pm – Learn to swing dance class
5:30 pm – Art auction
5:30 – 6:30 pm – Couples portraits taken
5:30 – 7:30 pm – Casino early bird, $3 blackjack and $.50 cent roulette
EVENING
6:00 pm – Texas hold'em tournament @ casino
6:00 pm – Open ping pong
6:45 pm – Art auction
8:00 pm – Cruise game show (sign up early to be a contestant)
8:30-9:30 pm – Country line dance class
10:00 pm – Bingo
10:00 pm – Team trivia
10:00 pm – Mini golf tournament (sign up early)
10:15-11:15 pm – Topical themed portraits taken
10:15 pm – Irish pub sing along
10:30 pm – Late-night movie screening
11:00-11:45 pm – Comedian performance
11:00 pm – Newlyweds party (free champagne and cake)
11:15 pm – Ice carving demonstration12:00 am – Midnight buffet
12:00-late – Adult karaoke

Honeymoon Activities To Do Together
The "honeymoon phase." It often refers to couples in the early stages that are eager to please one another, go into withdrawal when apart, and use pet names like Princess Buttercup should be used sparingly in public (if at all). But that doesn't mean the actual honeymoon should be all about submitting to the whims of one partner.
A celebration of who you are as a team means engaging in activities that enthuse both of you and allow you to value each other's company—not secretly hoping she gets pinched by a lobster if she makes you sit motionless on the beach one more day.
Shopping
It may be challenging to take a trip without stepping into at least one store, but that doesn't mean you should have to stand around picking the lint off your shirt for hours while she pieces together the perfect dinner outfit. You can:
Aim for a couple stores that are eccentric or tied to the culture of your destination, so that it can be part of a shared positive experience.
Make it sexy –  choose lingerie together or visit a shop with candles and massage oils.

Dancing
Whether you're rhythm-challenged or just plain self-conscious on the dance floor, her enthusiasm over salsa dancing may leave you shriveling with dread. If it's in a restaurant atmosphere, have drinks and dinner while you're entertained by the dancing of others. Or consider going to a class together: that way you're being instructed on where to put your hands and feet, rather than being thrown helplessly into a sea of trained dancers.

Spas
While the idea of massages and treatments may sound like a fine indulgence to some, you may be terrified by the idea of a stranger's hands caressing your muscles. Or perhaps a sauna sounds more like a torture chamber than a good time. You may want to check out the options at the particular spa to see if there's anything non-intimidating, such as a man's grooming station or a whirlpool or soaking pool.

Can I Play Golf on My Honeymoon?
This is probably one of the most common questions grooms ask. Most couples travel to warm, waterfront locations for their honeymoon – spots with plenty of golf courses nearby. For golfers, it's only natural to want to get out and test your skill against the local challenges.
However, suggesting a golf outing to your new wife can be tricky. Here are a few things to think about before you book that tee time:
Marriage is, after all, about compromise. Most people are in favor of the groom playing a round as long as there was another daytime activity that the bride would want to do solo.
Is she a golfer? If the answer to this question is yes, you're in the clear. Try setting up a tee time for the both of you. Most courses will have clubs that can be rented for a small fee.
Be smart. If you do happen to find yourself on the golf course, use your brain. While getting to play is a nice addition to the honeymoon, you must remember that it is your honeymoon. Only play nine holes, don't get drunk, and be home when you say you will be. This is just common sense, guys.
Common Honeymoon Questions
What to Bring Back From the Honeymoon?
When you're planning a wedding, your mind is going a mile-a-minute. So, when the honeymoon finally rolls around, you're more interested in relaxing and doing "other things" besides planning, budgeting and, well, thinking.  While this is the time to soak in the rays and your new wife, you should make sure that you don't leave your little slice of paradise completely empty-handed.
Below are four things that, upon returning home, you'll be glad you snagged during your romantic getaway.
Photographs – during the honeymoon, you'll undoubtedly be swept up in the moment. However, as vivid as meaningful these experiences may be at the current time, they'll soon fade to a memory that gets buried beneath the passing of time. Do your older self a favor and snap plenty of pictures that will remind you of those precious little details. Capture the exotic foods, beautiful sunrises, quirky boutique shops, and other gems.
If you're going somewhere tropical, collect a little bit of sand while you're there that you can later place into your own decorative vessel. If sand sounds a bit messy, seashells or polished rocks are great alternatives.
Many marriages grow and strengthen with time, just like a fine bottle of wine. To honor the next chapter of your life together, buy a bottle of wine during your honeymoon that is made from local grapes; during your ten-year-anniversary, the two of you can pop the cork and share a glass while reminiscing about the good times and, specifically, your starry-eyed honeymoon.
Your wedding and honeymoon are about two people coming together to share a life together. However, it is also about friends uniting to celebrate each other's joys and the merging of two families. Undoubtedly, a lot of people probably helped out with the wedding, and a small souvenir from your honeymoon will let them know that they were on your mind and that you appreciate their assistance.
What Should I Bring for a Stress-Free Honeymoon?
Before you leave for your honeymoon, it's a good idea to intentionally think of some stress busters to take with you. It can take some time to wind down from the stress you've experienced leading up to the wedding, but these five stress busters can make the process easier.
1. A Folder of Lists and Information
Take time to print off lists of important local phone numbers, directions to places you know you'll be going, and addresses for the places you'll be staying, which are particularly important if you're using public transportation or catching a cab.
Another thing you might want to put in this folder is ideas of things you can do in the area you're visiting. You probably already have some ideas, but you might find that certain activities don't interest you like you thought they would.
2. Lighter Bags
Over-packing so that you have to carry heavy bags can add to your honeymoon stress. Think carefully about all the decisions you're making as you decide what to pack for your honeymoon. If you can each take one suitcase and one carry-on, things will be much easier for you.
3. Massage Oil
What better way to bust stress on your honeymoon than to give each other sensual massages? Pack a little bottle of nicely scented massage oil, and prepare to give each other neck, back, and foot rubs every evening.
4. Books and Music
Just because it's your honeymoon doesn't mean you need to be talking or snuggling the entire time. Sometimes it's nice just to enjoy one another's closeness on the beach or at a park as you read your own separate books or listen to music. It's especially nice to have books and music on plane, bus, and train rides, when it's harder to have a private conversation.
5. Water
It might seem obvious, but one of the easiest ways to get stressed on your honeymoon is to let yourselves get tired and dehydrated, which leads to headaches and bickering. Avoid this problem by purchasing some nice water bottles before your honeymoon.
Even if you're just planning to lie on the beach and enjoy a margarita, having bottled water nearby can help you stay hydrated, healthy, and happy.
Remember, though, that you can't take full water bottles with you through airport security. Leave them empty, and fill them up when you get through to the other side.
Your honeymoon should be a time to relax and enjoy your new spouse's company. Just think ahead about things you can take with you to help you relax and unwind on your honeymoon.