Man Down: 5-Step Guide to Proposal Planning & Getting Engaged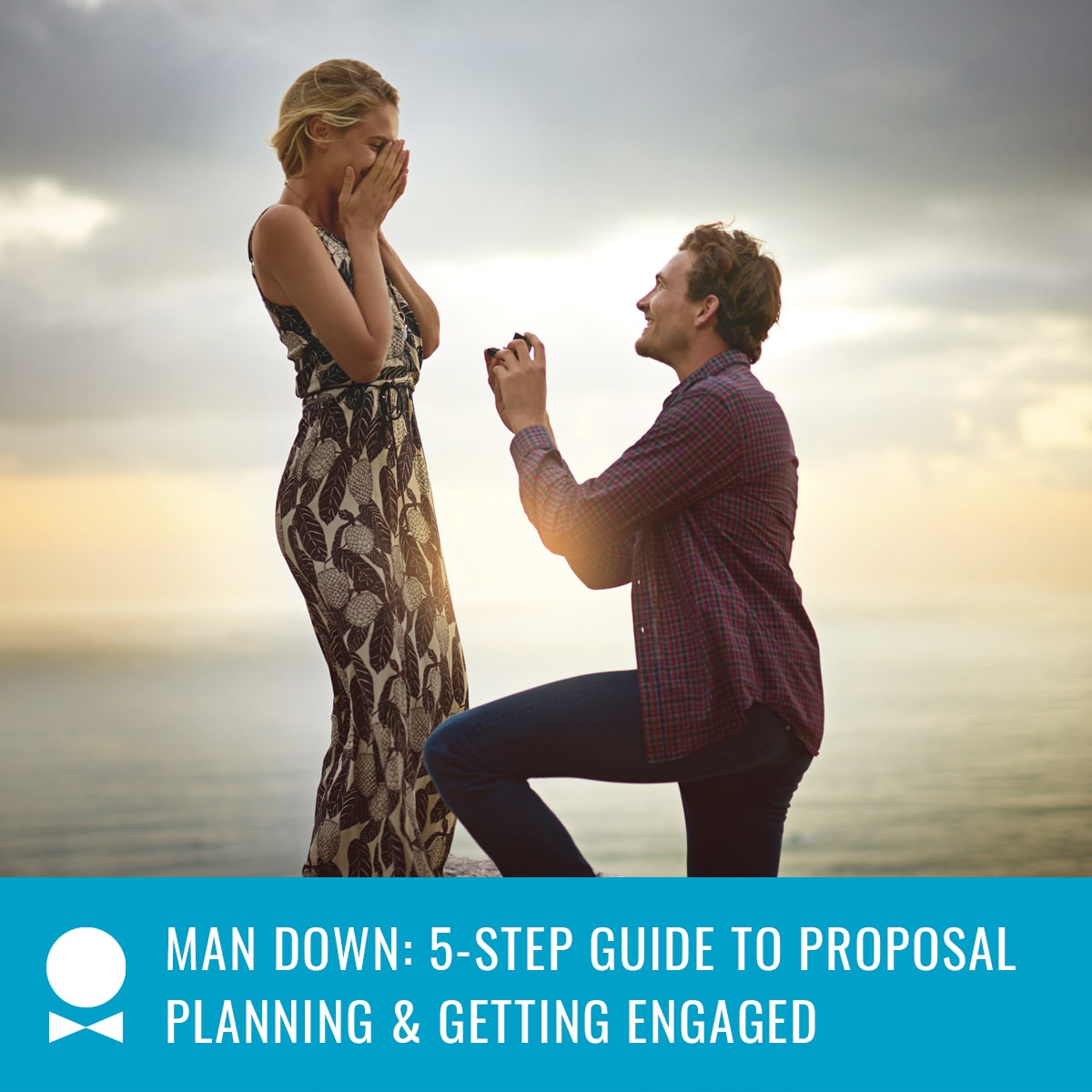 So, you have finally come to your senses and realized she's the one for you. You want to tie the knot. Get hitched. Join your two households. Whatever you want to call it, the process of proposing can seem like quite the feat, but luckily for you, we're here to help. From understanding the signs she's ready for you to propose to knowing when to propose, we're here to ensure the entire process of proposal planning and getting engaged goes as smooth as possible.
When it comes to the future wedding planning, you can leave that almost entirely to your bride-to-be. But when it comes to proposing, the significant task of creating the dream scenario for your relationship and budget is ultimately in your hands.
Whether that means asking her father for permission, deciding to propose in front of friends and family, or setting up an intimate setting for just the two of you, our guide spells it out perfectly for even the most clueless proposer below:
5 Signs She's Ready For You to Propose
Once you both realize that the relationship is heading towards marriage, something changes. You know you're going to be proposing, and she knows you're going to be proposing, but neither of you really know the details — when, where, or how. You'll probably figure all of these details out as you start to plan a proposal, but let's be real: planning a proposal is stressful! And then there's the pressure of finding the perfect ring. Of course, you could just ask her what she likes or offer to take her ring shopping, but if that's not your (or her style), you'll need to find out what she loves some other way.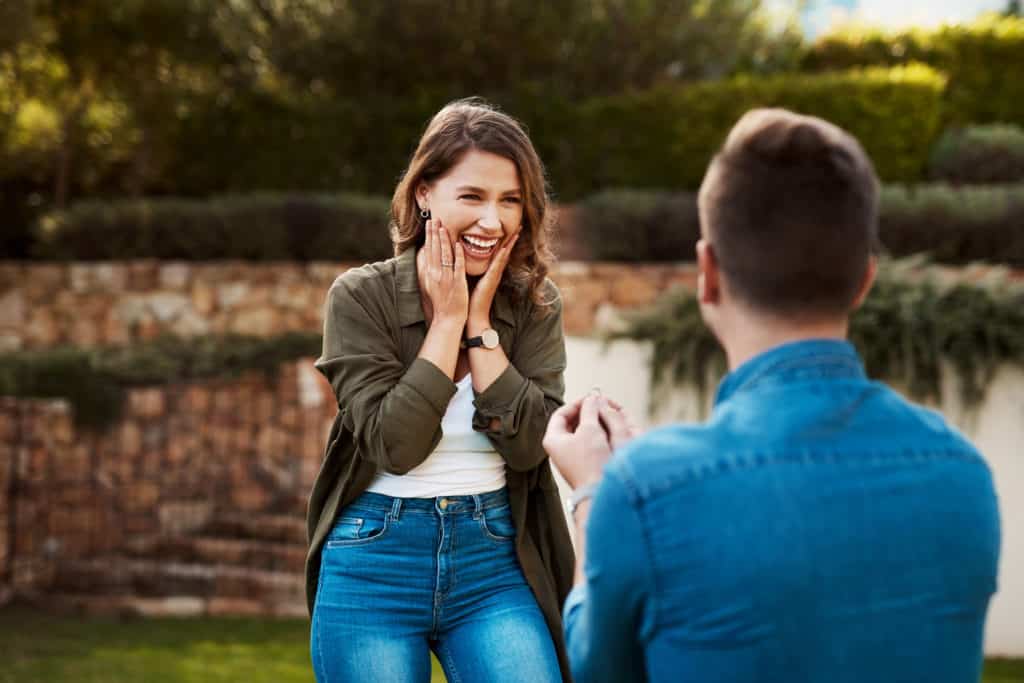 However, she might have been secretly dropping hints for a while, and you just haven't noticed! If your girlfriend has done any of the following things, she's trying to tell you about her perfect engagement ring, without being too obvious.
She's talking about her friends' engagement rings
If your girlfriend has been chatting about her other girlfriend's engagement rings, the temptation to tune out might be strong — but don't do it! Instead listen up and maybe even prod the conversation along. For example, if she says something like "Ick, (insert friend's name)'s is so tacky" or "I would never choose (friend name)'s engagement ring" next time she's checking out Facebook, take notes! Does she hate how big it is? The gold band? The cut of the rock? The more you know what she thinks about her friend's rings, the more you know about what she likes and doesn't like.
She's leaving her magazines open all over the apartment…
On pages that feature engagement rings. You may not be noticing, but if they're lying open on the couch, on your night stand, or on the kitchen table, check the page — if it's an engagement ring ad or editorial feature, she's trying to say something. Especially take note if there are a couple rings circled in Sharpie. Seriously — this happens.
She's leaving her laptop open…
To her secret engagement ring Pinterest board. For those of you who aren't familiar with secret Pinterest boards, they're basically spaces on Pinterest where you can collect photos of stuff you like, without anyone else being able to see them. If you walk into the room with the laptop or computer on a website with pictures of certain engagement rings, remember the link or the name of the ring, and do your research later.
Her BFF or sister is dropping hints
If your girlfriend's best friend or sister sends you an email or a text offering to help you buy her a ring — her up on it! Chances are, your girlfriend has communicated very clearly to this person what she wants, and they'll be able to steer you down the right path.
She wakes up and says "I had the best dream that you got me a princess-cut vintage style diamond ring, isn't that crazy?"
No, that's not crazy. You should probably set aside some time to go find a ring just like that.
So there you have it — 5 different ways that should tell you that she has a ring in mind, and that you should probably go out and get it before getting engaged!
Should You Ask Her Father's Permission to Propose?
It's something that every traditionalist will tell you is a requirement for the engagement — asking the bride's parents for permission for their daughter's hand in marriage. Many will tell you that it's not necessary in today's modern world — but trust us: They're expecting it. And if overlook this step, it could be a rocky and uncomfortable start to your marriage.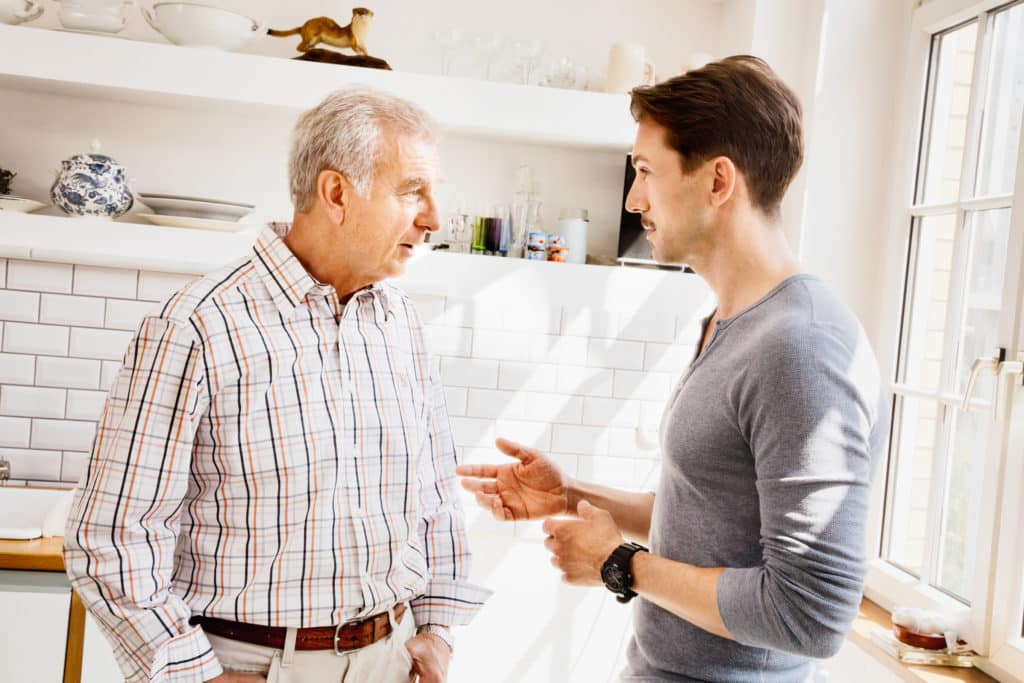 Sure, it'll be uncomfortable and maybe a little awkward at first. It will probably be pretty obvious what you're getting ready to ask. Parents can be intimidating, especially if you don't have a close relationship with them yet.
Fathers and mothers have a special relationship with their daughter and it's not easy to let go of seeing her as their "little girl." But if you can muster the courage to spit out the words, we guarantee you'll feel incredible afterward, not to mention the major brownie points you'll likely earn from your bride-to-be later for doing the right thing.
Tips for making it all go smoothly:
Be sure to tell them how much you love their daughter and how you believe that marriage is a sacred one-time bond.
Re-assure them that you'll treat her with all of the respect that she deserves.
We know that tradition mainly mentions asking the father for permission, but it's a very nice gesture to include the mother as well. She loves her daughter, too!
Meet in person. This is NOT something you want to do over the phone. If you live in a different state, get creative and use a webcam (we know you've got one, you stud).
You don't want to meet with them at their home or at a coffee shop (boooring). Take them out to lunch or dinner at a favorite restaurant, to a ballgame or an art exhibit —basically whatever will help put them in a good mood and show them how considerate you are.
Wherever you plan on meeting with them or taking them out, be on time, and under no circumstances cancel or reschedule! This doesn't exactly make you look very dependable or reliable as a future husband.
TMR Recommendation: If you're wavering on asking for permission, think about this: Do you want your daughter's future husband to bypass you and go straight for your daughter? Show your future in-laws some respect by asking permission to marry their daughter. Remember, future grooms, it pays to stay classy!
Should You Propose in Front of Her Family & Friends?
Should you propose in front of her family and friends? We don't have a direct answer, but keep reading and it'll make sense.
Boy Meets Girl
Boy dates girl. Boy falls in love with girl…and wants to spend the rest of his life with her. He saves up, does research, and buys the perfect engagement ring. Things are going great, but there's just one VERY important detail that needs to be planned—the proposal!
Even if you know what you're going to say, don't underestimate the where, when, and how. Any girl will tell you that proposals are a big deal (asking someone to marry you and be your wife is no small feat)!
Just take a look at all of the "proposal fail" videos on YouTube. Asking in the wrong environment or at the wrong time can be downright deadly, embarrassing, or just plain awkward for your future bride.
Is It Even A Good Idea?
Is it appropriate to propose in front of her family/friends? Better yet, is it a good idea?  We got that very question from one concerned groom-to-be. Marty W. asked:
"Should I propose in front of her family/friends? And should I let them know I'm planning on asking? (I'm pretty sure she's going to say yes, btw, so no worries!) I was thinking it would be nice if they all came out afterwards and we could go out and have a celebratory dinner. Advice?"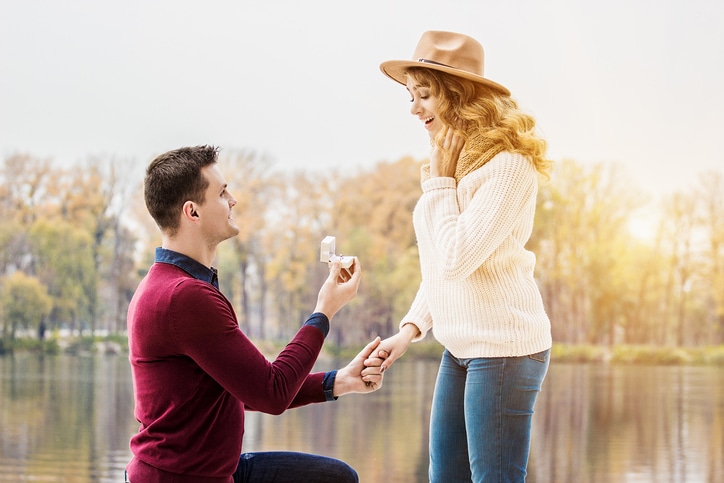 Keeping Them Away
One former groom (now a married man) Dan L. recommended making the proposal mostly private—no family or friends—since it's a lot of added pressure. Except for maybe a photographer "covertly hidden taking a photo or video of when you get down on one knee", but you really shouldn't need anyone else there except you and her.
The photo/videos are just a mere suggestion to please her oh-so-curious and excited family. Trust us. When she calls them, they'll want details of absolutely everything—the proposal, the ring, what she said, if she cried, what you said, etc.
Just make sure your bride-to-be is the type who loves documenting all of her important life events. You definitely won't want to use this idea if she'll find it creepy!
Proposal? Check! Now On To Groomsmen Gifts
Keeping Them Nearby
Looking for the perfect balance of a personal proposal (but still want to keep her family in the loop?), take a smart tip from one of our Marriage.com experts, Julie Pryor, who had the perfect solution to this question-popping conundrum.
When it comes to proposals, Julie suggested a personal proposal ("just the two of you"). This allows for a celebration with her family for later in the evening or the next day. This is a great way to have her family feel like they were part of their daughter AND future-son-in-law's intimate moment, without actually having them there!
If you feel like her family would still like to be involved, consider having them hide and wait somewhere (a restaurant, another location, etc). Then when you and your newly engaged fiancée come in, all of you can celebrate together!
It Depends!
In the end, though, we agreed with Roxanna, a user who stressed that it really depends on the girl. She brought up some great points:
"Think about it carefully– does she like to celebrate her birthday with all of her family? Is she really close to them? Are they the first to hear about all of the big news in her life? Even if those things are true, she might not want the proposal to be in front of family and friends."
She also mentioned that ideally, the couple should be very close to both families if he's planning on proposing in front of so many people.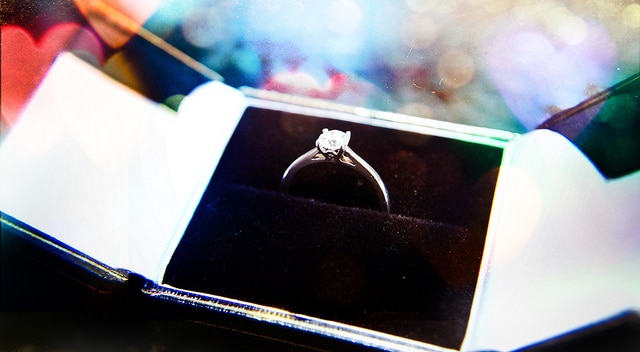 The Bottom Line
"That's a lot of pressure, and no matter how sure you are that she'll say yes, she might want to keep the moment private and special with just you. Think carefully in terms of your relationship and if she would like that type of thing– if you have any doubts, I would shy away from it,"
said one smart user, and we agree!
How to Pop the Question
Men: if you're reading this, you're most likely ready to make one of the biggest decisions of your life. And because you're taking the time to research, it means you want to make it as special and original as possible.
Just to reiterate, how you pop the question can really set the tone for the engagement and the marriage. We know it can be a nerve-wracking experience planning it all. Trust us — we've been there. The key is to remember to always stay calm and confident.
Now, we won't tell you exactly how to propose. That wouldn't really be in keeping with our originality theme. However, here's some helpful advice that will help slow your heart rate.
Add Some Bling
We understand that times are tough and that rings are expensive. However, if it all possible, have some sort of ring with you when you pop the big question. Even if it's just a temporary cheapie, a loner or a family heirloom ring — have something!
Make It Original
There's nothing wrong with asking her to be your wife over a simple dinner. But why stop there? You're asking her to be your wife — show her why she should spend the rest of her life with you. (Surely, she already knows why, but going the extra mile may earn you a get-out-of-jail-free card the next time your poker night runs late.)
Try to incorporate aspects of your relationship into the event. Something as simple as taking her to the location of your first date is sure to impress her much more than a simple date to Red Lobster (apologies to those who had their first date at Red Lobster — great choice by the way and great crab legs!). There's also no reason to keep things just to an evening. Try planning a day's worth of events culminating with your proposal.
Some activities for your engagement day might include: setting up a spa day for her (think manicure/pedicure or massage), going to a sporting event, taking her shopping for a dress to wear that evening, going on a hot air balloon ride, taking a picnic or going on a hiking trip. Remember, include activities that are special to her or your relationship.
Get Down on One Knee
Why do we get down on one knee? Nobody knows. Just do it! You don't want to know what the backlash will be if you don't. So don't even mess around with the idea.
Get the Family Involved
We know that this day is about you and your girl. But including both families, if possible, is a very nice gesture. If you're planning something elaborate, they may even be able to help you with part of the plans.
After she has said yes, surprise her with a get-together with her closest friends and family. This is a great way to cap off a very big day.
Still Nervous?
Relax. Go grab a beer and think about this: She wouldn't have put up with you this long if she didn't know you were the one. Whatever way you ask her will be perfect. Be confident and remember, You Da Man!
TMR Recommendation: If planning an engagement night party, consider inviting or flying in some of your fiancée-to-be's closest out-of-town friends. We know she'll have had a day full of surprises, but imagine if her best friend who lives across the country could be there to help her celebrate the occasion. You're sure to be looking at some major brownie points, not to mention tears of joy.
Do You Have an Engagement Party?
Considering having an engagement party to celebrate the good news? Engagement parties are a great way to share your recent engagement and proposal story with your friends and family. Whether you're trying to decide if an engagement party is right for you or if you're looking for some helpful tips for throwing the event, this cheat sheet will help guide you through the process.
Why Have A Party?
An engagement party is a couple's first chance to celebrate their decision to get married with their friends and family. Oftentimes, it can also give the bride's and groom's families a chance to formally meet each other, if they haven't already done so.
Who Throws the Engagement Party?
While the bride's family has traditionally been responsible for hosting the engagement party, it's common today for the groom's family, a combination of both families or even the engaged couple to throw the event. It's also quite common for close friends of the couple to host the party or hold a small get-together.
What Type of Party Is It?
An engagement party doesn't have to be an all-out bash. It certainly can be a fancy affair, but it's often a bit more casual gathering of family and close friends. For example, a dinner at a favorite restaurant or bar, a rented suite at a sporting event, a brunch at someone's home or an afternoon BBQ in the hosts' backyard. Gifts should be optional, but practical if given.
The most important thing to remember is that the party should reflect the interests and style of the couple.
When Should It Be Held?
Engagement parties are typically held one to three months after the engagement, giving those hosting the party plenty of time to prepare. If you're planning on a short engagement, it's best to have the engagement party sooner rather than later. This will ensure that the engagement party doesn't feel like an early wedding shower.
Who Is Invited?
Immediate family, the bridal party and close friends are typically invited to the engagement party. Invites can also be extended further, but keep in mind that any guests who are invited to the engagement party should also receive a wedding invitation.
TMR Recommendation: Grooms, if you really want to impress your bride-to-be, plan a surprise party the night of your engagement. There's no reason you can't throw this party yourself!