How To Include Your Dog In Your Wedding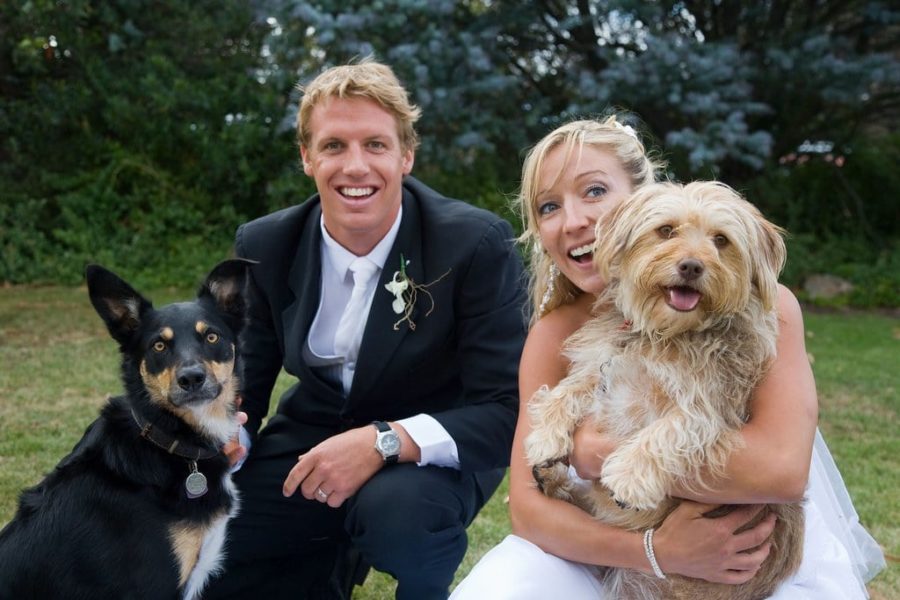 Pets can be like a part of the family, and sometimes even a cherished part of your wedding day. First and foremost, you'll want to make sure your bride-to-be and both families are on board with the idea.
I want my dog in my wedding, but my fiancée isn't sold on the idea? How can I talk her into it?
Believe it or not, there are tasteful ways to incorporate your dog into your wedding. For example, if you have an older or more mature dog, consider having them serve as your ring bearer. Either fasten a pillow to his back with the ring securely attached or tie a ring box around his collar. Just make sure that the ring is super secure so that Spike doesn't accidentally lose it. If he's older and well-mannered enough to walk down the aisle himself, go for it. Otherwise, have a groomsman, bridesmaid or older flower girl walk him down the aisle on a leash (this is usually the best option for preventing any mishaps).
Another safe option? Have someone in the wedding party walk your dog down the aisle on a leash (and leave the ring with the best man for safekeeping) so he can be part of the processional. Just make sure to appoint someone, such as your wedding planner or a family member, to take the dog home after the ceremony.
If that's too much to ask of your dog or your fiancée still isn't sold on the idea, consider having a groom's cake made to look just like your furry friend instead. It'll serve as a great tribute to man's best friend and will also add a cute, personal touch to your wedding. This cake can be served either at the rehearsal dinner or during the wedding reception as a secondary dessert option.
Another idea is to take a few engagement photos with you, your fiancée, and your dog beforehand and display them at the reception either on the place card table. You could even use different shots as table numbers for guests to see.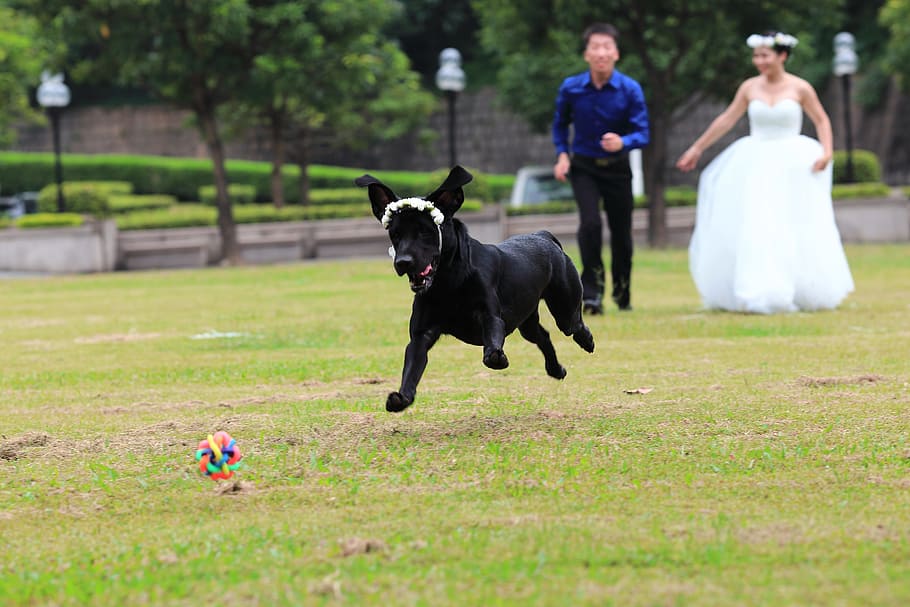 Whatever you decide, remember to keep it classy and your fiancée should go for it. If not, remind her that marriage is all about compromise and this is a great time to try it out.
Of course, the above advice also applies to any animal that can be trained to walk down the aisle. Remember, even most young children who assume the role of ring bearers or flower girls need some coaxing beforehand. It's also a good idea to make sure you use a fake ring for obvious reasons. You should also check with the ceremony venue to make sure pets are acceptable.
If you're a horse lover, a great way to make a dramatic exit would be via horse or in a horse-drawn carriage. Hey, if Kip can manage to make it look cool in Napoleon Dynamite, anyone can.
TMR Recommendation: We're pet lovers and see the opportunity for including them at some point in the wedding process, but the key is to keep it classy. Either take some pictures with them or if you'll be including them in part of the ceremony, make sure you can count on them to do what's expected of them. They could easily be the highlight or disaster of the day.