The 24 Best Father's Day Gifts of 2023
Searching for a cool, unique, personalized, super thoughtful gift for Dad? The Man Registry has exactly what you're looking for. Our 2023 Father's Day gift guide features 22 unique and personalized gift ideas that Dad will love. We also haven't forgotten about the husbands and grandfathers. Creative gift options are available to thank all of the special men in your life who have left a lasting impression.
There's something for every type of guy: travelers, sports fanatics, office moguls, masters of the man cave and beyond. We hope you like what you see. Happy Father's Day!
Personalized Father's Day Gifts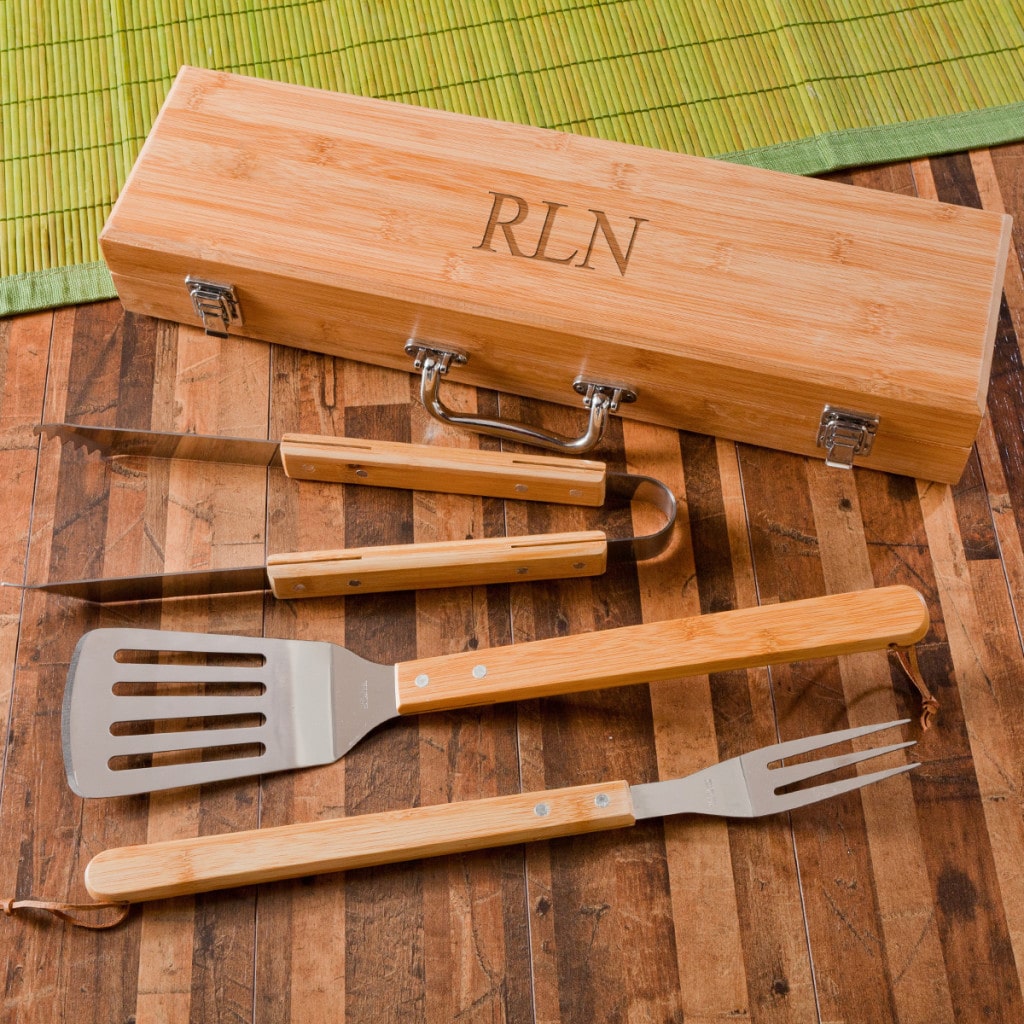 Bamboo BBQ Grilling Set
Dads love to grill. It's in their DNA. Help your dad scrap the spatula that came with his grill and replace them with a personalized bamboo BBQ set. This gift includes a personalized case with a spatula, fork, and tongs.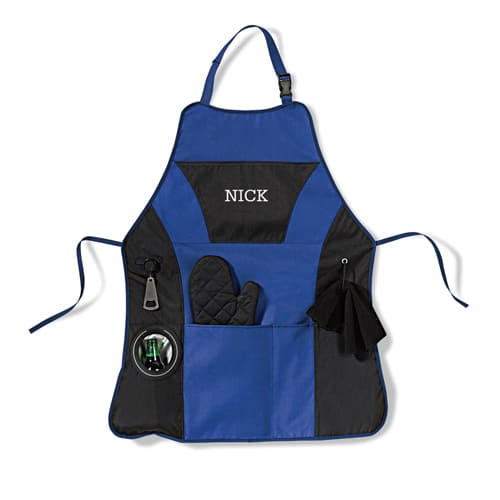 Men's Grillmaster+ Apron
Complement his new Bamboo Grilling Set with a Grillmaster+ BBQ Apron. This apron set includes a bottle opener, bottle holder, oven mitt, towel, and spacious pockets to hold his grilling tools.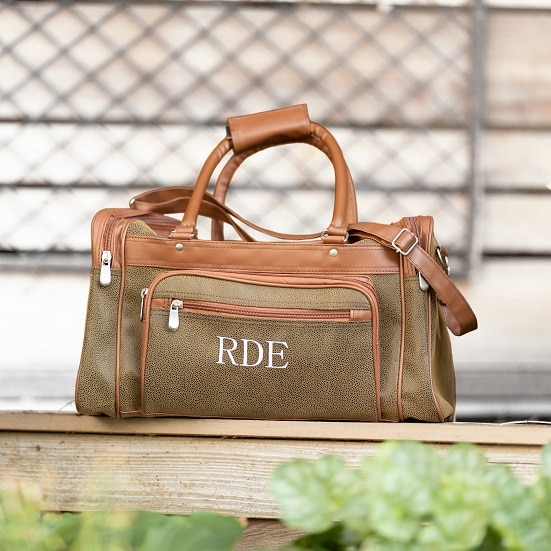 One Nighter Travel Bag
Dad's can never have too much travel gear. Our personalized leather dopp kit is spacious enough to hold all of his essential toiletries. This gift comes in brown and black.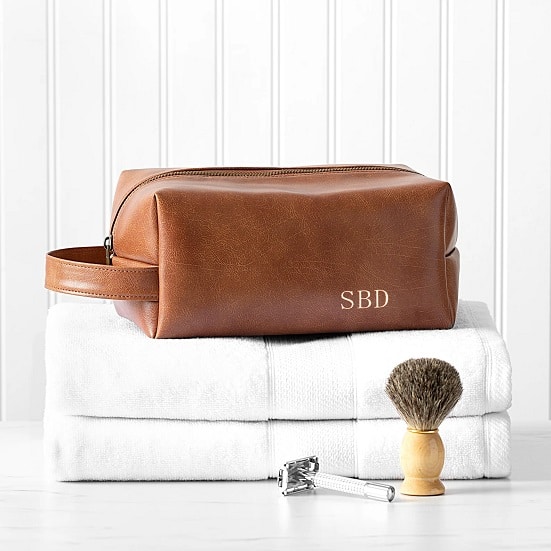 Men's Leather Dopp Kit
Make sure your favorite bearded man is set up for travel success with a personalized leather dopp kit. A true best seller that Dad will cherish and actually get quality use out of.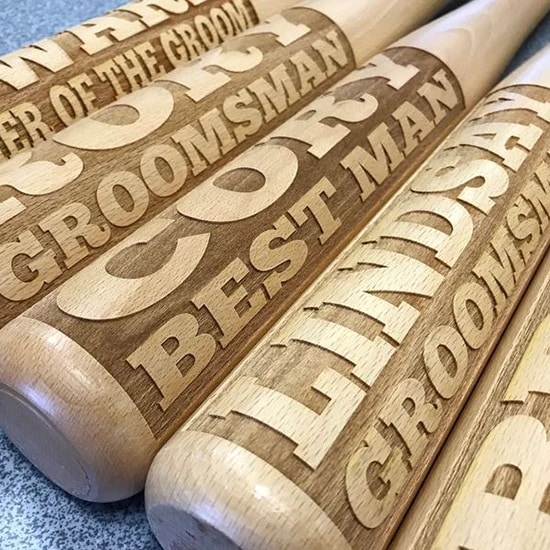 Engraved Louisville Slugger Baseball Bat
Complete the look of his office, den or man cave with an authentic Louisville Slugger baseball bat. This 34″ bat is the same size uses by pros like Mike Trout, Bryce Harper and Kris Bryant. The barrel of the bat may be engraved with a special message to Dad — at no additional cost. The bat can also be purchased with the logo of his favorite MLB team engraved. Score!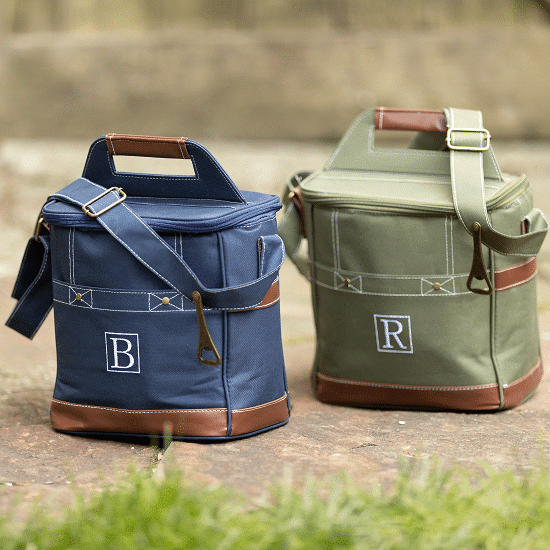 Pre-Gamer 6-Pack Beer Bottle Cooler
Is Dad tired of lugging his beer around in a boring old cooler? We've got the answer to his troubles. Our Pre-Gamer Cooler comfortably transports beers to destinations both near and far. Available in blue and green — they will comfortably hold six beers. Each beer fits into its own divided section. The best part? We'll engrave Dad's initials for no extra charge.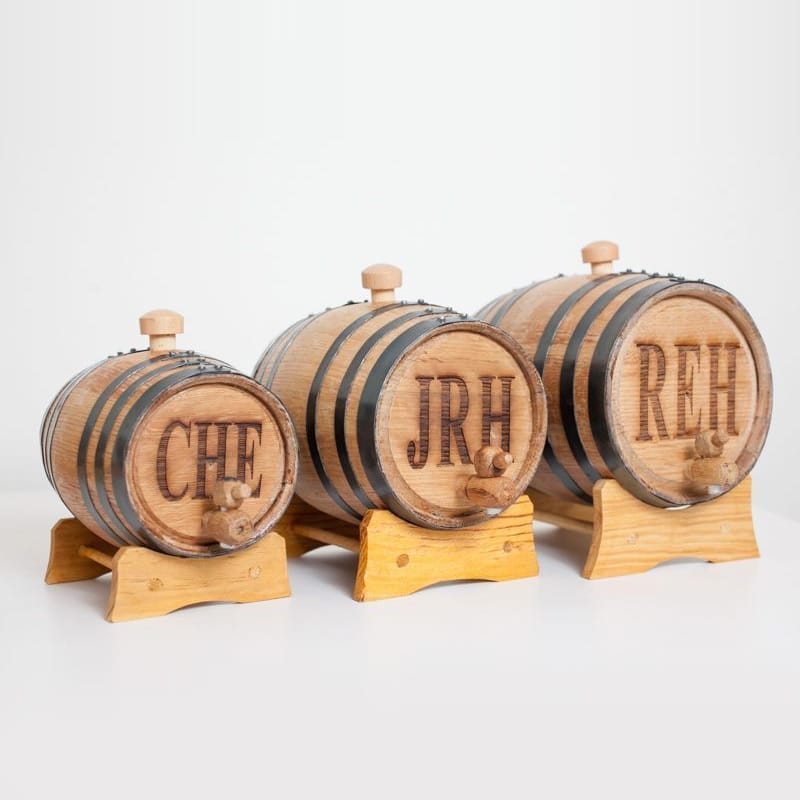 Mini Whiskey Barrel
If he's a whiskey fan, he'll love this mini bourbon barrel. Available in 1 liter, 2 liter or 3 liter sizes, the front of the barrel is engraved with all of his essential nicknames: "dad," "pops" and "old man". Whether your dad's an avid whiskey drinker or a novice, he'll enjoy using the barrel to create, age and store his own personal whiskey blend (instructions included).
---
Unique Father's Day Gifts
Authentic Railroad Spike Bottle Opener
If your dad is one-of-a-kind, he needs a one-of-a-kind bottle opener. The Railroad Spike Bottle Opener is unique, rugged, and perfect for the dad who likes to make a statement.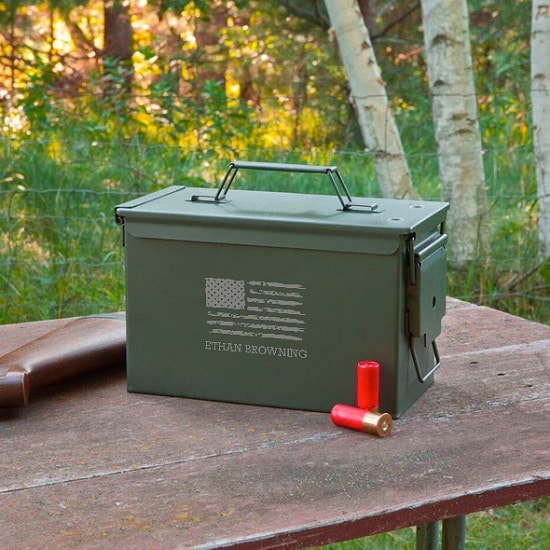 Metal Ammo Box
Looking for the perfect gift for the dad who loves to hunt? The personalized Metal Ammo Box is a surefire bullseye. Fill it with ammo, lunch, or showcase it on his mantle.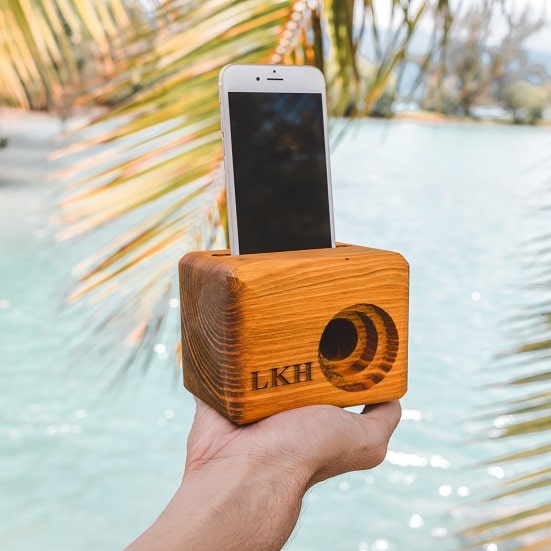 Wooden Phone Speaker
Nothing beats a good mixture of music and technology. Insert a phone into the slot, turn on your favorite song and let the Wooden Beat Block Cell Phone Speaker do the heavy lifting. It will amplify the sound – giving an old fashioned feel to both old and new music. This gift makes a great conversation piece for the coffee table or kitchen counter.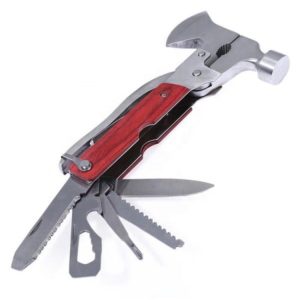 Wood Grain Hammer & Multi-Tool
This is the ultimate pocket multi-tool for knocking out those odd jobs around the house. It includes a hammer, wire cutters, pliers, flat head screwdriver, bottle opener, saw blade, Phillips head screwdriver, nail file, and knife blade. We'll engrave Dad's initials on the wood surface for no extra fee!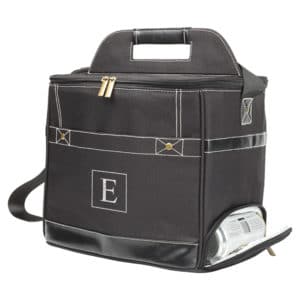 King of the Cold One Can Dispensing Cooler
This unique cooler is perfect for an afternoon at the park or lake. The cooler actually does the work for you. Just load it up with 16oz. cans and watch the magic happen. The bottom zipper opens up and the cans dispense smoothly on their own. Bottoms up!
Wall-Mounted Bottle Opener
Ideal for dads who enjoy kicking back with a cold one for a little R&R, he'll never search for an opener again with this handy bottle opener mounted on the wall of the patio or man cave.
Portable Cooler Chair
Perfect for the kids' games, camping or tailgating, this personalized folding cooler chair will quickly become dad's favorite seat. On the outside, the sturdy, foldable chair features a comfortable back rest, four storage pockets and a padded carrying strap. On the inside, it sports a roomy cooler that holds up to 24 cans and ice. Embroidered personalization included.
---
Practical Father's Day Gifts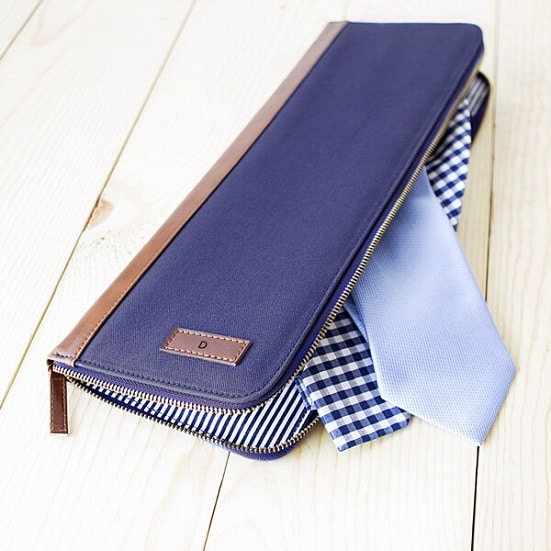 Men's Travel Tie Case
Does your father wear a tie? Gift him a personalized travel tie case so his ties stay wrinkle-free and as stylish as he is.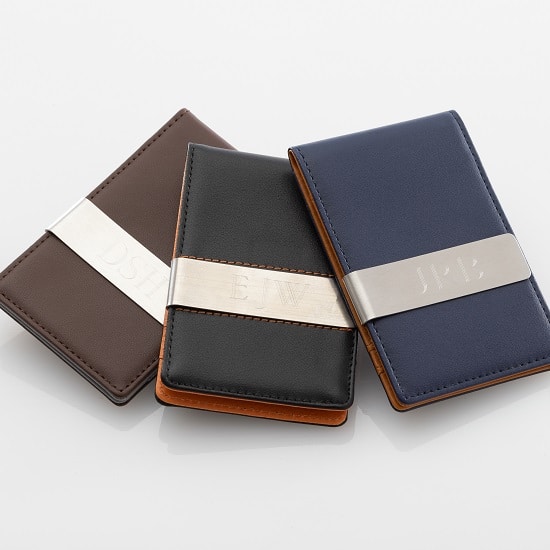 Metro Leather Wallet/Money Clip Combo
Our leather wallet and money clip combo is the perfect gift for any man in your life. The personalized engraving will ensure that your father is confident each time he pulls his wallet out.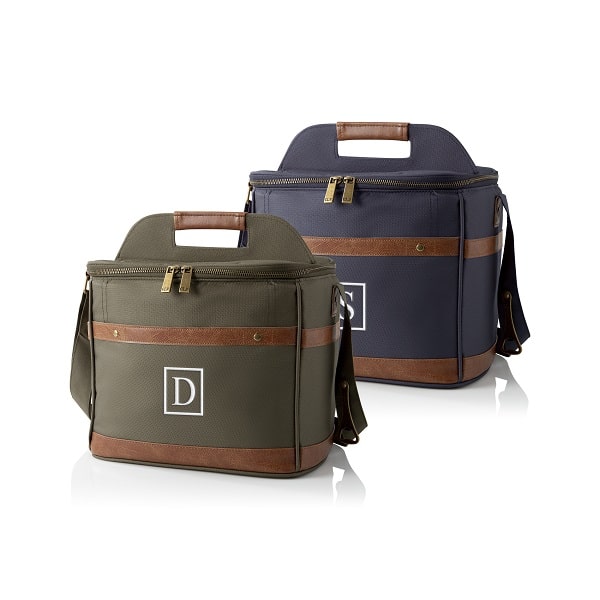 12-Pack Personal Cooler
Celebrate your father with some drinks! Our 12-pack personalized cooler is a convenient way to travel with your drink of choice.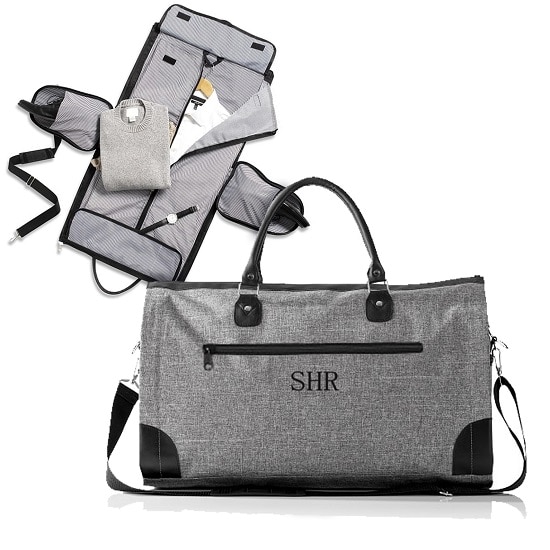 Convertible Men's Hanging Garment Bag
Nothing ruins a business trip quicker than a wrinkled suit. This polyester and vegan leather grey hanging garment bag solves that problem with a stylish touch. It unzips to reveal a spacious interior that will hold several suits, shirts, shoes and accessories. Don't let Dad hit the road with out it!
Dresser Valet & Charging Box
Help your dad stay organized like the boss he is. This Valet and Charging Box is the definition of class: a warm cognac color,  vegan leather, and lined with felt. It includes two charging ports and three compartments.
Golf Towel & Keychain Set
The perfect gift for the golfing men in your life is a personalized golf towel and keychain set.
---
Sentimental Gifts For Dad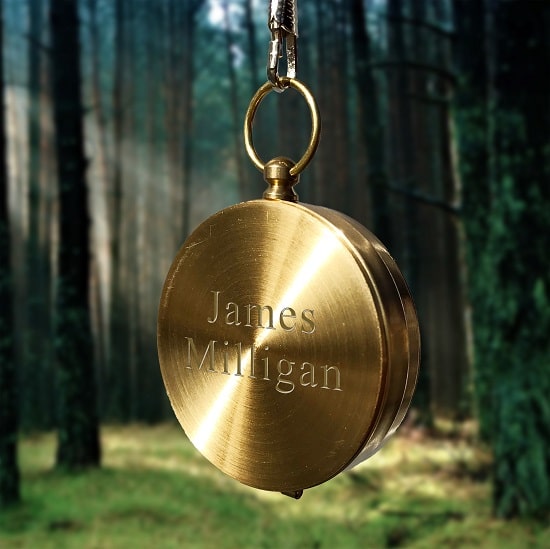 Engraved Compass in Gift Box
Dad has always shown you the correct path. Return the favor with a thoughtful gift that he'll love for years to come. This compass can be engraved with dad's name or initials. The wooden gift box is included for no extra cost.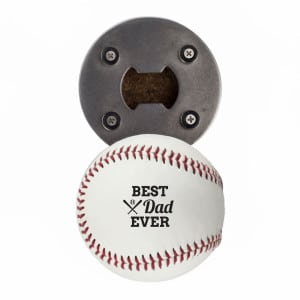 Father's Day Baseball Bottle Opener for Dad
Don't make Dad use his beat-up old bottle opener any longer. This creative bottle opener is made from a real baseball and will stick to your refrigerator thanks to the magnetic backing. There are six personalization designs to choose from. Find the one that's perfect for your old man!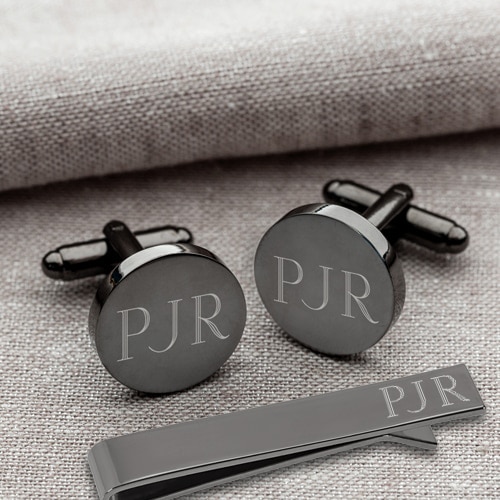 Gunmetal Cufflinks & Tie Clip Set
How can your dad look even more dashing in his suit? How about a personalized Gunmetal Cufflinks and Tie Clip Set. Don't forget to personalize each with up to three initials (the same on all pieces).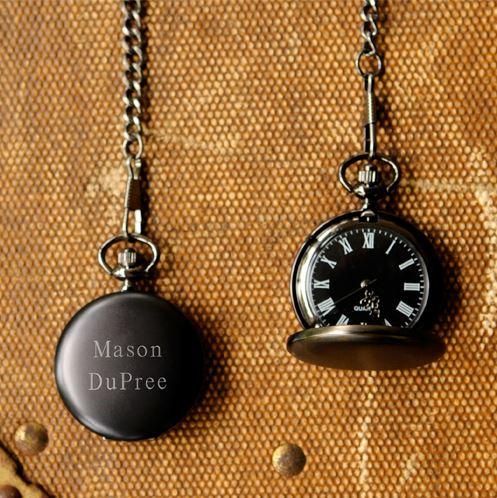 Engraved Pocket Watches
Only a certain class of men can pull off a pocket watch. If your dad is a true gentleman, gift him something that he can keep close to his heart for years to come. Engrave it with his name for free!