A Gentleman's Guide to a Bachelor Party in Seattle

The Hangover changed bachelor parties forever. While unrealistic and completely insane, it shed light on a world that women had always looked at with a crooked eye, wondering whether or not they were getting the whole story.
So in a way, it raised the bar for anyone planning a bachelor party.
Not only do you have to put together a weekend that makes guys salivate, you have to do it in a place that can be guised as a cultural, wholesome vacation so you don't get a veto from the bride (read: NOT LAS VEGAS!)
Fortunately for men on the West Coast, there are a variety of options.
There are the "spas and sunshine" of LA and Scottsdale.
TRANSLATION: "Silicone, clubs, and golf."
There is the "harbor-city charm and unmatched cuisine" of San Diego and San Francisco.
TRANSLATION: "Lululemon pants and bars that encourage shots before 10:00 AM."
There is the "craft beer and international menus" of Portland and Vancouver, BC.
TRANSLATION: "LOTS of craft beer and strip clubs that make Charlie Sheen blush."
And of course there is the "coffee shops and progressive charm" of Seattle.
TRANSLATION: "Uh…why are we going to Seattle?".
Well there are two possible answers:
A) like me, you live here and chose an uninspired Best Man

or

B) like me, you're deathly afraid of your fiancée.
But let's say you do wind up in the Emerald City. It's a bachelor party! It can't be all-bad, right? The where sucks, but won't the Who, What, When, How and Why make up for it? Let's investigate…
WHO
Every bachelor party has the same characters. The further you get from home, the smaller your group gets, but the more-pronounced the characters become. You'll need at least one of each of the following:
Nervous Best Man

His wife trusts him and he's a great guy, but his credit card is down on all of the weekend's activities and he is frightened. (With good reason.)

Married Guy who Clearly Wants to get Divorced

Shots? "Two please." Strip clubs? "Can we rent the whole place to ourselves?" Chasing college-aged girls around town and making another guy stay up with him at their place until 6 AM? We don't even want to know…

Guy Married to one of the Bridesmaids who you Like but Don't Completely Trust

Yes, he tells his wife about every trip to the restroom, but believe me, he's not going to sell you out. In fact—by the end of the weekend, he and your Best Man may be the only two people you are speaking to. And of course…

The Friend Who Disappears for the Entire Weekend

He'll lose his cell phone in the cab from the airport, so make sure he's carrying traveler's checks…
Bachelor Party? Select From 101 Groomsmen Gifts
WHEN
First off, don't be the guy who has his bachelor party the week of his wedding.
Even a pastor's bachelor party requires two months of downtime before the bride is speaking to you again, so make sure you're well in advance of the big day.
As far as Seattle goes, the summer normally stretches from the first weekend in August through the second weekend in August…so I'd aim for something in that range.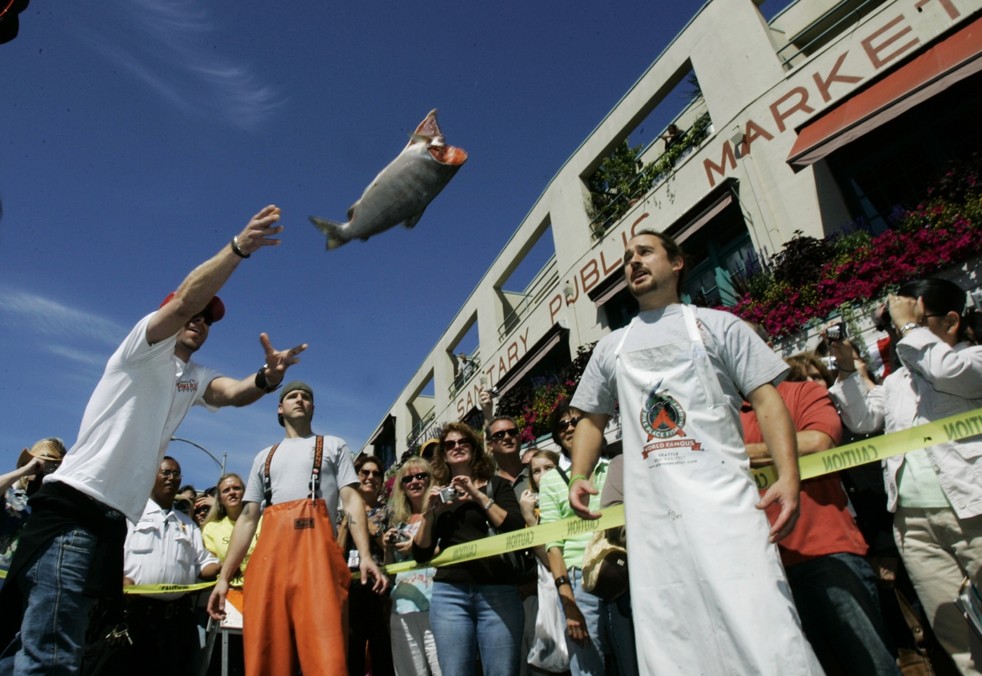 WHAT
Seattle has all kinds of places for us to spend time. … … Right? The Space Needle: I know.
A restaurant/bar shaped like a spaceship that sits above the ocean and spins sounds like a cocktail of awesome, right?
Well it's great, but with a clientele that includes exactly no one between the ages of six and forty-six and a spin-rate that leaves vertigo patients asking them to "crank it up!" it has the bachelor-party-desirability of the Oxygen Network.
Throwing Fish at Pike Place Market

You've seen it on the Today Show and every time there is a major sporting event in the Seattle-area, and yes—it is hilarious, fun and unique.

But if you come home from your bachelor party and your fiancée asks you what you did and you respond, "It was awesome. I caught a flying salmon at the Public Market!" go ahead and consider the wedding cancelled.

Do not pass GO. Do not collect a wedding band. Even though you're telling the truth, she will not buy it for a second, and you really can't fault her for that.

Starbucks

You're not really going to Starbucks because you're in Seattle, are you? I love Starbucks. I go there 2-3 times a day. BUT SO DO YOU!

There are eleven locations within two blocks of your home! If you want Starbucks, get it! But really? You're making a pilgrimage to a store that looks exactly like the one you visit every morning?

And in case you're wondering, no. I do not work for the Seattle Tourism Board.
HOW
Unlike Lake Havasu or South Lake Tahoe, Seattle is a major city with a major airport. Alaska Airlines offers flights from anywhere in the west and many national hubs.
If you're cooler than me, Virgin American and Jet Blue can offer a hip, high-service flights into Sea-Tac. But most of you will fly Southwest.
WHY
God, I don't know.
I mean you only get one bachelor party and you chose Seattle? You must not have very good self-esteem.
Of course…you could make it tolerable by staying at the freaking awesome Arctic Club Hotel downtown, head to one of the biggest/best microbreweries in the country (Pyramid), right outside the greatest ballpark in the world (Safeco Field) and see the greatest pitcher in the world (Felix Hernandez) throwing in the mid-90s.
Then grab a party-bus (from British Motor Coach) to Ballard for a dive-bar pub crawl with about 10,000 University of Washington sorority girls.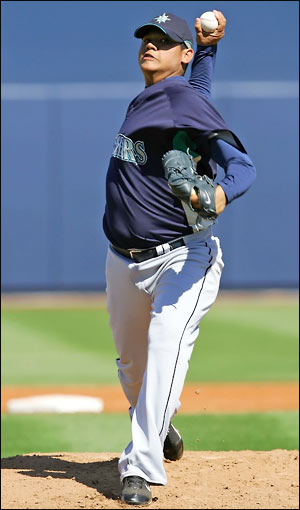 And then stumble to one of Portage Bay Café's locations for the best waffle bar on this planet or any other.
Maybe jump the pond to the eastside and rent a ski boat or two on Lake Washington to soak up the views of two mountain-ranges and more than a few bikinis in the country's fittest city.
If you've got the energy, finish off the weekend with a night of high-class shuffleboard and soft-pretzels (oh—and a buttload of beer) at The Bravehorse.
Or if you want to class it up a bit, arrange a private tasting at Seattle Caviar or the Fat Cork.
And if you really want to make it an event, time it during Seafair, the world's greatest fleet-week, combining the fun of the Blue Angels with hydroplane-racing, an absolutely perfect summer climate and alcohol.