Hit the Road: Mens Duffle Bags For the Next Adventure (Gift Guide)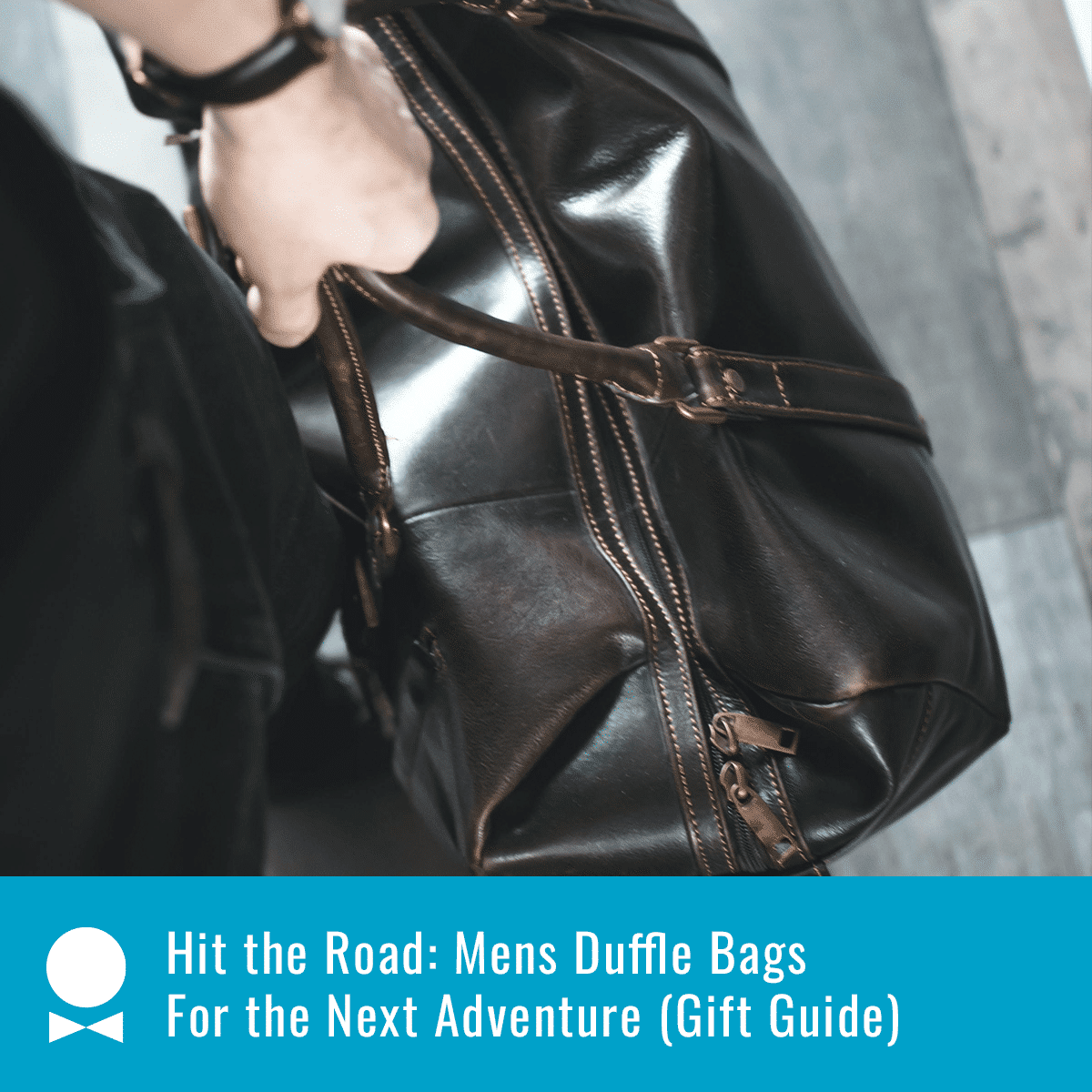 For the man on the go, The Man Registry has a select collection of the perfect mens duffle bags, weekender bags, and travel essentials ready to join you on your journey to anywhere in the world.
Weekend Trip Companions
Stay effortlessly organized with these slick looking weekender mens duffle bags. We truly believe that style and functionality make up the best weekend trip companions.
Leather Weekender Duffle Bag
If you're ready for your next adventure, our personalized Leather Weekender Duffle Bag (in cognac or deep black) is the perfect getaway partner. The multiple interior and exterior pockets will keep you organized and looking great on the go.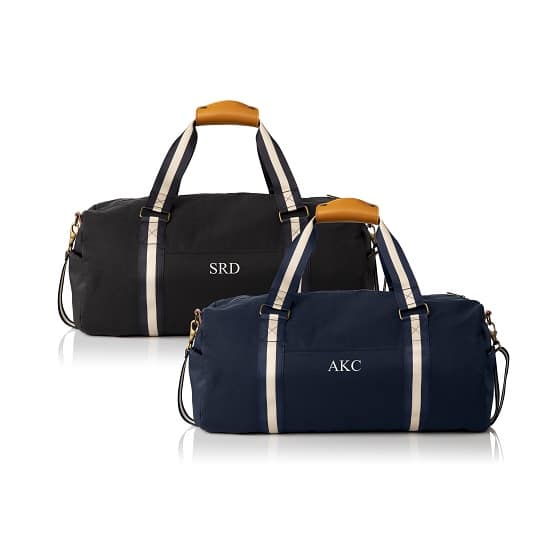 Men's Nylon Canvas Weekender Duffle Bag
Our Nylon Canvas Weekender Duffle Bag is crafted out of a light-weight and durable fabric that is ideal for any weekend getaway. Versatility and style have never looked so good together.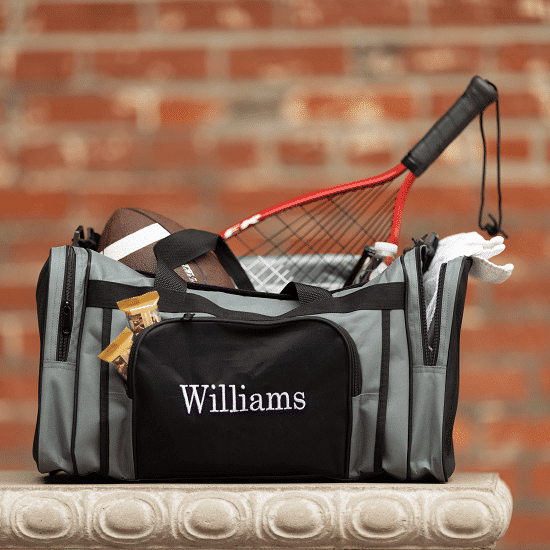 Triple Threat 3-in-1 Duffle Cooler & Gym Bag
Pack all the essentials in our versatile Personalized Triple Threat Duffle Cooler & Gym Bag. on trips to the beach, the gym, or a staycation-style picnic. The bag has the perfect amount of insulation and space for everything you want.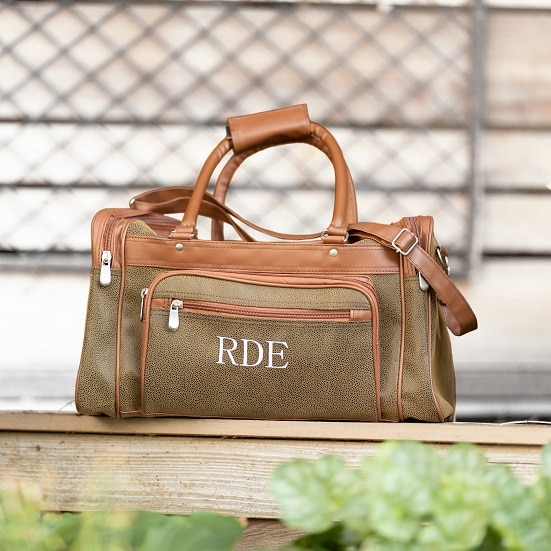 Angola & Leather One-Nighter Travel Bag
The ideal size for when you don't quite need that full-size duffle bag of yours. There's still plenty of room for a few outfits, shoes, and a trusty toiletry kit. Our Angola & Leather One-Nighter Travel Bag's functional size doesn't take away from the spacious interior and has the potential to join you on all upcoming weekend adventures.
Carry Ons
Each trip requires its own luggage needs. Sometimes the trip calls for hardside luggage. Sometimes it calls for softside luggage. And sometimes it calls for your trusty carry on duffle bag that'll get the job done 10/10 times. Count on our selection below.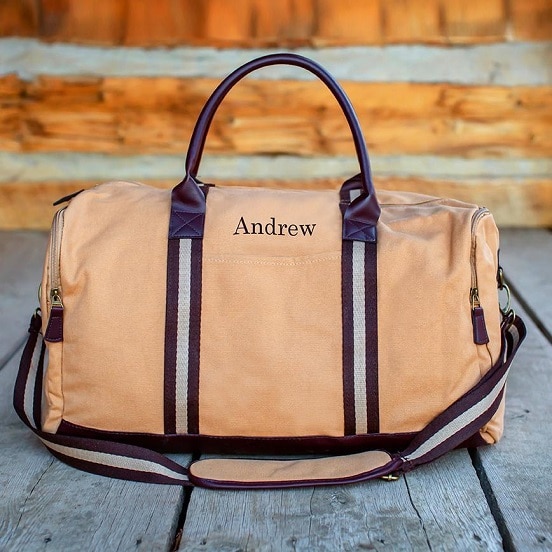 Trappers Supply Khaki Canvas Duffle Bag
Just one look at our Personalized Trappers Supply Duffle Bag is all it will take to fall in love. The interior has a plaid design and padded pockets that are perfect for your iPad, Kindle, or technology.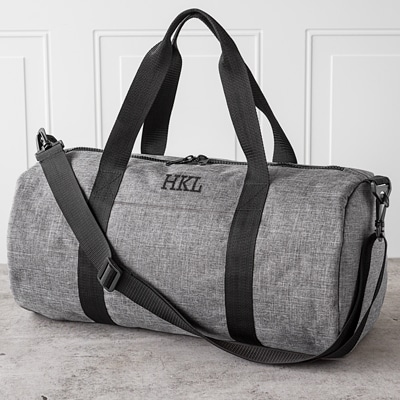 Grey Duffle Bag For Groomsmen
For a bag that's sure to offer everything groomsmen could possibly need while traveling, our Grey Duffle Bag for Groomsmen works perfectly for everyone in your wedding party. Plus, we will personalize each bag with up to 3 initials for no additional cost!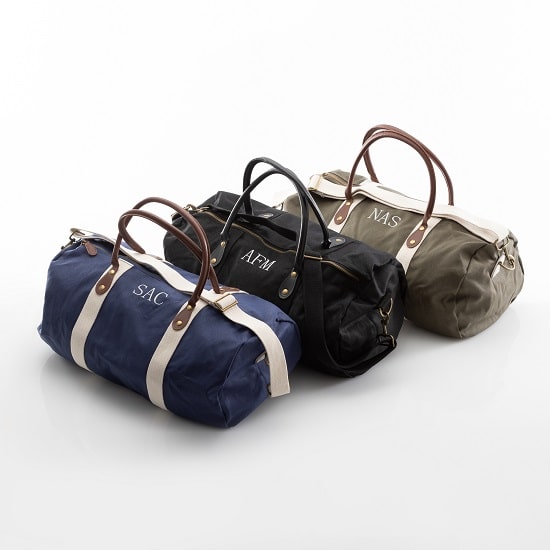 Canvas & Leather Duffle Bag
For the traveler who's interested in a durable, more casual look for his adventure, we recommend our Personalized Canvas & Leather Duffle Bag! This bag is available in black, navy blue, and green.
Traveling with a Suit
Traveling with a suit can be daunting. So if you want your clothing to be in ship-shape and ready-to-wear when you reach your destination, give these suit saving products a look.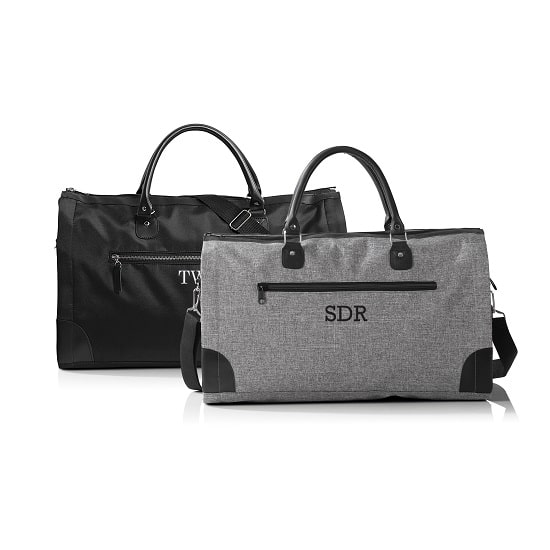 Men's Convertible Suit Saver Duffle Bag
Simplify the process of traveling with suits, eliminate wrinkles, and excessively big luggage with our Convertible Suit Saver Duffle Bag! Organize quickly and travel with ease.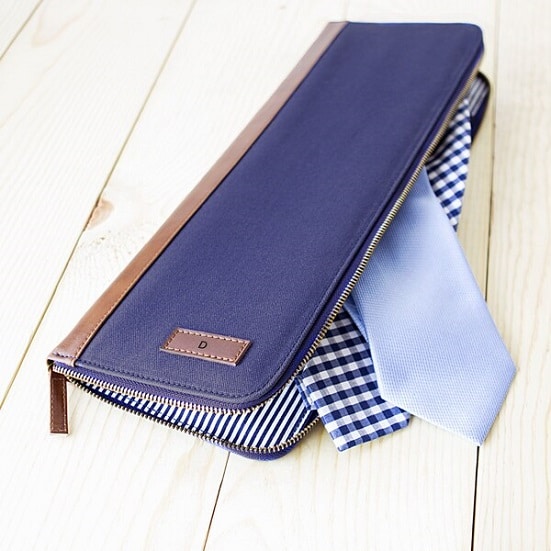 Men's Blue Travel Tie Case
Never worry about wrinkled ties on wedding or business trips again! The Personalized Men's Blue Travel Tie Case is the ideal travel partner for the dapper gentleman. We can even laser engrave your initials at no extra cost.
Organized Travel Essentials
While we love a nice piece of luggage, it's what's inside that counts and how you stay organized on your trip. Our dopp kits and tech cases make your life easier while on the go.
Men's Leather Dopp Kit
If you're tired of throwing your toiletry products loosely in your travel bag only to dig them out later, our Leather Dopp Kit is the ideal solution for the traveling dapper gentleman.
Waxed Canvas & Leather Dopp Kit
Keep your travel essentials packed and organized as you hit the road with our Personalized Waxed Canvas & Leather Dopp Kit. The material is waterproof and has a unique texture that's perfect for stylish groomsmen.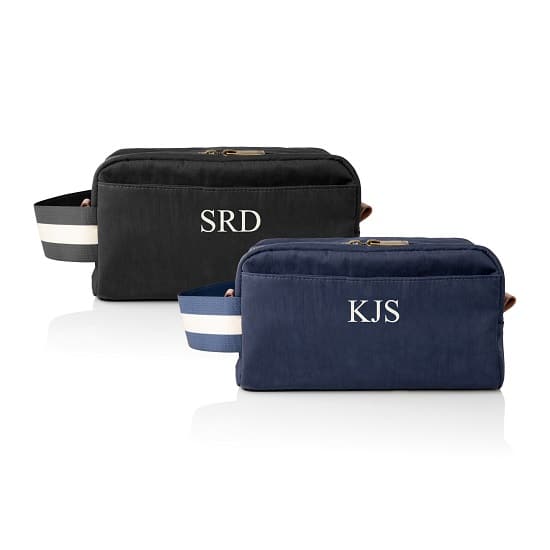 Men's Nylon Canvas Dopp Kit
If you're looking for the perfect gift for your groomsmen, or just as a thank you gift to any man in your life, our Nylon Canvas Dopp Kit is exactly what you've been looking for.
Brown Leather Travel Tech Case
Are you constantly traveling with a mess of wires and technology? Our Personalized Brown Leather Travel Tech Case is the solution to organizing small devices, chargers, and accessories.
What Size Duffle Bag Do You Need?
If you're taking a weekend trip, most 40L to 45L duffle bags will do the job as your compact travel companion. For longer trips, you'll want a medium-sized duffle with a capacity of 70 liters, especially if you're coming back from your trip with souvenirs. With a larger duffle bag, you'll also want to take advantage of packing cubes to organize and maximize space. Trust us, they work great.
Are Duffle Bags Allowed as Checked Luggage?
Yes, but proceed with caution. Because mens duffle bags aren't as rigid or protective, items within could have a higher likelihood of becoming damaged during the flight. The important thing to keep in mind is that the typical maximum size allowed for checked bags for most airlines is 62 linear inches (sum of L+W+H).
Is a Duffle Bag a Carry On?
Yes, as long as the size of your duffle bag is within the airlines requirements for carry-on luggage. For most airlines, that means it should be no larger than 9 inches x 14 inches x 22 inches. When traveling in general, make sure your duffle is functional. Rolling, waterproof, or backpack styles are all ideal carry ons for any kind of travel you'd embark on.
How Do I Choose a Duffle Bag?
Duffle bags are a great alternative to suitcases or backpacks and possess many qualities that you'll want to consider. Obviously we believe our list of mens duffle bags could make your decision easy, but if you want to dig in further, keep in mind these features that will most certainly suit your travel needs before purchasing:
Durability and material
Wheels vs no wheels
Size and capacity
Waterproof
Packability
Backpack straps vs crossbody straps
Handles